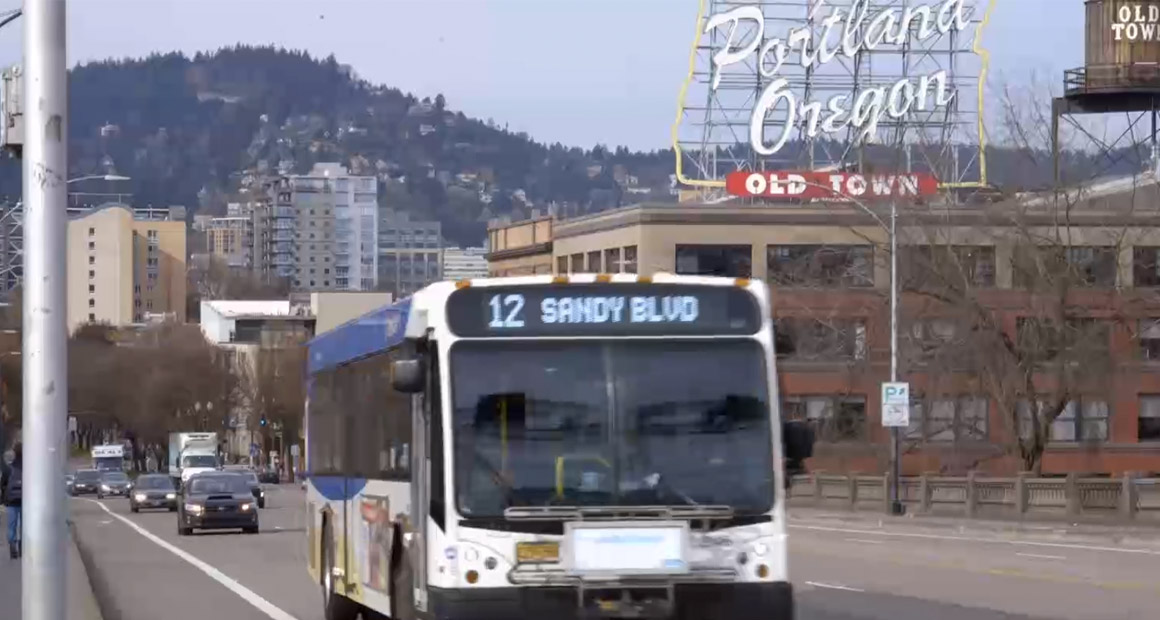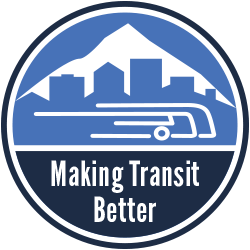 We're working to grow our network of buses and trains while making your ride smoother, safer and more reliable.

See how we're making transit better
Our 675+ buses are the backbone of the Portland area's transit system. Each year, they carry 62% of our rides and travel nearly 24 million miles (enough to circle the globe 963 times!). Along with new buses, we're growing bus service every year in an effort to meet increasing demand from riders (and to stay ahead of our region's rapid population growth). Here's what we've been up to, and what you can expect down the road: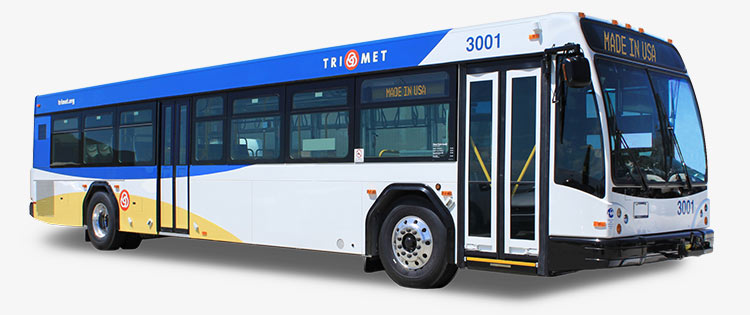 Rolling out new, next-generation buses
If you ride regularly — especially on our express lines — you know that some of our old buses can make you feel like you've time-traveled to 1995.
That era is fading away, however, as more and more new buses are on the way. These new vehicles will help lower the average age of our fleet to the industry standard of eight years.
All of our new buses have amenities such low floors, easy-to-clean vinyl seats, bright LED signs and air conditioning — features that were lacking in some of our older buses. Now all of our fleet is equipped with A/C and low floors for easy boarding. Even better, newer buses mean a more reliable ride for you.
As technology advances, our buses are getting more efficient in fuel consumption and emissions. We're currently running eight hybrids (four of which have all-electric capabilities), and we're looking forward to introducing electric buses soon.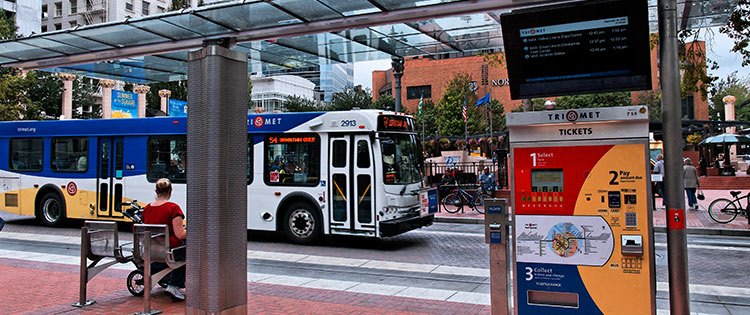 Improving on-time performance
We do our best to keep you moving and on schedule, and we're always looking for ways to improve our bus reliability.
On average, our on-time performance for buses hovers around 81 percent. (For reporting purposes, we consider a bus or MAX train "on time" if it departs a scheduled timepoint no more than 1 minute early and no more than 5 minutes late — but keep in mind not every bus stop is a timepoint.) This is a marked improvement over our average of 77 percent two years prior, and a decent rating compared to transit systems in general. Still, there's always room for improvement.
82%

Average on-time performance for buses
As you might guess, buses are most often delayed by the same things that delay other traffic: accidents, weather/road conditions, special events, police activity, missing a signal, and construction.
In areas we do control — such as scheduling, maintenance, stop spacing, curb extensions, operator training and traffic signal priority — we know that every second counts, and we're always looking for ways to improve efficiency. For example, we look closely at our buses that are consistently running behind schedule to identify training opportunities and make quarterly schedule adjustments to help keep them on time. We also know that with less waiting and a faster trip, you'll have a better experience overall.
TransitTracker gives you a good idea of when your bus is coming by tracking vehicles in real time using GPS and predicting the next arrivals. It's available by phone, by text message and on the web.
There are also ways you can help keep your bus on time, like being ready to board as it arrives and making sure you've got the correct fare. Once you're on board, make way so others can get on or off, and exit through the rear door when possible.
Have more suggestions for improving our on-time performance? Let us know.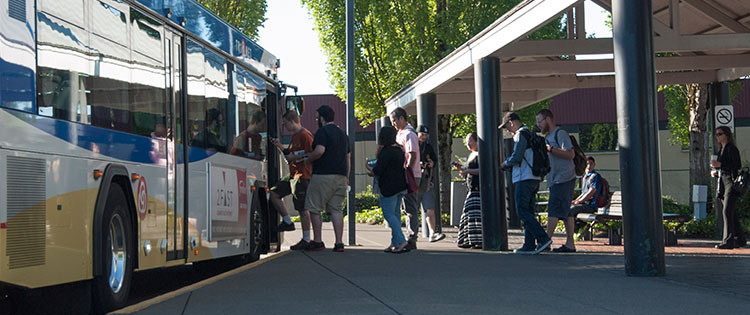 Adding more and better service
Although it's not making headlines like the opening of the MAX Orange Line, our bus service has been expanding every year since 2013 — and we're just getting started.
In early 2016, we launched a 10-year expansion of bus service to connect more people with jobs, education and recreation — this will help transit keep up as the Portland area continues to grow at warp speed. On certain lines, we're adding more buses (they'll come more frequently) and increasing the hours of operation (they'll come earlier and later in the day). We're also adjusting routes and expanding service to connect growing residential areas with employment centers.
10-year bus expansion started in 2016
In June 2016, we unveiled our first new bus line in years, Line 97-Tualatin-Sherwood Rd. It connects riders to Tualatin's WES station, downtown Tualatin and nearby industrial areas, as well as Sherwood's Parkway Village.
We'll continue rolling out new bus service improvements at least twice a year, and tweaking schedules quarterly to help your bus stay on time by accounting for traffic congestion, ridership and timing of connections.
In partnership with Metro, we're looking at how we can use articulated buses as part of a high-capacity transit plan along Division Street. But better bus service is coming to your part of town, too — check out our long-term plans to expand bus service throughout the region.
Sign up for updates by email to make sure you get all the details about these changes as they happen. And be sure to let us know what would make your bus trips better — your feedback helps us identify what's working and where we need to improve.
Improving stops and amenities
We have more than 6,600 bus stops and we invest nearly $800,000 annually in upgrading them. We make upgrades in places that will benefit the most riders; for example, we consider installing shelters only at stops with an average of at least 50 weekday boarding rides. Other upgrades can include benches, protected crossings and improved waiting areas.
We know that access to stops is a big concern for riders. With this in mind, it's important to note that the majority of our stops are located on land that belongs to someone else — whether it's a city sidewalk, a county right-of-way, a state-owned highway or private property. In these cases, we need to rely on others for infrastructure such as sidewalks and crosswalks.
Ideally, we'd put in a stop where there's already an existing sidewalk and crosswalk — but that's not always possible. Not all of the neighborhoods we serve have them, and often there is limited space to work within the location where a stop is needed. In some cases, it comes down to either having a bare-bones stop with no amenities, or not having a stop at all.
Sometimes, even highly used stops don't get a shelter. For example, on land connected to private property or parking lots, sometimes a shelter simply won't fit.
Our bus stops team is always working to improve the safety, comfort and accessibility of our stops — but we need a lot of help from our city, county and state partners, and private property owners.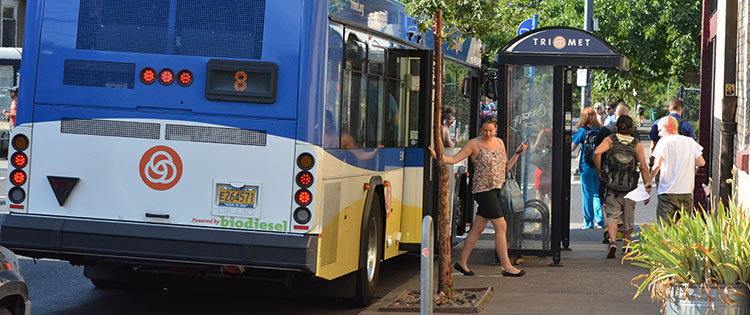 Bringing Frequent Service back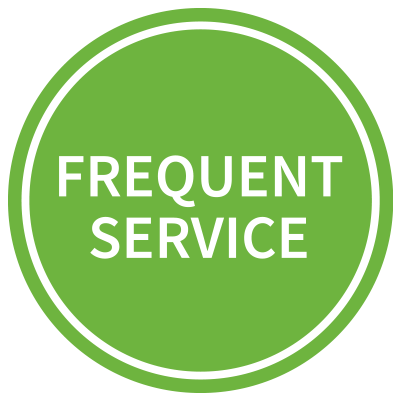 Frequent Service buses and trains run every 15 minutes or better most of the day, every day. These are our most popular routes — in fact, 58% of all bus trips are on Frequent Service lines. In 2014, after it had thinned in the wake of the Great Recession, we began restoring Frequent Service in steps, beginning with mid-day buses on 10 lines. Evening service was then added, followed by weekends.
58%

Of bus trips are on Frequent Service lines
Today, we have 12 Frequent Service bus lines, and our Future of Transit plans call for more.
Make no mistake, we're always looking to add more service, even if it isn't designated Frequent Service. This can mean adding earlier and later buses to lines in order to accommodate work shifts, adding weekday trips and adjusting schedules and routes to better serve riders.
Plans for future service
We asked riders, residents, neighborhood groups, governments, schools and businesses for their feedback to create a long-term vision for transit service throughout the region. Here's what we've got in store for future bus service:
More Frequent Service. Our plans call for increased service along lines like 20, 35, 44, 52, 54, 76 and 87.

New lines and more connections to more places. In June 2016, we introduced our first new bus line in years: Line 97-Tualatin/Sherwood. Down the road we plan to introduce a bus line on 162nd Avenue in East Portland and Gresham, as well as a connection between Gresham, Wood Village and the Troutdale Reynolds Industrial Park. These new or reconfigured bus lines will provide new access to jobs, schools and other neighborhoods. Some will be placed in areas with current service gaps, while otherws will serve growing areas.

Community and job connectors in suburban areas. In areas where we can't operate fixed-route transit services, shuttle services can often meet the needs of residents and employees, like GroveLink, the Tualatin Shuttle and the North Hillsboro Link do now.

Future areas that could benefit from similar services include the East Columbia Corridor, the Clackamas Industrial Area, and future growth areas like River Terrace in Tigard. This would serve low income residents and entry-level jobs where fixed route transit service is lacking due to the street network or population size.
Columbia Bus Garage
We're building a bus garage on Columbia Boulevard to support bus service expansion and better service.
Learn more about the new garage
PDF
Statistics as of September 2017