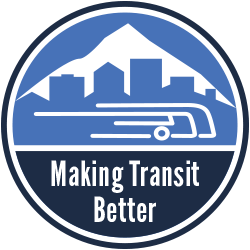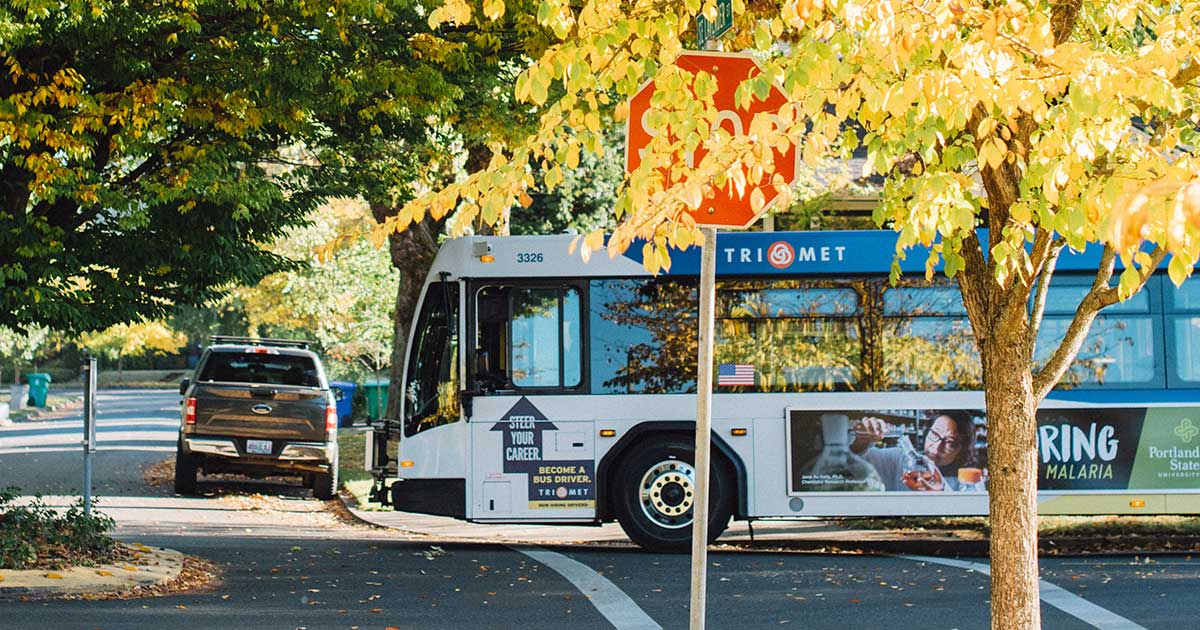 2022–23 Transit Service Improvements
Welcome aboard! We're ready to keep the region moving as more people return to transit. We're making some changes so our service is faster and more reliable.
These changes take effect in September 2022 and Spring 2023.
You can learn more about the proposed changes at an upcoming virtual session:
Wednesday, October 27 (English)
jueves, 28 de octubre (español)
5–5:30 p.m.
Route changes
Division Harold St
We're proposing changes to the Line 10 when the new TriMet FX™ high-capacity bus service begins on Division Street between Downtown Portland and Cleveland Park & Ride in Gresham.
Line 2 will be retired and replaced by the new and improved FX-Division, which will use the Tilikum Crossing instead of the Hawthorne Bridge. Line 10 will move from SE Ladd Avenue to SE 7th Avenue, serving some previous Line 2 stops.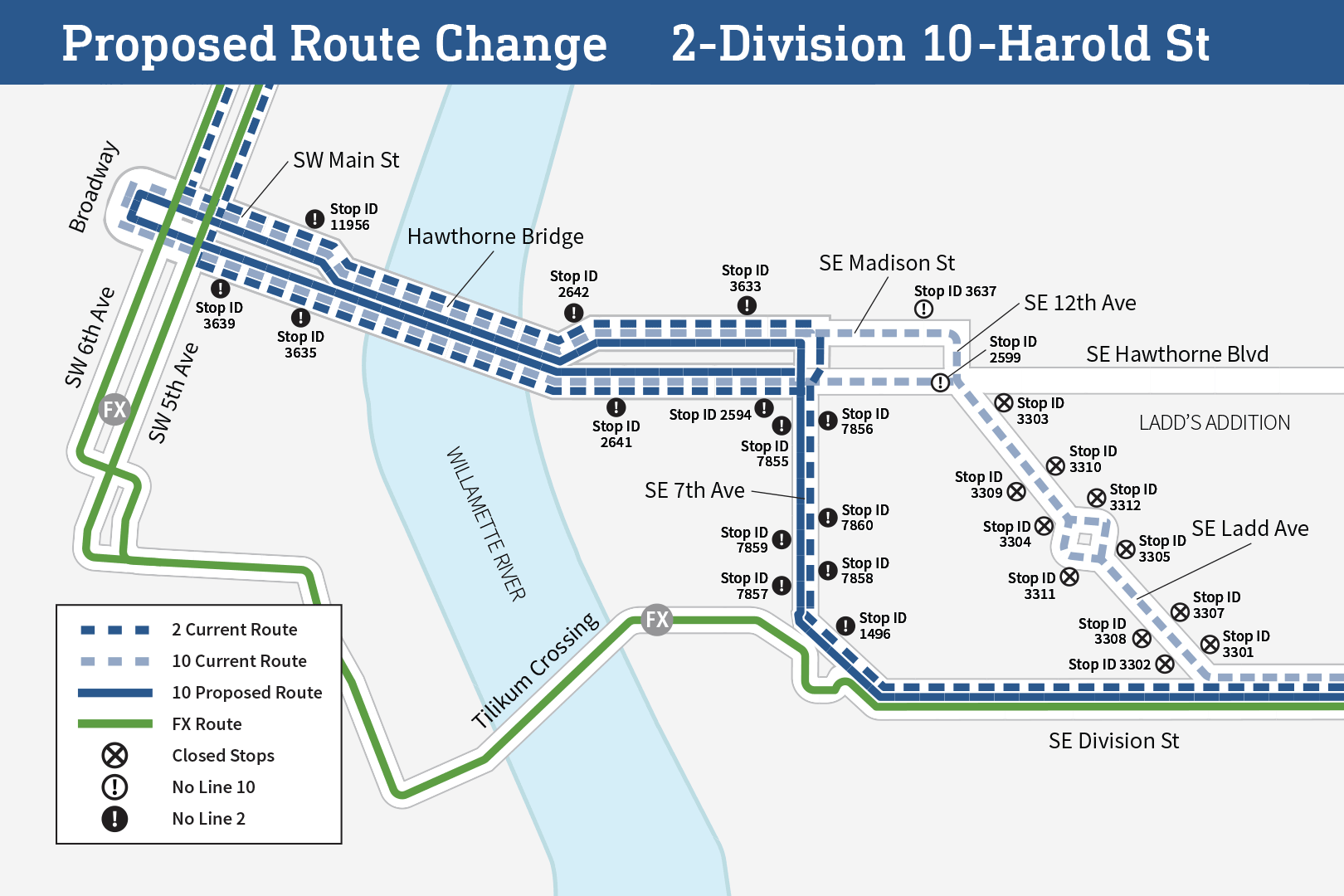 Sign up for Line 2 service alerts
Route change
Kane/Troutdale Rd
We're proposing to move Line 80 out of Glenn Otto Park due to low ridership and to keep buses on schedule. Four bus stops on E Historic Columbia River Hwy would close, and buses would turn using SE Kibling Street and SE 2nd Street.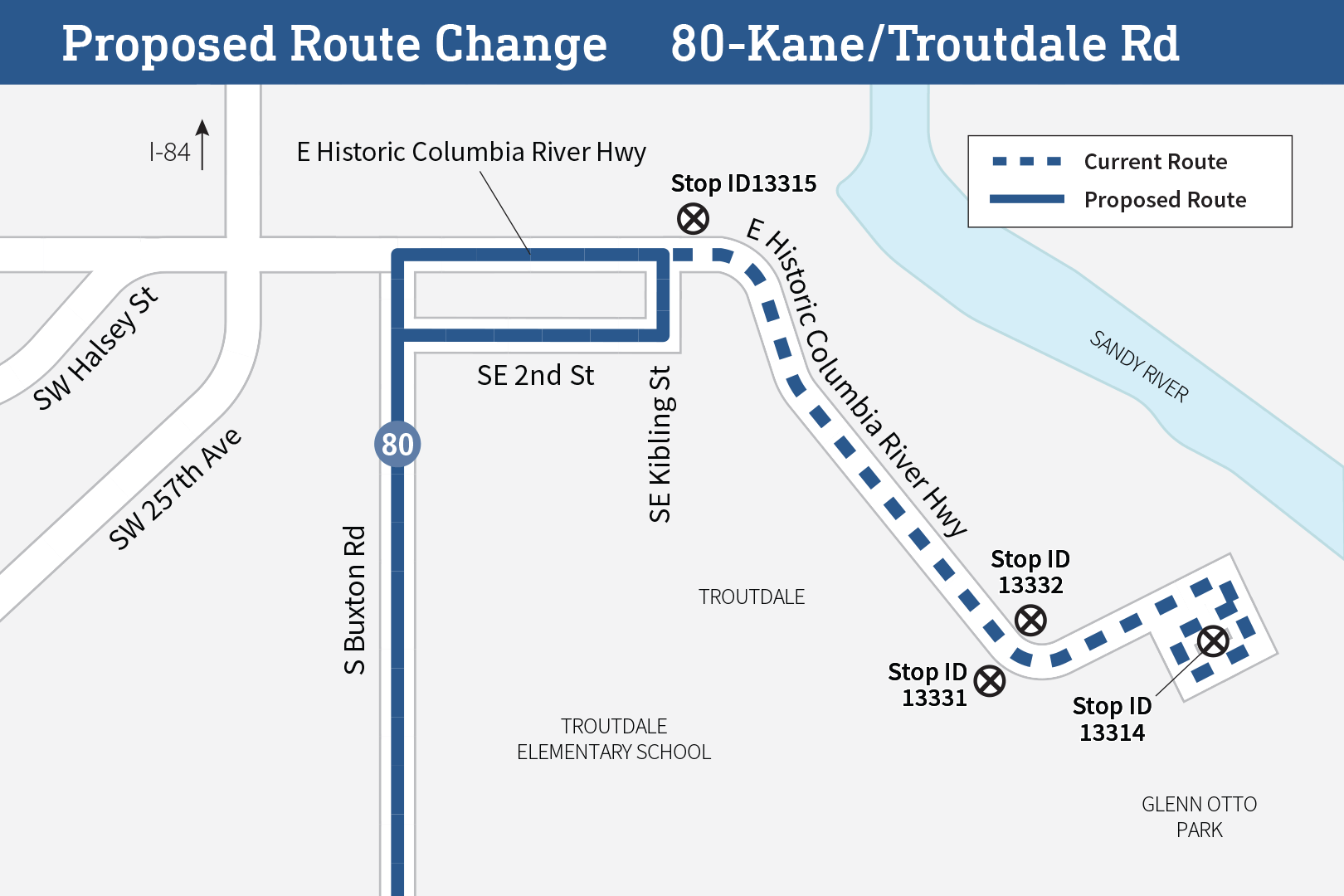 What else is in the works?

A Better Red
The Better Red project extends MAX Red Line west to serve 10 more stations in Beaverton and Hillsboro. The project also adds new tracks between the Gateway Transit Center and Portland International Airport that will improve reliability on the entire MAX light rail system.
Funding for the $215 million project includes a $99.9 million grant from the Federal Transit Administration and support from local partners. Construction began in September 2021, and the new and improved Red Line will be up and running in 2024.

Division Transit Project
The Division Transit Project will improve travel between Downtown Portland, Southeast and East Portland and Gresham with easier, faster and more reliable bus service. The high-capacity bus service will reduce travel times up to 20% with buses running every 12 minutes, and even more often during peak ridership times.
The 15-mile project will increase safety for people walking, biking and accessing transit. It is adding:
4.5 miles of protected bike lanes
New marked crosswalks with stop lights median islands or flashing lights
Nearly 81,000 square feet of new sidewalks along the corridor
The project is expected to create more than 1,400 jobs and more than $137.7 million in added economic value is estimated to be created in the corridor. The new service is expected to begin in fall 2022.
Design and Environmental Review: 2017–19
Construction: 2019–22
Opening: 2022
Equitable service
TriMet studies all major service changes and any fare changes for potential impacts on minority and low-income populations. To do this, TriMet conducts an equity analysis whenever such changes are proposed, including service improvements for fall 2021 and spring 2022. Share your thoughts on the draft equity analysis or take a moment to review previous analyses.
The comment period is now closed.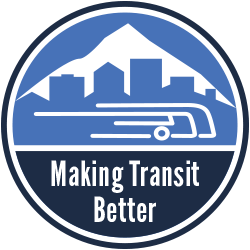 We're working to grow our network of buses and trains while making your ride smoother, safer and more reliable.