A New Bicycle and Pedestrian Bridge Along the Orange Line
We will be adding a safe new crossing for bikes and pedestrians over the rail tracks near the Clinton St/SE 12th Ave MAX Station.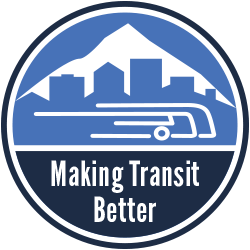 We're working to grow our network of buses and trains while making your ride smoother, safer and more reliable.

See what we're doing to make transit better
Background
In late 2013, an aging pedestrian bridge in SE Portland's Hosford-Abernethy neighborhood was removed for MAX Orange Line construction. The span, which was not accessible for people with mobility issues, crossed over existing freight rail tracks that bisected the neighborhood.
A fully accessible replacement bridge at SE Gideon Street was included in the original plans for the Orange Line project, but was deferred when the Federal Transit Authority (FTA) confirmed it would fund only 50 percent of the light rail project, rather than the expected 60 percent.
The Orange Line project came in under budget when it was completed in September 2015, and with the strong support of the surrounding communities and the City of Portland, we successfully requested FTA to allow the funding and construction of the pedestrian bridge as originally planned.
What we're doing
We have started preliminary design work on a new bicycle and pedestrian bridge at SE Gideon Street over the railroad and light rail tracks between 12th Avenue and Powell Boulevard, near the Clinton St/SE 12th Ave MAX Station.
The purpose of the bridge will be to provide a safe, more direct walking and biking connection over the light rail and freight rail tracks between Powell Boulevard and the Division/Clinton area. That means that riders and pedestrians will be able to choose to cross the tracks using the bridge instead of waiting for crossing trains at SE 12th Avenue.
Timeline
In fall 2017, we will work with the Portland Bureau of Transportation to begin a design process for the bridge. A project schedule is still being developed, but the bridge is expected to be complete in mid-2019. The project cost is estimated at $7.5 million.