Blue Line Station and Crossing Upgrades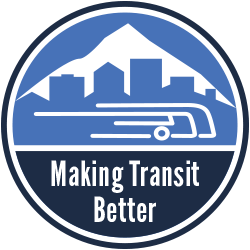 We're working to make your ride smoother, safer and more convenient. Learn more »
In 2015, we began making improvements to MAX stations along the Blue Line. The renovations include upgrades to shelters, pedestrian crossings, windscreens, security cameras and lighting — as well as card readers for our Hop Fastpass, our upcoming electronic fare system.
In January, crews began renovation of the Gresham City Hall Station including safety and security upgrades, maintenance improvements, improved customer information and equity and standards enhancements.
Gresham City Hall MAX Station Closure
Gresham City Hall MAX Station Closure map
PDF
Sunday, February 26
The Gresham City Hall Station will be closed from Sunday, February 26, through Saturday, April 1, for construction. During the station closure, MAX trains will still use both tracks, but platforms will be closed for passenger boarding and de-boarding, so some riders may need to plan for extra travel time when using other MAX stations.
During the closure, riders can park at the Gresham Parking Garage and use the nearby Gresham Central Station. The Gresham City Hall Park & Ride will stay open, but riders will need to walk a few minutes west to the Civic Drive Station to board MAX.
Sunday, April 2
Gresham City Hall Station will reopen with regular train service. The rehabilitation work is expected to be completed in early summer 2017. When the station work is fully finished you'll see renovated shelters, new TransitTracker monitors, updated lighting and CCTV cameras, new tactile warning strips and more.
Check this page for updates!
Additional crossing improvements (2016–2017)
We're also making safety improvements at several Blue Line pedestrian crossings in Gresham and Hillsboro that began in January 2015. The sidewalks will be realigned to be perpendicular to the MAX tracks, and new pedestrian warning systems, lighting and channeling will be installed. This work will be completed throughout 2017 and 2018.
Watch for crossing improvements under way at these intersections:
NW Division & NW Mignonette (Gresham)
NE Main & NE 10th Drive (Gresham)
NE Hood & NE 10th Drive (Gresham)
SE 10th & Washington Street (Hillsboro)
SW 185th Avenue (Hillsboro)
SW 170th Avenue (Beaverton)
Most of the work will be done Monday through Saturday between 6 a.m. and 10 p.m. However, some work may take place outside of those hours as necessary.