MAX System Reliability Improvements
We're making much-needed improvements to MAX tracks, switches and equipment to improve reliability and on-time performance.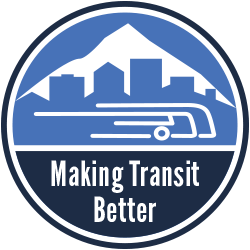 We're working to make your ride smoother, safer and more convenient. Learn more »
We know that MAX on-time performance — our measure of reliability — isn't what it should be and we're working hard to chart a new course.
We're addressing many areas that affect the MAX system's on-time performance, with the goal of raising it to an average of 90 percent.
Morrison-Yamhill Improvements
In spring 2017, crews will replace four switches and make other track improvements in Downtown Portland on SW 11th Avenue and SW 1st Avenue at Morrison and Yamhill streets. The work will temporarily disrupt and alter MAX and Portland Streetcar service.
Recently Completed Projects
Rose Quarter MAX Improvements
From August 21 to September 3, 2016, we redesigned the trackway just east of the Rose Quarter Transit Center to improve MAX reliability and make for a smoother ride. We also replaced the track bed, reconfigured the overhead wire system and upgraded the original signal system that serves the transit center.
1st Avenue MAX Improvements
From May 8 through May 21, 2016, we made improvements on 1st Avenue between SW Morrison and NW Davis in Downtown Portland. Four new switches were installed, tracks were replaced, and drainages and overhead wire were improved.