MAX System Reliability Improvements
Look for upcoming trackway improvements, switch replacements and equipment upgrades as we work to make MAX better.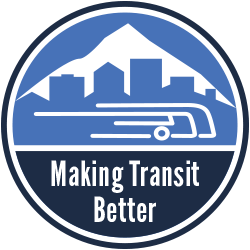 We're working to grow our network of buses and trains while making your ride smoother, safer and more reliable.

See how we're making transit better
We're continuing to invest in the MAX system in 2017, tackling more projects that will help us maintain safe and reliable service.
While MAX's on-time performance — our measure of reliability — has improved, there's more work to be done to keep trains moving.
Some of these repairs and upgrades are very complex and can't be completed at night in the few hours that MAX isn't running — which means there may be service disruptions that affect your MAX trips. (We really appreciate your patience!)
Upcoming projects
Hillsboro MAX Improvements
In September and October, we'll be making improvements to the MAX tracks and switches near Hatfield Government Center. This work will bring you a smoother and more reliable ride.
Recently completed projects
Providence Park MAX Improvements
From May 6 through May 11, 2018, we replaced rails and outdated switch machines near Providence Park. We also redesigned the stormwater collectors and improved the drainage around the switches.
Providence Park MAX Improvements Recap
VIDEO
Morrison-Yamhill Improvements
From April 30 to May 20, 2017, we improved sections of the MAX tracks on Morrison and Yamhill streets at SW 11th Avenue and at 1st Avenue. At SW 11th Avenue, which was originally the end of the first-ever MAX line, we upgraded switch machines, replaced special trackway, removed wooden ties and improved the track bed. We also repaired and replaced the bricks and pavement next to the rails, and replaced the curved rail that connects Morrison and Yamhill streets with SW 1st Avenue.
Morrison-Yamhill MAX Improvements Recap
VIDEO
Rose Quarter MAX Improvements
From August 21 to September 3, 2016, we redesigned the trackway just east of the Rose Quarter Transit Center to improve MAX reliability and make for a smoother ride. We also replaced the track bed, reconfigured the overhead wire system and upgraded the original signal system that serves the transit center.
Rose Quarter MAX Improvements Recap
VIDEO
1st Avenue MAX Improvements
From May 8 through May 21, 2016, we made improvements on 1st Avenue between SW Morrison and NW Davis in Downtown Portland. Four new switches were installed, tracks were replaced, and drainages and overhead wire were improved.