Honored Citizen Downtown Portland Pass
Unlimited free rides on buses and MAX downtown
The Honored Citizen Downtown Portland Pass provides unlimited rides on buses, MAX Light Rail and Portland Streetcar within the boundaries of the Willamette River, I-405 and NW Irving Street. It is available only to Honored Citizen riders who live within this area.
The pass also serves as proof of Honored Citizen status for trips outside of Downtown that require a fare.
It is valid for up to two years from the date of purchase. For riders with a temporary disability, the pass is valid for the duration of the disability.
A $10 administrative fee is required. There is a $5 fee to replace lost or stolen cards.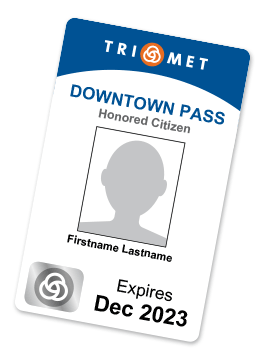 Who is eligible?
The pass is available to Honored Citizen riders who live in Downtown Portland within the boundaries on the map at right.
How to get your pass
Download the application form or pick one up at the TriMet Ticket Office at Pioneer Courthouse Square (701 SW 6th Ave., Portland OR 97204). The office is located on the west side of the Square below the waterfall. Look for the blue "Visitor Information" signs. Hours: Monday–Friday, 8:30 a.m.–5:30 p.m.
Come to the TriMet Ticket Office to have your photo taken and pay the $10 administrative fee. Note: You'll need to bring proof of Honored Citizen status (photo ID showing date of birth, Honored Citizen card or Medicare card) and proof of residence address (photo ID or utility statement).
Download application
Honored Citizen Downtown Pass Application
PDF
Why did TriMet create this pass?
As of September 1, 2012, TriMet and Portland Streetcar no longer offer a free-ride zone in Downtown Portland. We created the Honored Citizen Downtown Portland Pass to help ensure that senior citizens and people with disabilities can continue to use transit to access essential services such as medical care, social services and shopping.
For more information
To learn more about the Downtown Portland Pass, contact us at accessible@trimet.org or 503-962-2455.
Related