Business Opportunities for All
TriMet is eager to do business with small and growing companies, especially those owned by people of color and women.
Disadvantaged Business Enterprises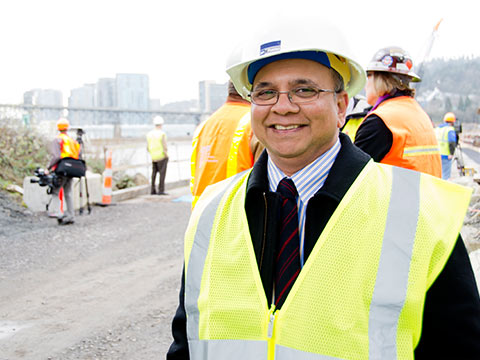 TriMet is committed to inclusive contracting practices and a workforce that reflects the diversity of the communities we serve.
TriMet's Disadvantaged Business Enterprise (DBE) program encourages and supports businesses owned by people of color and women when purchasing services and supplies. We are proud that our outreach and support for DBE contractors on transit construction projects is recognized as a national model.
We coordinate with prime contractors, subcontractors and other agencies to provide opportunities for DBEs and small businesses. We engage with these businesses in creative problem-solving to build business capacity. Strategies include:
Breaking scopes of work into smaller bid packages sized to attract small businesses
Rotating contracting opportunities within specific types of procurements
Developing mentoring opportunities between smaller and larger firms
Providing technical and business assistance to small businesses and DBEs — on contract performance, bonding, insurance, DBE and EEO certification
Small Business Development Program
TriMet encourages all small businesses to participate in the agency's contracts and has developed procedures, documents and practices that are "small business friendly."
Eligible small businesses
TriMet's Small Business Program defines a small business as:
Organized for profit
Has a place of business in the United States
Is independently owned and operated
Meets federal size standards for its type of business
A business is presumed to fit the federal size standards if it is:
Certified as an Emerging Small Business by the State of Oregon
Participates in the federal Small Business Administration programs; for a list of participating small businesses contact the U.S. Small Business Administration, 601 SW 2nd Ave., Suite 950, Portland, 503-326-2682
Certified by a public agency other than the State of Oregon and meets the federal size standard
Able to demonstrate to TriMet that it meets the applicable size standard, using tax records, certified annual audits or other documents showing the business meets the size definition; annual receipts must be averaged over three years
"Small business friendly" procurement practices
Strategies are being developed. Likely examples include:
Require bidders on large contracts to identify contract elements or subcontracts suitable for a small business to perform
Structure procurements to facilitate the ability of small businesses (alone or as part of teams) to compete for and perform the work
Require general contractors to describe their historical use of small businesses
Require contractors to describe strategies for maximizing small business subcontracting through an outreach plan or other means