You can buy paper tickets and passes from the ticket machines located at MAX and WES stations. These fares are valid on buses, MAX Light Rail, WES Commuter Rail and Portland Streetcar.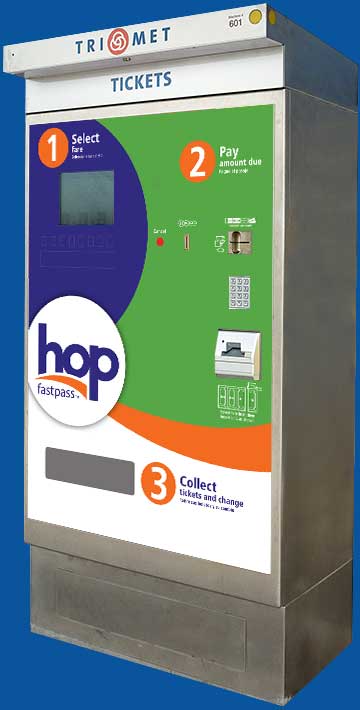 How to use ticket machines
Select the fare you want by pressing one of the buttons below the video screen. The amount you need to pay will be displayed on the screen.
Insert payment. Most machines accept debit/credit cards (Visa, MasterCard, American Express and Discover), coins (including $1 coins) and bills ($1, $5, $10 and $20). Machines labeled "Card Only" will only accept debit or credit cards. All WES ticket machines are card only.
Collect your tickets and change from the tray at the bottom left.
Contactless payment
Some ticket machines also accept contactless payments using mobile wallets (Android Pay, Apple Pay and Samsung Pay) and contactless credit cards. To pay with a mobile wallet or contactless card, just tap your device or card on the target where indicated.
Hop Fastpass
Hop cards cannot be purchased or reloaded at ticket machines. Learn more and find out where to get your card at myhopcard.com.
Learn more