Here's where you can get a Hop card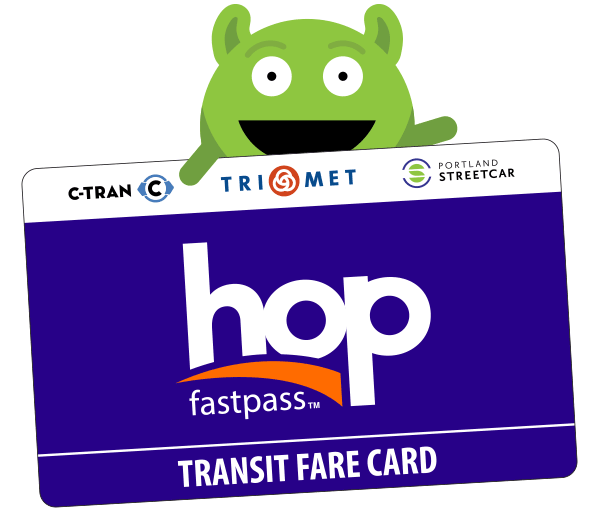 Coming soon



Get a card at the store
Hop cards are now rolling into supermarkets and convenience stores including Fred Meyer, New Seasons and Safeway — with many more to come!
It may take a few weeks for some stores to stock the cards, so ask at Customer Service or look on the gift card rack. We're always updating our map of current Hop retailers, so you can check there to find a store near you.
For now, you can load money on your Hop card at Customer Service, or in some cases, in the checkout lane like a gift card. (Eventually, most stores will let you reload in the checkout lane.) You can also reload at 7-Eleven stores using cash, but Hop cards aren't available for purchase there just yet. And remember, reloading is easy using the Hop website or app, or you can give us a call at 1-844-MYHOPCARD.
A Hop card costs $3 and there's a $5 minimum when you load money on it (except at transit agency ticket offices).
In September, we'll be adding many more stores to the Hop retail network, so stay tuned!
See Map of Hop Retailers | Learn More About Hop
---
Find us at an event
We'll be popping up at events all over town this summer — stop by our booth and learn more about Hop! We'll be handing out a limited number of free cards and exchanging unvalidated paper tickets (2½-Hour Tickets, 1-Day Passes and 7-Day Passes), so be sure to get there early. Admission to all events is free, except where noted.
Thursday, September 21
Hopmobile Pop-Up Event and Ticket Exchange
3:30–5:30 p.m.
Oregon City Transit Center
Tuesday, September 26
Hopmobile Pop-Up Event and Ticket Exchange
3:30–5:30 p.m.
Hillsboro Central Transit Center
Thursday, September 28
Hopmobile Pop-Up Event and Ticket Exchange
3:30–5:30 p.m.
Delta Park/Vanport MAX Station