The Proposed Budget for Fiscal Year 2019 (July 2018–June 2019) accounts for some exciting projects, including new service, safety upgrades and more.
Expanded Service
Some of the bus service improvements we're planning include all-night service to Portland International Airport, two upgraded 24-hour bus lines and a route over the Fremont Bridge.
See the full list of bus improvements
More New Buses
We plan to purchase 64 new buses in the next year. Some of these will replace older vehicles, and the rest will be needed for the new and expanded service we're introducing.
Seventy-seven new LIFT paratransit vehicles are also included in the budget. The majority of these will replace older vehicles.
Electric Buses
We're exploring a possible transition to an entirely electric bus fleet, which would mean cleaner air, quieter rides and reduced costs.
But before we make that commitment, we're using a $3.4 million federal grant to purchase five electric buses, which we'll try out on Line 62-Murray Blvd. The buses, along with new charging infrastructure, will go into service in fall 2018. This pilot project will give us firsthand experience and help guide our plans for a future full fleet transition to alternative fuel buses.
MAX Improvements
By making track and signal improvements, we're looking to improve MAX on-time performance and introduce Red Line service at 10 additional stations in Beaverton and Hillsboro.
The project would include work at and around the Fair Complex/Hillsboro Airport station, Portland International Airport station, and a possible new station at Gateway/NE 99th Ave. This work would be done in phases and completed by 2022.
Elsewhere, the proposed budget includes continued station renovations and the replacement of some of our oldest elevators. The elevators at the Hollywood Transit Center and the NE 60th Ave and NE 82nd Ave stations have been in use since the MAX began service in 1986.
Low-Income Fare Program
Our new low-income fare program will begin July 1, 2018, the first day this new budget takes effect. Under the program, individuals earning up to 200 percent of the federal poverty level will qualify for an Honored Citizen fare (currently $1.25; half the cost of an Adult fare).
Safety and Security Enhancements
The proposed budget increases our safety and security budget by more than 13 percent to $30.2 million. Highlights include:
A contract with Portland Patrol Inc. will add as many as 30 transit peace officers to provide additional security presence while enforcing TriMet Code, including fare requirements.
The continued replacement of analog CCTVs with digital technology.
Federally mandated Positive Train Control (PTC) upgrades will continue on WES Commuter Rail. While safety features are already in use to prevent WES trains from exceeding safe speeds on curves and bridges, the upgrade to PTC will further control trains in order to prevent crashes. PTC will be fully operational before the federal deadline of December 31, 2018.
Continued pedestrian crossing improvements along the MAX Blue Line in Beaverton, Hillsboro and Gresham.
Wages
A merit increase for non-union employees of 3.5 percent is included in the proposed budget, as well as a pool to specifically address pay equity issues. There is also a 3.25 percent increase for all union employees, in addition to union step increases.
---
What do you think?
---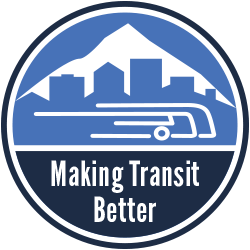 We're working to grow our network of buses and trains while making your ride smoother, safer and more reliable.