In addition to our plans for new and improved service, the budget for Fiscal Year 2019 (July 2018–June 2019) accounts for some exciting projects:
Construction Projects
Bike & Rides at Goose Hollow, Beaverton Creek and Gateway Transit Center MAX stations (March–June 2018)
WES track maintenance and improvements (November 2017–Spring 2018)
LIFT paratransit parking relocation at SE Powell MAX Station (September 2017–March 2018)
E 122nd Ave MAX Station upgrade and rehabilitation (Fall 2017–Summer 2018, station remains open during construction)
Electric Buses
We're exploring a possible transition to an all-electric bus fleet, which would mean cleaner air, quieter rides and reduced costs. But before we make that commitment, we're going to try out five recently purchased electric buses on Line 62-Murray Blvd. The buses, along with new charging infrastructure, will go into service in fall 2018. This pilot project will give us firsthand experience and help guide our plans for further electrification.
Division Transit Project
The Division Transit Project is scheduled to bring high-capacity bus service to SE Division Street starting in 2021. Travel times along the 14-mile route between Gresham and Downtown Portland will improve up to 20 percent thanks to faster boarding, station spacing and transit signal priority, and buses will run every 15 minutes or better.
Southwest Corridor Plan
We're working with Metro, ODOT and city and county leaders to create safer, more reliable transportation in Southwest Portland, Tigard and Tualatin. Right now, planning is underway to add a new 12-mile MAX line from Downtown Portland to Tigard and Bridgeport Village. This project would also include walking, biking, roadway and bus service improvements to help people access stations. The new MAX line could open in 2025.
MAX Red Line Improvement Project
By making track and signal improvements, we're looking to improve on-time performance and introduce Red Line service at 10 additional stations in Beaverton and Hillsboro. The project would include work at and around the Fair Complex/Hillsboro Airport station, Portland International Airport station, and a possible new station at Gateway/NE 99th Ave. This work would be done in phases and completed by 2022.
Enhanced Transit Concept
As congestion worsens on roads across the region, transit riders are also getting stuck in traffic, especially during peak commute times. That's why we're working with local jurisdictions, Metro and ODOT to develop a new Enhanced Transit Concept that helps transit move more quickly and reliably through congested corridors.
This could involve dedicated bus lanes, intersection bypasses, transit signal priority and stop configurations and spacing that make boarding faster and easier. The work we do this year will include identifying the bottlenecks and corridors with the worst problems, and the approaches that would work best to address them.
---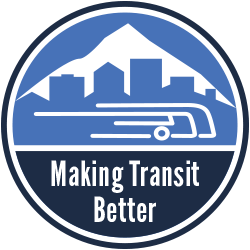 We're working to grow our network of buses and trains while making your ride smoother, safer and more reliable.