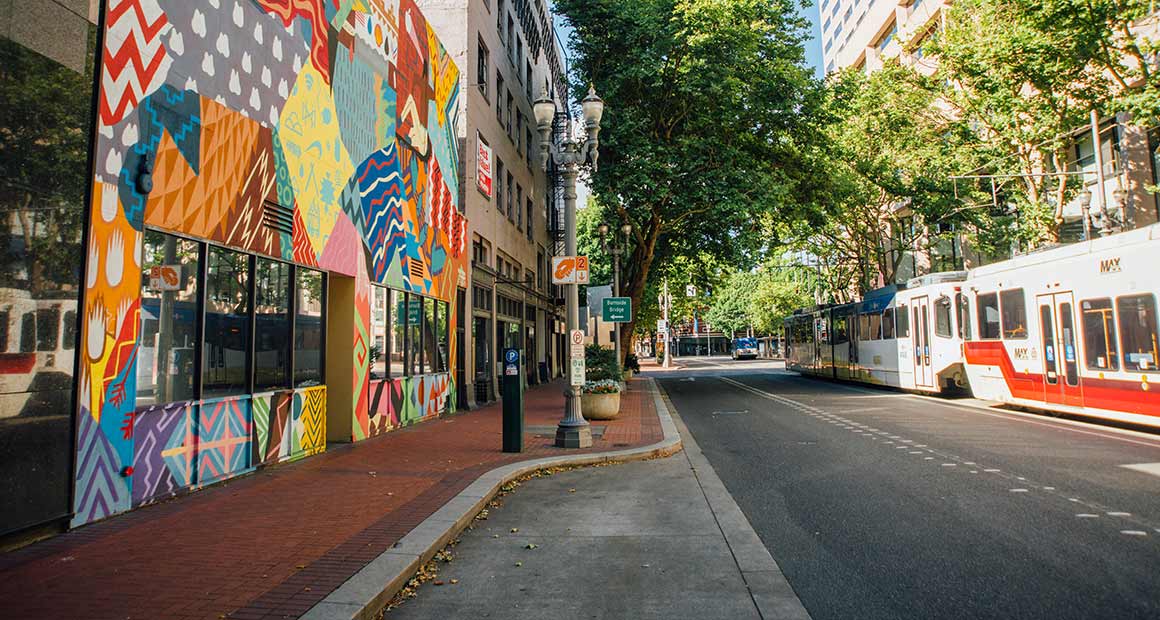 Reimagining Public Safety & Security on Transit
Calls for racial justice in policing have led to candid conversations about race, safety, equity and the need for lasting change. As the public transit provider for our region, which relies on support from local law enforcement to ensure the safety of our riders and employees, TriMet has taken this opportunity to rethink, to reimagine, our approach to safety on our system so everyone feels welcome.
This began on July 1, 2020, when TriMet made the first step, redirecting $1.8 million in police contracts and additional funding to explore new community-based services to expand our safety approach.
En español
Bằng tiếng việt
На русском
用中文(表达
한국어로
Transit Public Safety Advisory Committee Recommendations
Over the course of seven meetings, the Transit Public Safety Advisory Committee reviewed and discussed the information gathered through extensive community outreach and research, and developed a series of recommendations and priorities. TriMet's leadership is considering those recommendations, including the top three:
Conducting agency-wide training on anti-racism, cultural competency, mental health, and de-escalation techniques for TriMet employees that is based on real-world situations and offered on a continuous basis, leveraging community expertise.
Increasing the presence of TriMet personnel on the system and exploring community ambassador rider support models. The additional presence should strive to be diverse, reflecting the region's age, race, and ability, and focused on making the system safer and more welcoming.
Developing a Crisis Intervention Team model that is focused on supporting transit riders experiencing a mental health crisis or other behavioral health issues.
The Advisory Committee noted that regional coordination and partnering across jurisdictions would be needed to allow TriMet to scale up its ability to advance these recommendations. The committee also voiced support for additional priority investments, including:
Continuing to make security-related infrastructure improvements, with a focus on lighting, and general system cleanliness,
Working with the community to develop and launch public messaging campaigns to clearly explain how the security system works and their part in it; and,
Leveraging additional technology applications to support riders and staff using apps and software.
Background
TriMet's steps to reimagining public safety and building a better transit system together with our community
Outreach
Engaging with riders, community members, local leaders, as well as frontline employees and security staff, through virtual town halls, listening sessions, surveys and focus groups
Partnering with the Coalition of Communities of Color to ensure feedback from a range of voices reflecting all those we serve
Research
Identifying best practices in the transit industry for public safety and equity
Analyzing regional security challenges and TriMet incident data to identify opportunities for different security approaches
Inform
Gathering a committee of regional thought leaders and national transit safety experts to advise TriMet as we move forward on community-informed safety efforts
July

August

September

October

November

Develop engagement

Listening sessions

Rider online surveys

Partner online surveys

Virtual town halls

External & internal research

Listening sessions

Rider online surveys

Partner online surveys

Virtual town halls

External & internal research

Transit Public Safety Advisory Committee

External & internal research

Transit Public Safety Advisory Committee

Recommendations to Board of GM

Recommendations to Board of Directors
— Drag to scroll —
A strong foundation: Commitment to Change
TriMet's commitment to diversity, equity, access and inclusion is unwavering. TriMet has held a long-standing commitment to these ideals within our agency and in how we provide transit service. We have established programs and committees to engage and work directly with our diverse community.
TriMet provides bus, light rail and commuter rail service in the Portland, Oregon, region. Our transportation options connect people with their community, while easing traffic congestion and reducing air pollution — making our region a better place to live. TriMet's service district covers 533 square miles and serves a region of more than 1.8 million people.
We have a lot of people on our system, keeping riders safe and helping everybody get where they need to go.
Transit Public Safety Advisory Committee
TriMet thanks the regional thought leaders, community representatives and national transit experts who served on the Transit Public Safety Advisory Committee.
Members
Marcus Mundy
Coalition of Communities of Color
Joe McFerrin
POIC, Rosemary Anderson High School
Anthony Deloney
Self Enhancement Incorporated (SEI)
Patricia Daniels
Constructing Hope
Jan Campbell
Disability Rights Oregon, TriMet CAT
Kevin Modica
Retired Police Transit Commander
Kenechi Onyeagusi
Professional Builders Development Group
Deshawn Hardy
Highland African American Youth Coalition
Lakayana Drury
Word Is Bond
Lauren Cohen
Cascadia Behavioral Health
Jacky Yerby
State of Oregon, Basic Rights Oregon
Johnathon Colon
Centro Cultural
Dr. Beverly Scott
Former Transit System General Manager
Polly Hanson
American Public Transportation Association
Emily Nelson
JOIN
Project Partners
Thank you to the organizations and groups who participated in the reimagining public safety and security project.
107ists
Africa House
African Family Holistic Health Organization
APANO
As the Spirit Moves Us
ATU leadership
Black & Beyond the Binary Collective CAIR
Central City Concern
CENTRO
Centro Cultural
Clackamas Community College
Committee on Accessible Transportation
Constructing Hope
Division Midway Alliance
El Programa Hispano
FACT Oregon
Fair Housing Coalition
Flossin Media/Soul District
Guardian Angels
Hacienda CDC
HAKI
Home Plate Youth Services
IRCO
JOIN
KairosPDX
Latino Network
Lewis and Clark Gender Project
LIF participants
Native American Youth and Family Center (NAYA)
NECN (Northeast Neighborhood Coalition)
OPAL
OPAL/Yeja
Oregon Futures Lab (CCC partner organization)
PBOT
Portland African American Leadership Forum (PAALF)
Portland Community College
Portland Community Reinvestment Initiatives, Inc. (PCRI)
Portland Office of Community and Civic Life
Portland United Against Hate
Resolutions Northwest
Rosewood Initiative
Self Enhancement, Inc. (SEI)
Street Trust
System security staff and partners
The Slavic Network of Oregon
Transit Equity Advisory Committee
Transportation
TriMet bus operators
TriMet rail operators
TriMet Riders Club
TriMet service workers
Unite Oregon
Verde
We All Rise