MAX Improvements Project
Service disruption June 18–October 21, 2023
MAX Red Line trains will be disrupted between the Gateway Transit Center and Portland International Airport from Sunday, June 18, through Saturday, October 21, 2023, for upgrading the Portland International Airport MAX Station as well as new track construction.
The disruption is necessary as part of our "A Better Red" MAX Red Line Extension and Reliability Improvements Project. We'll also use the time to build a new multi-use path and rail crossing at Air Cargo Road, along with nearly a dozen smaller maintenance and improvements projects along the disrupted section of trackway.
Shuttle buses will be running about every 15 minutes. Shuttle buses will take surface roads, stopping at the closed stations between Gateway Transit Center and the airport to pick up and drop off riders.
At PDX, shuttle buses pick up and drop off from the same location, just outside the doors of the baggage claim area near the MAX platform. Follow the signs for "MAX Shuttle."
We suggest planning your trip in advance. Use our trip-planning tools to ensure you reach your destination the fastest. Shuttle buses running between PDX and Gateway may be more crowded than they normally would be. We appreciate your patience and understanding as we work on this critical phase of our A Better Red project.
MAX service disruptions
Heading to the airport?
For trips to the airport from Gateway Transit Center, board a shuttle bus where you would normally board MAX Red Line at Gateway Transit Center.
Leaving the airport?
For trips from the airport to Gateway Transit Center, board a shuttle bus at the airport MAX station near baggage claim on the lower level.
Some trips may take longer than usual during the disruption. Plan your trip at trimet.org and allow extra time. Sign up for service alerts to have information about disruptions and delays delivered by text message and email.
Making Transit Better
Among our largest undertakings in years, A Better Red project has been under construction since September 2021. This multi-year project, set to complete in fall 2024, will extend the MAX Red Line west to serve 10 more stations in Beaverton and Hillsboro. The project also improves schedule reliability for the entire MAX system by adding a second track near both Portland International Airport and Gateway Transit Center. At Gateway, new bridges are being constructed for this second track, spanning I-84, the I-205 multi-use path and existing tracks.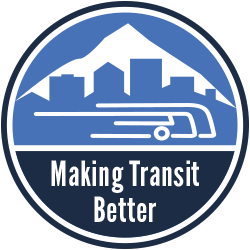 We're working to grow our network of buses and trains while making your ride smoother, safer and more reliable.