I-84 closure

Sept. 23–26
From 10 p.m. Friday, Sept. 23, to 4 a.m. Monday, Sept. 26, a 1.5-mile stretch of Interstate 84 will be closed in both directions near the I-205 interchange. The closure of I-84 is necessary so crews can continue building a new light rail bridge over the freeway.
I-84 will be closed in both directions for about 1.5 miles near the I-205 interchange.
The NE 102nd Ave on-ramp to I-84 west and the I-84 east Exit 7 Halsey/99nd Ave off ramp will also be closed.
Drivers should plan an alternate route or take public transit during the closure, as I-205 will likely see more congestion than usual. You can visit ODOT's TripCheck.com for real time traffic information.
While the closure of I-84 will not affect our transit service, some trips may take longer due to other construction taking place on the MAX Blue Line in Gresham. MAX Green Line may be a good alternative. It runs parallel to I-205 from Clackamas Town Center to Gateway Transit Center before heading to Downtown Portland next to I-84. Buses will also be running regular service while construction takes place.
MAX Blue Line disruption

Sept. 24–25
During the disruption, crews will revitalize tracks and a rail crossing at East 102nd Avenue and Burnside Street. While construction will last from Sept. 23-26, service will only be disrupted during the weekend — Sept. 24–25.
Shuttle buses will serve MAX stations between Gateway Transit Center and East 122nd Avenue.
We'll have extra staff out at select stations to help you make your connections.
Schedules throughout the MAX system will be adjusted during the four-day project, with all trains running every 20 minutes throughout most of the day. We encourage you to plan before you ride! You can check the location of all our buses and train in real time by going to trimet.org.
Making Transit Better
Improving the MAX system is one of the many ways we work to make transit better. Our improvements not only keep trains running reliably, they also help us expand and upgrade service. With the support of regional partners, our riders and the community at large, we aim to help more people reach work, school, events and other destinations.
Among our largest undertakings in years, A Better Red project has been under construction since September 2021. This multi-year project, set to complete in fall 2024, will extend the Red Line west to serve 10 more stations in Beaverton and Hillsboro. The project also improves schedule reliability for the entire MAX system by adding a second track near both Portland International Airport and Gateway Transit Center. At Gateway, new bridges are being constructed for this second track, spanning I-84, the I-205 multi-use path and existing tracks.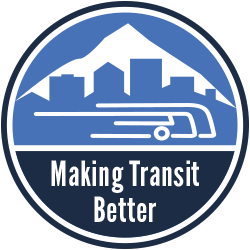 We're working to grow our network of buses and trains while making your ride smoother, safer and more reliable.