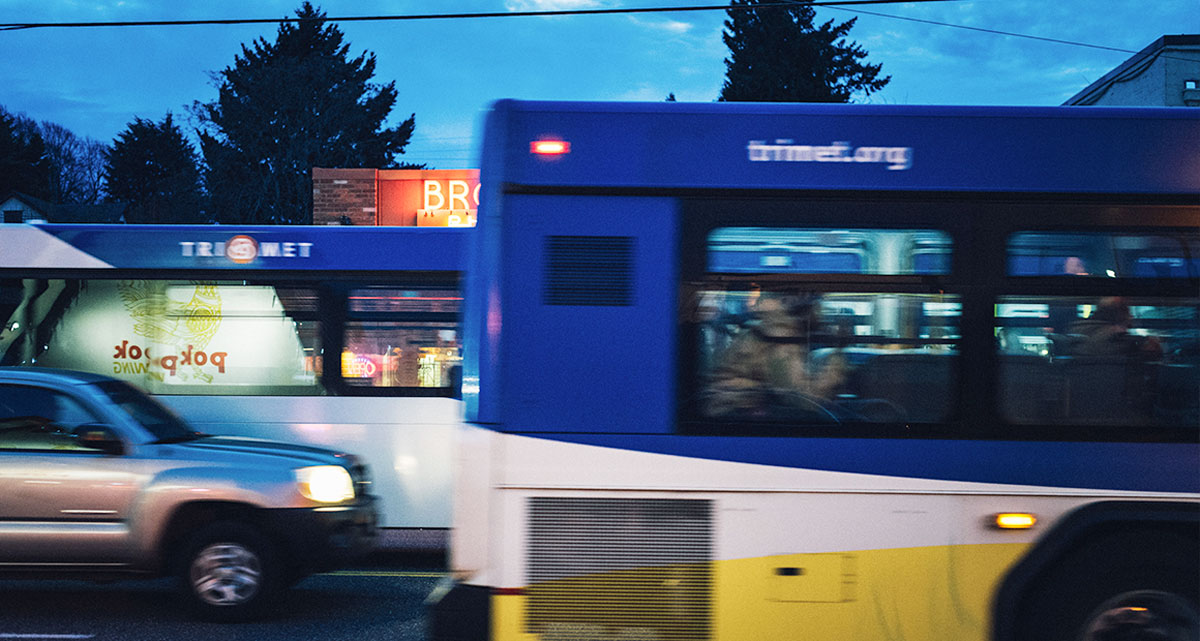 Looking Ahead to Our Next Service Expansion
Here are the service improvements we're proposing for the next year.
✔️ Shorter waits ✔️ Extended service times ✔️ A new bus line in Hillsboro
Once again, we have a full slate of improvements lined up for the coming year. Our main focus is on expanding bus service in growing neighborhoods, so that we can get you in and out — and on time. Here's what we have proposed for fall 2020 and spring 2021.
We want to know what you think of this plan! Share your feedback with us online through November 30th or in person at one of our upcoming open houses.
Proposed bus service changes
New bus line
East/west bus line from Willow Creek Transit Center to Downtown Hillsboro
Downtown Hillsboro and Aloha
We want to add a new bus line that will run between Willow Creek Transit Center and Downtown Hillsboro. It'll run along Main St. and have buses come every 30 minutes on weekdays. Riders headed to PCC Rock Creek from Downtown Hillsboro can transfer to Line 47 to make their way north.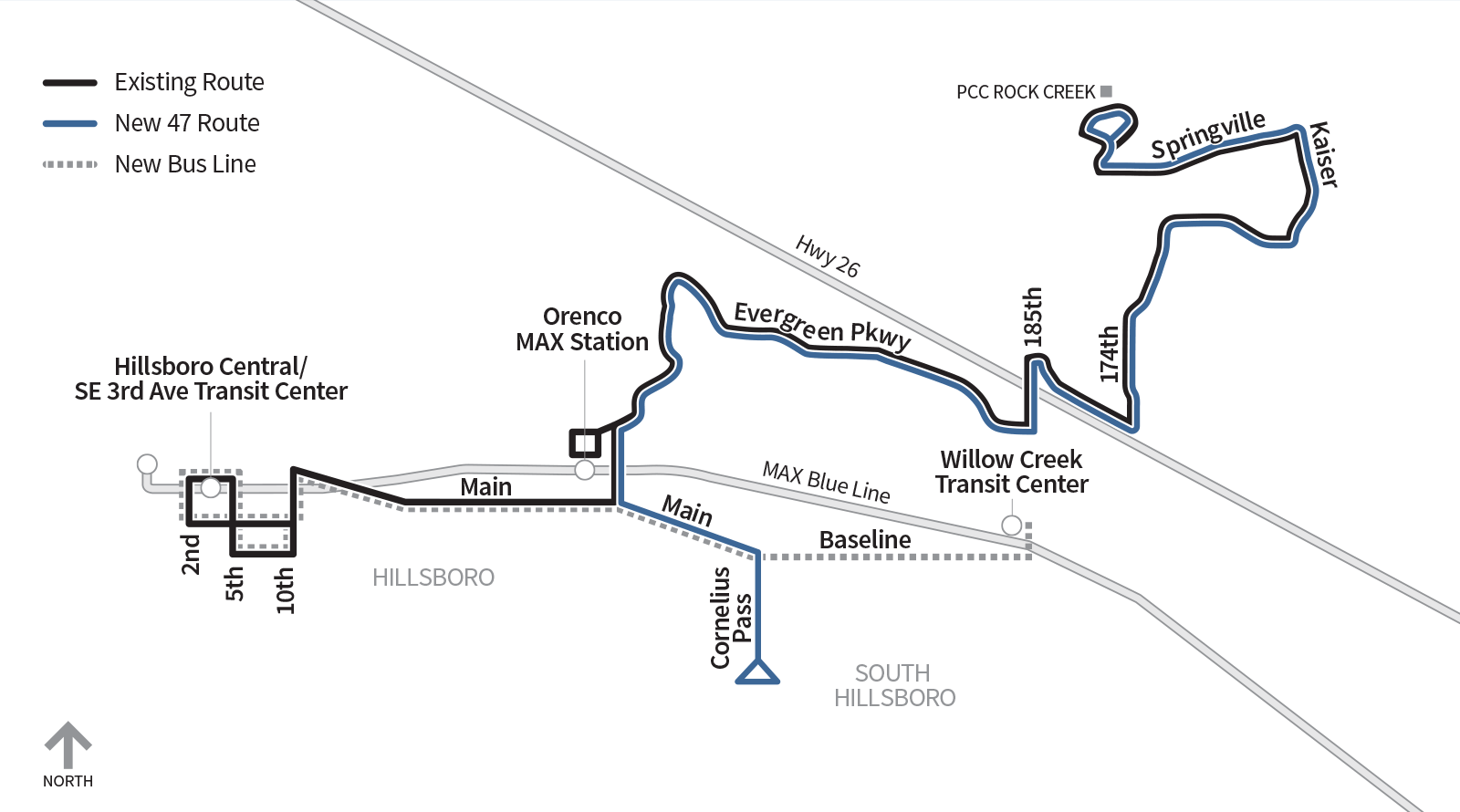 Shorter waits
Front Ave
Sauvie Island, St. Johns, Linnton, NW Industrial Area and City Center
We'd like to add buses during the weekday commute so that you're spending less time waiting (and you'll have more space when you get on board). We also plan to add Sunday service, starting December 2019.
Extended Line and Upgraded Commute Service
Main/Evergreen
South Hillsboro, Orenco, Tanasbourne and Bethany
We want to extend Line 47 into South Hillsboro. Trips that normally turn west at Main St. would instead turn east and go down Cornelius Pass Rd. and end at Reed's Crossing Town Center, south of Tualatin Valley Highway.
Riders heading into Downtown Hillsboro from Line 47 can transfer to the new bus line we want to run along Main St between Hillsboro and Willow Creek TC, or transfer to MAX at Orenco Station.
We also want to increase service on Line 47 so that buses come every 15 minutes during weekday commutes.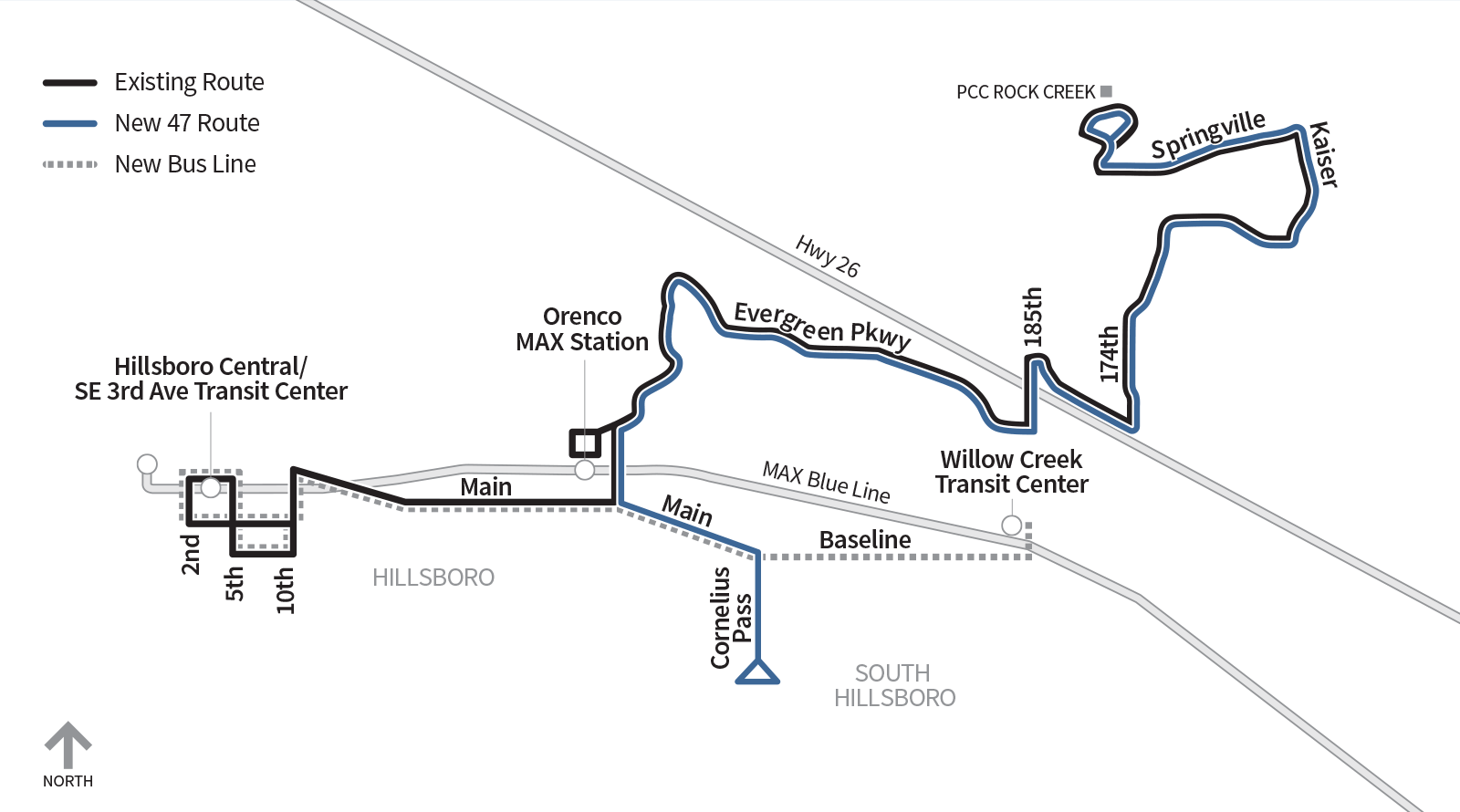 Evening service
Airport Way/181st
Parkrose, Argay Terrace, Wilkes, Rockwood, Centennial and North Gresham
We want to expand service for people who are out later on weekdays. Instead of ending at 6:30 p.m., Line 87 will run later into the evening.
Shorter waits
Sunnyside
Clackamas and Happy Valley
We'd like to add buses during the weekday commute so that you're spending less time waiting (and you'll have more space when you get on board).
What else is in the works?
Speeding up buses
We plan to introduce new bus lanes and transit priority signals in the next several years. These improvements should reduce travel times by keeping buses moving, even when traffic isn't.
New bus stop amenities
We want to upgrade more of our highly used bus stops with new amenities like shelters, TransitTracker digital displays and concrete pads, which will make it easier for people in mobility devices to access the bus.
Improved security
Continuing the security upgrades we've been rolling out, we're going to continue improving lighting and increasing the number of cameras at stops and stations.
A Pedestrian Plan
Every transit trip begins and ends with a walk (or roll). We want to improve that experience by working with partners to make pedestrian infrastructure — such as sidewalks and street crossings — safer and more accessible.
---
Leave feedback
The comment period is now closed.
---
Open houses
St. Johns
Tuesday, October 22
5–7 p.m.
St. Johns Community Center
8427 N. Central St.
Portland, OR 97203
Happy Valley
Wednesday, October 23
5–7 p.m.
New Seasons
15861 SE Happy Valley Town Ctr.
Happy Valley, OR 97086
Hillsboro
Tuesday, October 29
5–7 p.m.
Washington Street Conference Center
102 SW Washington St.
Hillsboro, OR 97123
Downtown Portland
Thursday, October 31
12–2 p.m.
Central Library
801 SW 10th Ave.
Portland, OR 97205
Childcare provided upon request. Please email tmvalenzuela@centrocultural.org.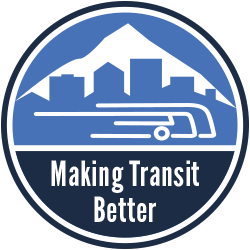 We're working to grow our network of buses and trains while making your ride smoother, safer and more reliable.