New Bus Facility on NE Columbia Boulevard
In 2018, in the midst of an historic service expansion, TriMet purchased property for a new bus garage at 4421 NE Columbia Boulevard, in Portland. This site is well-situated in an industrial area within TriMet's service district, allowing buses to begin and end their routes close to their home base and minimize their time in traffic.
The site includes some buildings that could be refurbished, and others that may need to be replaced. Due to the ridership reduction caused by the pandemic, full redevelopment of the site has been paused. In the meantime, the site is being used for bus parking, storage and office space. A primary activity is receiving new buses — including electric buses — to perform safety inspections and prepare them for testing and service. Details about further site redevelopment will be informed by TriMet's ridership growth, service expansion and transition to zero-emission buses.
Safety on Columbia Boulevard
Through a Local Improvement District (LID), new sidewalks will be constructed adjacent to the site, and a new traffic signal and pedestrian crossing will be added on Columbia Boulevard at NE 42nd Avenue. In addition, NE 46th Avenue will be paved with sidewalks, along with a new leg of NE Bryant Street connecting NE 46th and 47th avenues.
Columbia Slough Habitat Protection
A 100-foot buffer zone will be protected along the site's frontage on the Columbia Slough. TriMet is committed to preserving this important fish and wildlife habitat.
Stay informed
For more information, please call TriMet Community Affairs at 503-962-2150.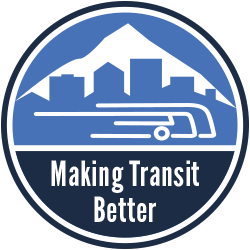 We're working to grow our network of buses and trains while making your ride smoother, safer and more reliable.