Introducing Renewable Diesel
We're testing a new kind of fuel that's better for both the Earth and our buses.
We've got about 700 diesel buses, so it's no surprise that we're the biggest buyer of diesel fuel in the state. By 2040 we plan to ditch gas altogether. But while we build up our non-diesel fleet, we're making our existing buses more eco-friendly by using renewable diesel fuel.
100% renewable
Renewable diesel, also called "green diesel," is an emerging alternative to traditional petroleum-based diesel. It's made from waste fats and vegetable oils, so it's 100% renewable.
Other Sustainability Initiatives
There's no need to modify our buses since green diesel can be processed, shipped, and used just like petroleum-based diesel. This makes it a simple way to shrink our carbon footprint.
Compared to traditional petroleum-based diesel, green diesel:
emits up to 90% less pollutants
cuts maintenance costs in half
gives off less odor
In May 2019, we'll start testing this new fuel in more than a quarter of our buses. We've had good luck with biodiesel so far — in fact, all of our buses currently run on a blend of biodiesel and petroleum. We'll be conducting engine and emissions testing to confirm the reduction of greenhouse gases and other harmful substances.
Who else is doing this?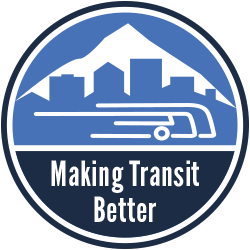 We're working to grow our network of buses and trains while making your ride smoother, safer and more reliable.