Bus Service at Cleveland High School
TriMet has been collaborating with the Oregon Department of Transportation and the Portland Bureau of Transportation for several years to improve safety on Powell Boulevard. Recent tragic crashes have prompted us to pursue additional changes for our bus service to Cleveland High School.
Here's what we're doing to keep students and other people around Cleveland High School safe.
Line 9 bus stop review
We've reviewed options for relocating our Line 9-Powell Blvd bus stop on the south side of Powell Boulevard at 26th Avenue, and confirmed that its current location is safest:
Compared to other potential locations, there is a more space for students to congregate (12–17 foot sidewalk)
The right turn lane on Powell acts as a buffer between students waiting for the bus and through traffic on Powell
Planned crossing improvements and lowered speeds will make the intersection safer for students
There will be no changes to Line 9.
Line 70 changes
We will bring more bus service closer to Cleveland High School by changing the route of the 70-12th/NE 33rd Ave bus line. Currently, students from the neighborhoods of Sellwood, Westmoreland, Eastmoreland and Brooklyn have two options, both requiring them to walk across Powell Boulevard:
Ride MAX Orange Line or Line 70 to SE 17th Avenue & Rhine Street, then walk through Powell Park to SE 26th Avenue and across Powell.
Ride lines 19 or 70 to SE Milwaukie Avenue & Powell, walk across Powell to catch Line 9 to SE 26th Avenue, then walk across Powell again.
Changing the Line 70 route means fewer students who live south of Powell will need to cross it on foot. Dropping students off on SE 21st Avenue instead of SE 26th Avenue is safer because of the lower volume of traffic on 21st Ave. Additionally, students will spread themselves out on the walk to and from Cleveland High School, minimizing crowding on SE 26th Avenue.
Here's what the change would look like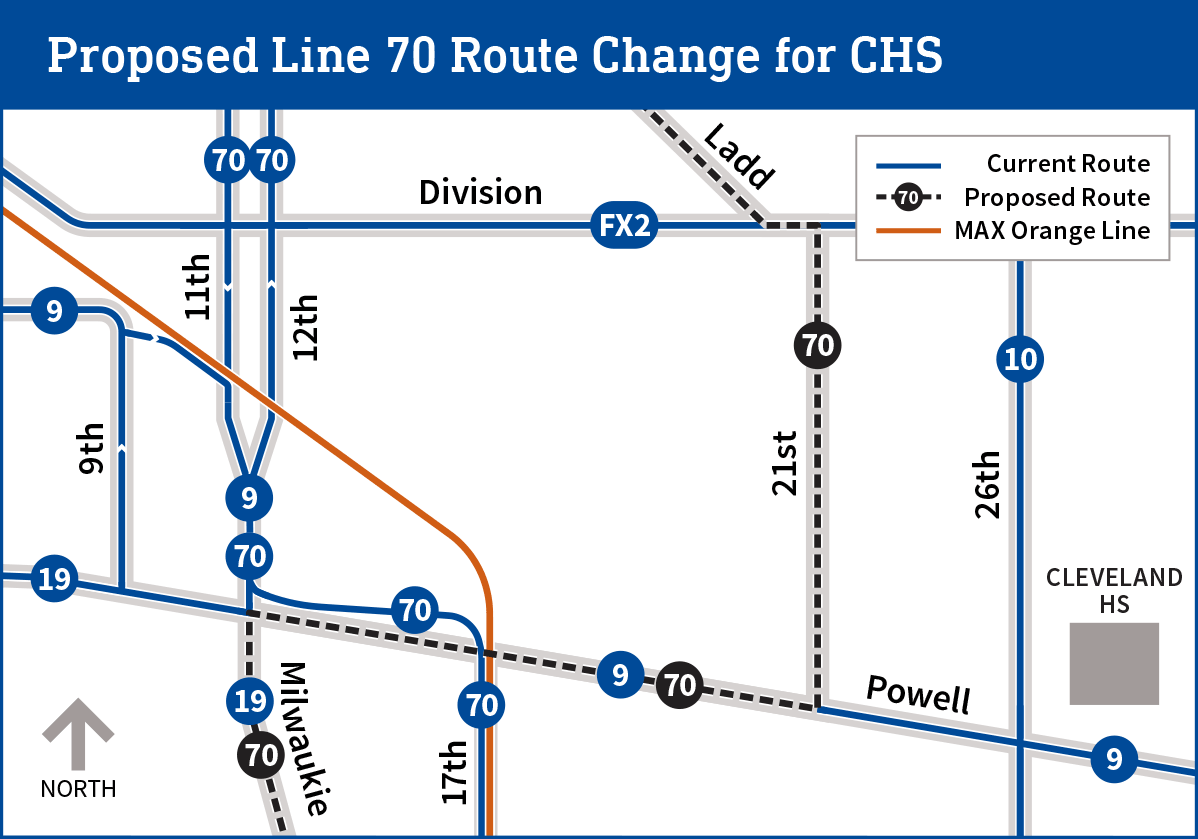 Timeline and benefits
The Line 70 change is tentatively scheduled for May 2023. We will share this plan more broadly in January 2023, as part of a larger outreach effort that includes other proposed changes throughout TriMet's service area.
In addition to bringing more students closer to Cleveland High School without having to cross Powell Boulevard on foot, this Line 70 change benefits other riders, too:
The new route eliminates the delays riders currently experience from freight train crossings at SE 11th and 12th avenues.
Service will be returned to Ladd's Addition following the September 2022 route change on Line 10-Harold.