We're improving elevator safety and reliability by limiting access to riders only
After a month-long test in summer 2023, we found that limiting access to the elevator at the Hollywood Transit Center MAX Station to riders only helped discourage misuse and reduced elevator outages. Our goal is to keep our elevators as clean and reliable as possible for riders, so we plan to gradually add card readers to our elevators throughout the transit system.
Hollywood Transit Center
Beginning August 28, 2023, the elevator at Hollywood Transit Center will only be accessible to riders with a valid fare. There is no cost to access the elevator, but you'll need to tap a valid form of payment on the elevator card reader in order to open the elevator doors.
How to use elevators with card readers
Elevators controlled with a card reader will have signs indicating that you need to tap a card reader to open the elevator doors.
Tap your valid Hop card, Hop ticket, contactless credit/debit card or phone (with mobile wallet enabled) on the black card reader located to the right of the elevator door. The screen on the reader will say "Elevator Access." Similar to a Hop reader, you touch your card to the black area below the screen.
After tapping, the elevator door will open. There may be a slight delay if the elevator needs to go up or down depending on your location.
Your card will not be charged for accessing the elevator.
Please note: The elevator card reader is not a Hop reader. If you're heading to the train, you will still need to pay your fare by tapping the green Hop Fastpass reader before boarding.
Initially, our security staff will be stationed at the elevator to help riders. If you have a bus transfer ticket, just show them your ticket and they'll open the elevator door for you.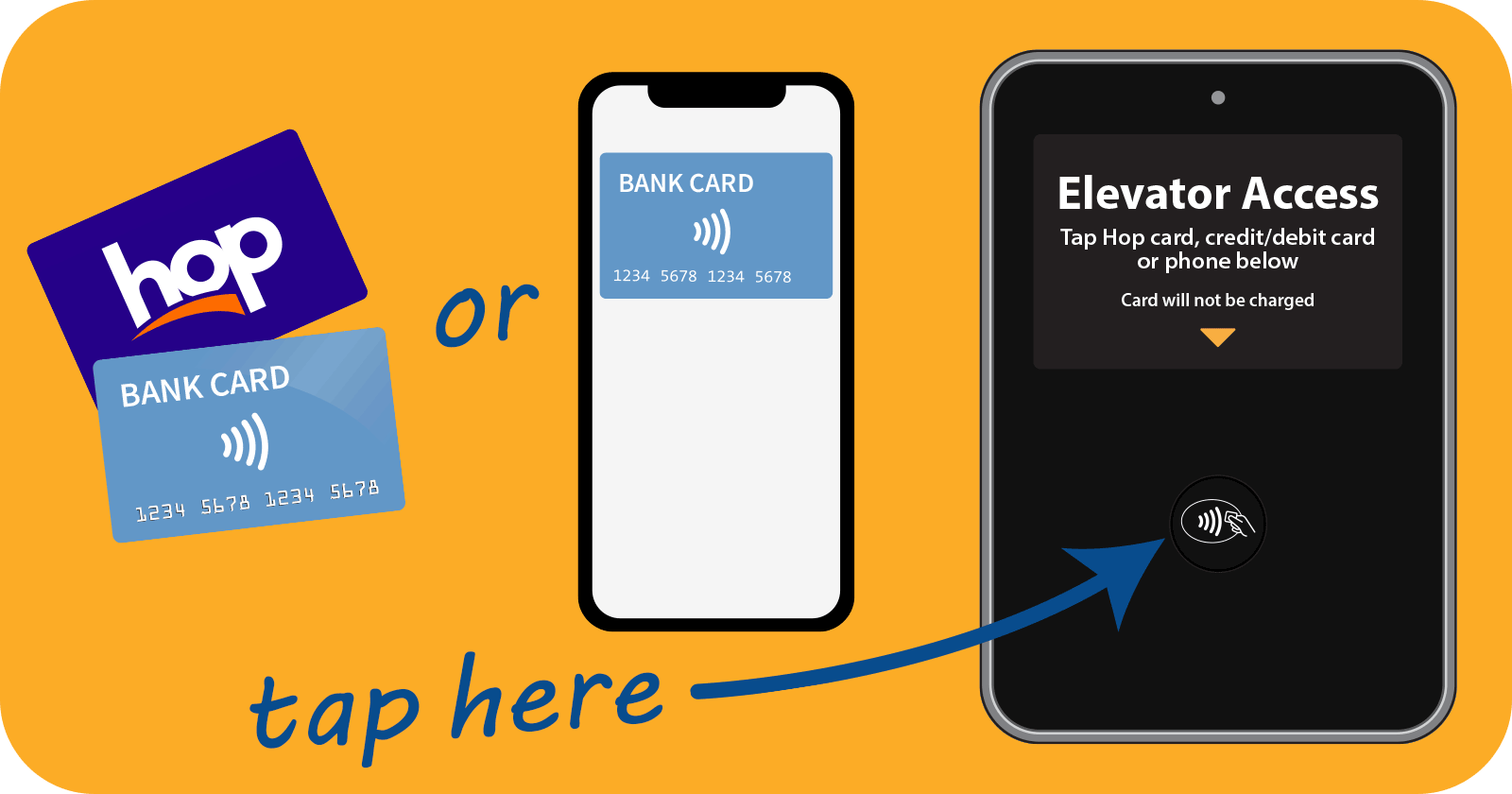 Making our elevators more reliable
We want to keep our elevators working safely and reliably for all riders. Stay in the loop as we work toward adding card readers at other elevators in the future.
We want your feedback
Let us know about your experience using the new elevator card readers: Contact us at 503-238-7433 or email hello@trimet.org.