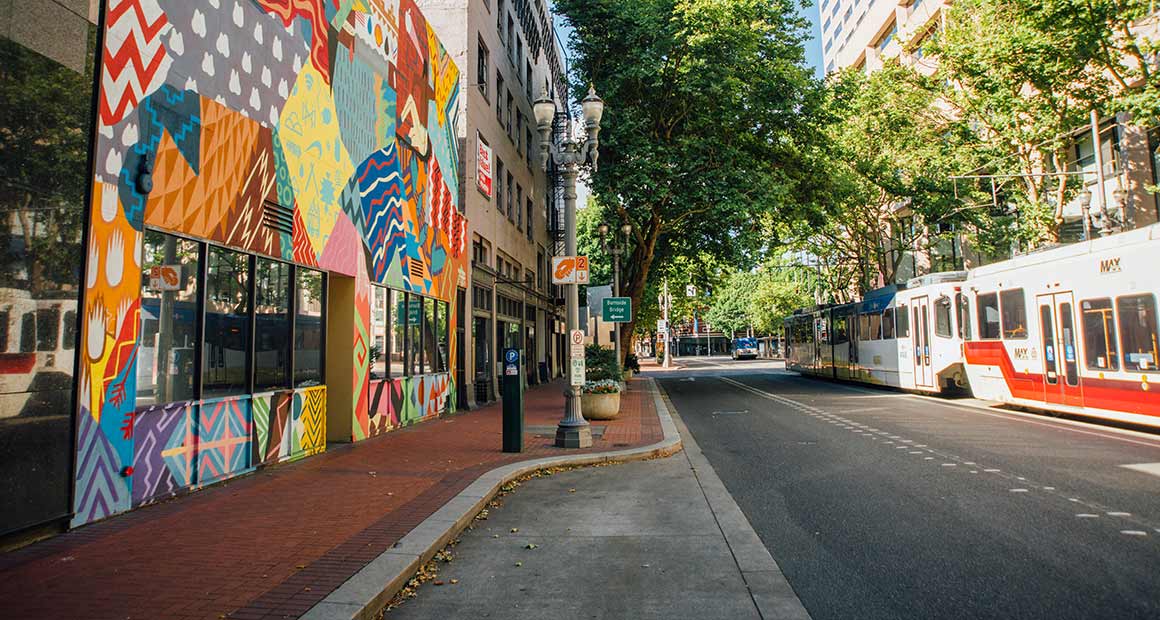 Reimagining Public Safety & Security on Transit
TriMet is committed to ensuring a safe, welcoming and equitable transit system for everyone. We are working with our community to reimagine a better transit system that is fair and free of bias while addressing the needs of our riders and employees to feel safe.
Our Progress
Here's a partial overview of our progress on recommendations first identified by a Transit Public Safety Advisory Committee in November 2020.
In Progress
Winter 2022-present
We're working with local community-based organizations to increase our ability to provide community-informed training on anti-racism, cultural competency, mental health and de-escalation techniques. In March 2022, we issued a request for proposals for trainings for our front-line staff and system partners. Proposals are due March 25.
Winter 2021-present
We're working in partnership with Multnomah County Public Health and other community partners to develop a new crisis team pilot model. The aim is to develop an approach that could address mental and behavioral health issues as well as other quality of life challenges on and near our transit system.
Fall 2021-ongoing
The Reimagine Public Safety Committee meets monthly to further define recommendations to TriMet leadership and the Board of Directors through 2022. After that, the recommendations will be fully integrated into TriMet's efforts as we focus on continued improvement of our safety and security.
Completed
Spring 2022
We developed and launched a new pilot program for TriMet personnel to ride MAX at night, providing more presence and support for riders.
Winter 2022
We created an unarmed Safety Response Team. The team is now on the transit system providing outreach to those who need it.
Winter 2021
We created a new IT and safety task force to review security technology needs. We've started implementing new safety and security features into our projects, and on buses and MAX.
Fall 2021
We completed a Crime Prevention Through Environmental Design (CPTED) study at three transit centers. We've started integrating better features for safety and security at Gateway, Parkrose and Gresham transit centers.
Fall 2021
Transit system security personnel participated in new trainings focused on creating a safe and welcoming system for all. TriMet staff and contracted personnel participated in de-escalation, mental health first aid, microaggression and other trainings.
The Reimagine Public Safety Advisory Committee is tasked with providing feedback, insight and guidance to TriMet as it designs, implements and evaluates the effectiveness of new public safety programs as recommended by the Reimagine Public Safety initiative adopted by TriMet board in November of 2020.
Tuesday, March 21, 3:30-5:30 p.m.
The March meeting will be held virtually. Click the "watch online" Zoom link below to join the meeting at 3:30 p.m. To join by phone, call 669-444-9171. If you're asked for a meeting ID, enter 820 6987 4893. If you're asked for a meeting code, enter 834149
How to watch/listen
➡️ Video
Join the meeting live on Zoom.
➡️ Phone
Listen to the meeting on your phone.
Phone number: +1-669-444-9171
Meeting code: 834149
Meeting ID: 820 6987 4893
Communication aids
If you require an interpreter or other communication aids, please call 503-979-7621 or TTY 7-1-1 (8:30 a.m. to 4:30 p.m. weekdays) at least 48 hours in advance of the meeting.
Previous meetings' recordings and presentations
All meetings are recorded and can be accessed online, along with meeting documents. Recordings are typically available about 2–3 days after the meeting.
TriMet provides bus, light rail and commuter rail service in the Portland, Oregon, region. Our transportation options connect people with their community, while easing traffic congestion and reducing air pollution — making our region a better place to live. TriMet's service district covers 533 square miles and serves a region of more than 1.8 million people.
We have a lot of people on our system, keeping riders safe and helping everybody get where they need to go.