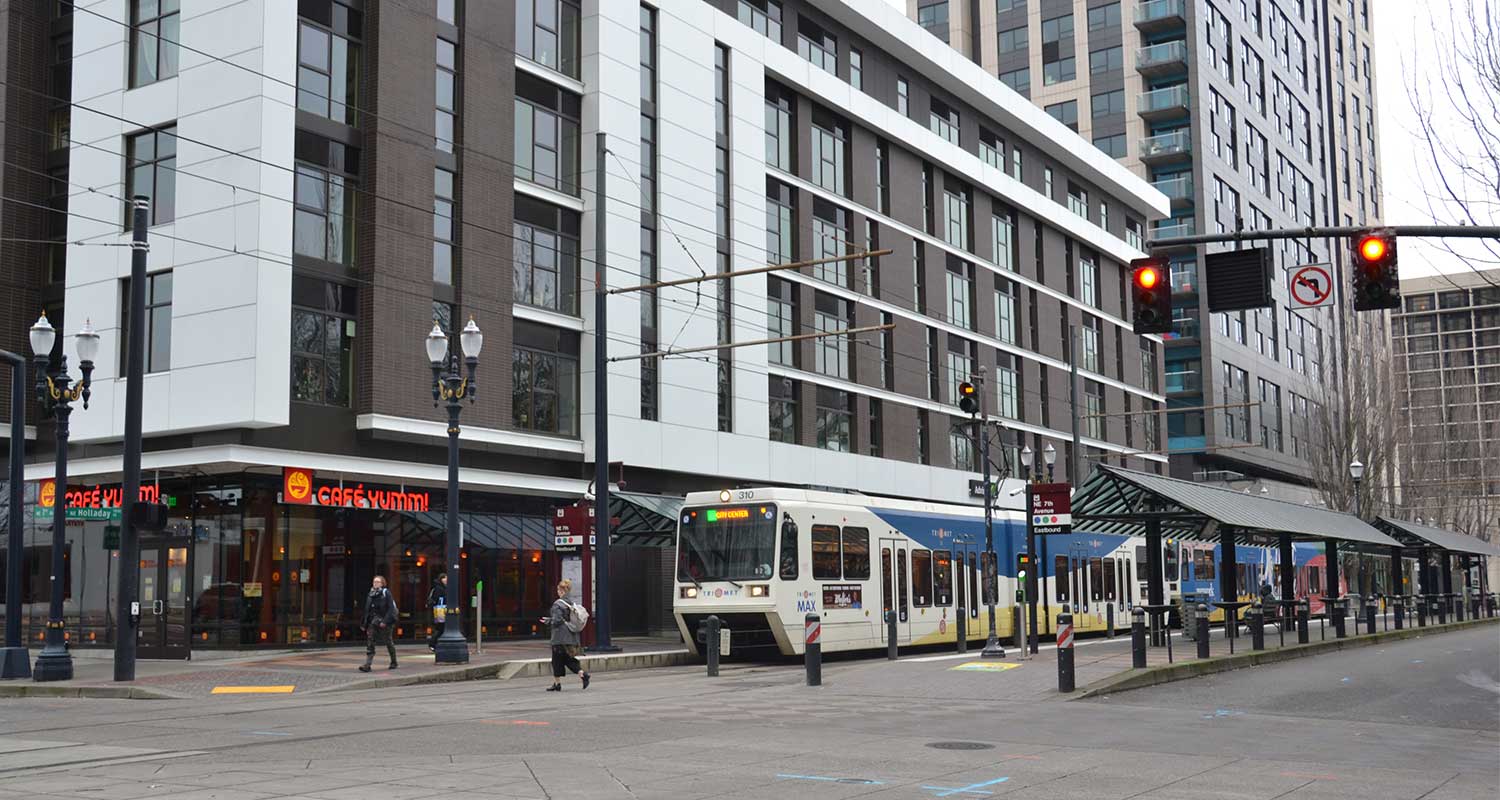 Transit-Oriented Development
TriMet is committed to making our region one of the world's most inclusive, sustainable and livable places.
Transit-oriented development (TOD) helps achieve this goal by delivering higher-density, mixed-use and mixed-income projects within walking distance of transit. TOD has many benefits, including:
Increased transit ridership
Reduced congestion and pollution
Healthier, more livable neighborhoods
TriMet's TOD program exists to promote partnerships with public, private and community groups to deliver new, equitable developments that best meet the stakeholder needs at each site.
We work with public, private and community partners to create new developments that maximize density and increase opportunities for transit on third-party owned properties, or properties that are no longer needed for TriMet construction or operations. When combined with mixed-income development, TOD can increase the supply of affordable housing units, promote density and relieve gentrification pressures.
Current Development
We are committed to addressing the region's housing crisis. Here are some examples of development partnerships on TriMet properties.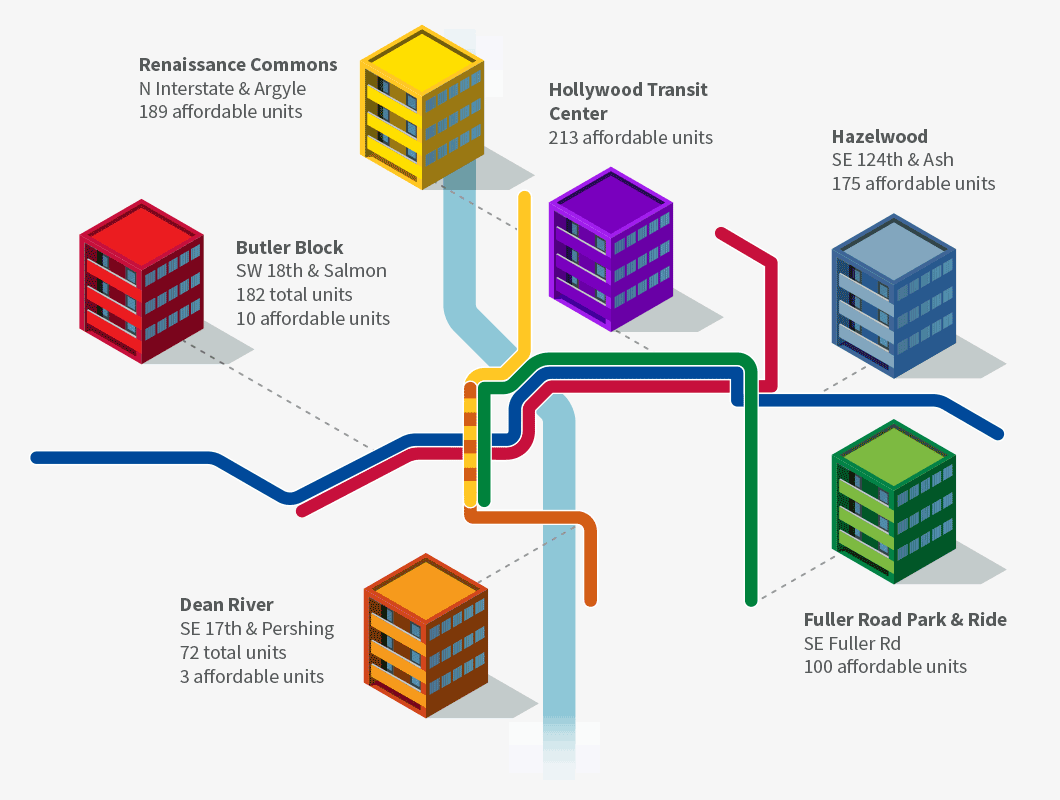 We're working with BRIDGE Housing to redevelop the Hollywood Transit Center into a mixed-use, mixed-income, transit-oriented development community. Construction is expected to begin in fall 2022.
Guidelines
To support the delivery of TriMet's TOD Program, TriMet has adopted formal guidelines that define key objectives and goals. The guidelines and related goals will be periodically reviewed and updated to ensure that our TOD program remains dynamic and can quickly respond to changing community, environmental and economic needs.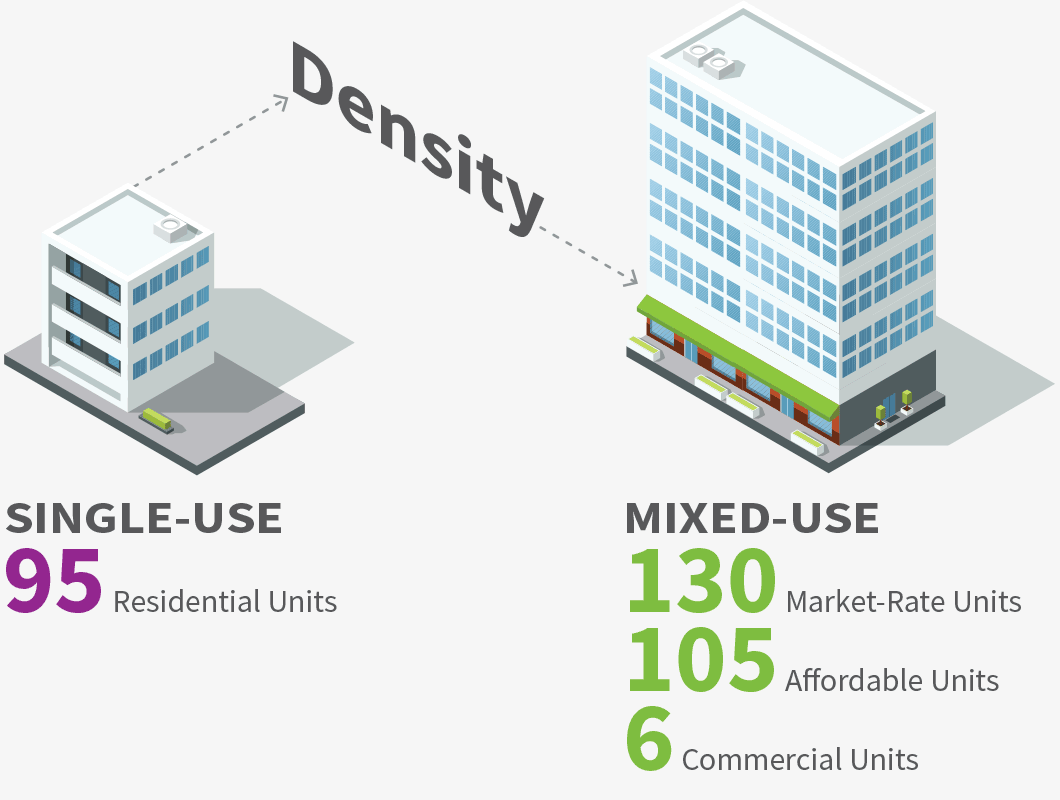 Integrated and Multi-Modal
TODs should be integrated into all public transit networks as much as possible. Buildings and pathways should be oriented toward transit stations, "mobility hubs" and other similar points in the transportation network that offer a variety of modes, like bikes, scooters and car-sharing.
User-Friendly to Promote Transit Use
Projects should be "transit-oriented" and "transit-integrated," not merely "transit-adjacent." This includes consideration for wayfinding, building orientation and pedestrian-scale design.
Financially Viable
Project costs must be justifiable to ensure the long-term sustainability of the project and the broader TOD program.
Safe, Vibrant and Accessible
TODs should create safe and accessible station areas by providing community-oriented services in vibrant places where anyone who chooses can live, work and visit.
Balanced Mixed-Uses
Whenever possible, TODs should include a variety of housing styles at a wide range of price points, promotion of small business retail and office space, and scalable industrial and light manufacturing uses.
Deliver Density
TODs should prioritize density to create resource-efficient, high-quality, environmentally-healthy developments to maximize infill.
Provide Housing
TODs should strive to include as much housing as appropriate. TriMet is committed to addressing the regional shortage of affordable housing through a portfolio-wide threshold that ensures at least 30 percent of all units developed on existing and future TriMet residential TOD projects are for residents with an average area median income (AMI) of 60 percent or lower. We are committed to comprehensive and site-specific engagement, applying a racial equity lens to consider how each project can allow residents to remain in their neighborhoods and have access to new housing, while preventing displacement.
Community Engagement
Community engagement is an essential part of TOD. When we propose a project, we commit to:
1 Early neighborhood and community engagement to ensure diversity and inclusion is integrated from project inception through completion
2 Report on the impact of site improvements
3 A site-specific analysis to maximize housing options
4 Equitable contracting and procurement
5 Documenting and reporting our processes and outcomes transparently
Board of Directors Meetings
May 27, 2020
July 22, 2020
October 28, 2020
February 24, 2020