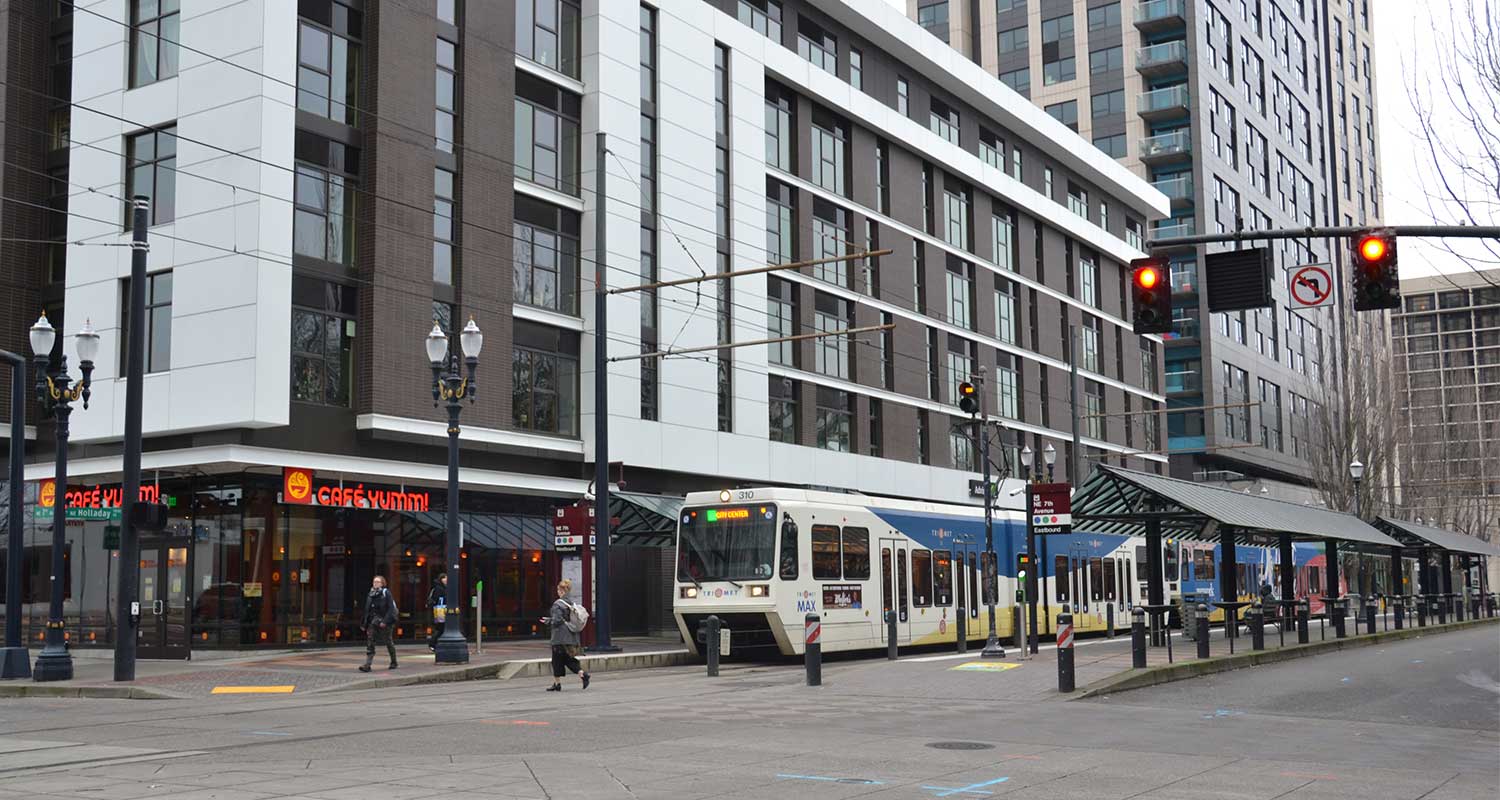 Transit-Oriented Development
TriMet is committed to making our region one of the world's most inclusive, sustainable and livable places. Transit-oriented development (TOD) helps achieve this goal by delivering higher-density, mixed-use and mixed-income projects within walking distance of transit. TOD has many benefits, including:
Increased transit ridership
Reduced congestion and pollution
Healthier, more livable neighborhoods
TriMet's TOD program exists to promote partnerships with public, private and community groups to deliver new, equitable developments that best meet the stakeholder needs at each site.
We are not developers, but we work with public, private and community partners to facilitate new developments. These projects maximize density on third-party owned properties or properties that are no longer needed for TriMet construction or operations. TOD reduces the dependency on owning a vehicle and increase access to transit. When combined with mixed-income development, TOD can increase the supply of affordable housing units, promote density and relieve gentrification pressures.
TOD brings many changes, and we're mindful of the impacts they have on people and places. Our equity, inclusion and sustainability work helps ensure our TOD projects' benefits and opportunities are enjoyed by everyone.
When we're considering a new TOD partnership, we consult with local organizations to minimize displacement while creating new housing and opportunities near transit for people who need it most.
Guidelines
To support the delivery of TriMet's TOD Program, TriMet has adopted formal guidelines that define key objectives and goals. The guidelines and related goals will be periodically reviewed and updated to ensure that our TOD program remains dynamic and can quickly respond to changing community, environmental and economic needs.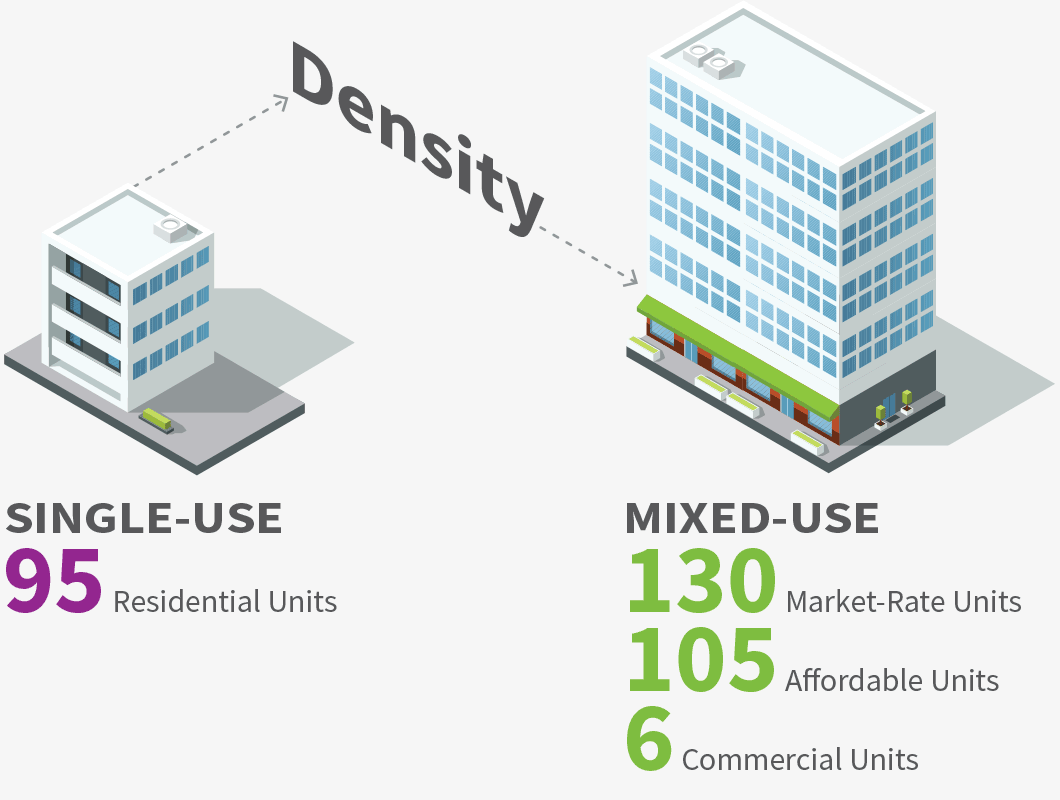 Integrated and Multi-Modal

Provide Housing

Financially Viable

Safe, Vibrant and Accessible

Balanced Mixed-Uses

Deliver Density

User-Friendly to Promote Transit Use
TriMet's TOD program follows a set of TOD guidelines that were approved by the Board of Directors in May 2020. These guidelines define our goals and objectives, while supporting and complementing Metro's 2040 Growth Concept, which "encourages compact development that uses land and money efficiently."
Currently, our TOD team is using the guidelines to produce a system wide plan for advancing TOD projects across the region. We expect to share a draft of this plan by late 2021. The plan is bold, and we're starting with this framework:
Update our inventory of existing TOD sites, and identify new and potential sites
Prioritize sites for development, accounting for greatest need and project viability
Develop protocols for engaging with community and stakeholders on TOD
Create transparent and replicable financial and analytical models
Produce sample station area plans
A final TOD plan will be presented to our Board of Directors in mid 2022.

In connection with the Better Red project, we're also studying TOD opportunities at key Red Line stations. In partnership with local jurisdictions and stakeholders, this work will create station area plans, identifying the potential form, scale, mix of uses and affordability levels of future TOD, with a focus on land use planning changes that promote new equitable development.
Past and Current Developments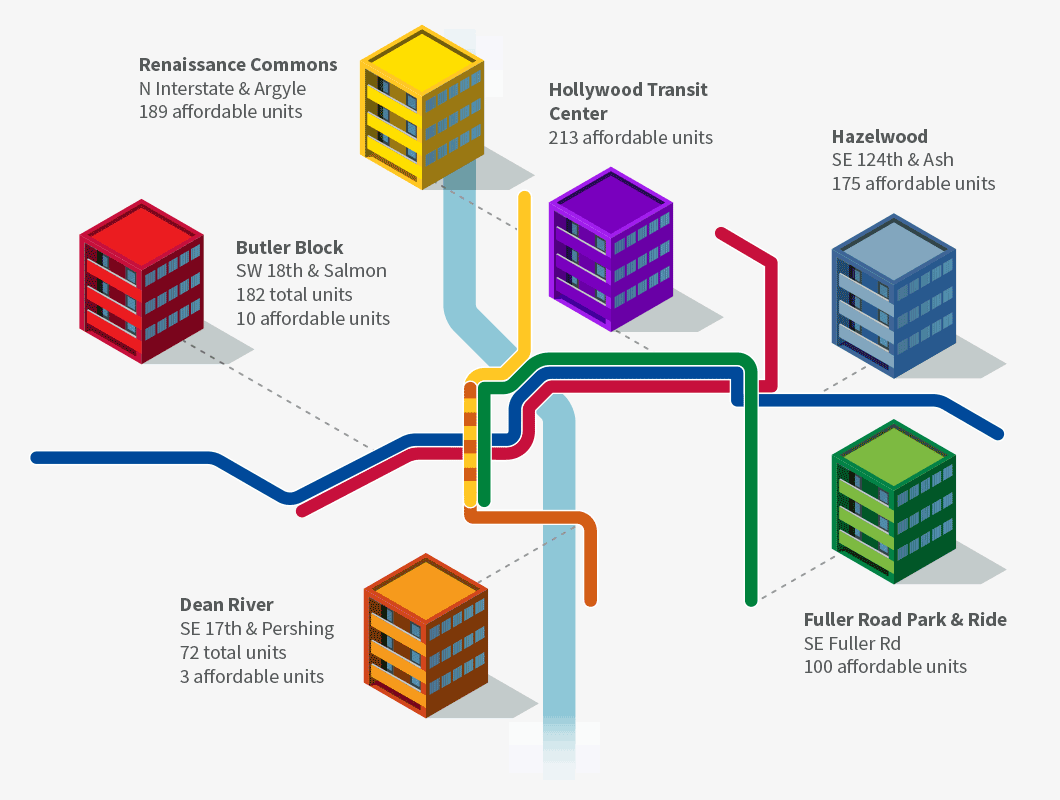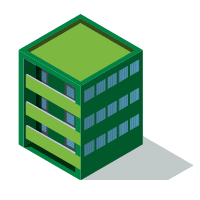 Fuller Road Park & Ride
In April 2021, we completed a TOD deal with Clackamas County and developers Geller, Silvis & Associates and Guardian Real Estate Services to create the Fuller Road Station Apartments just steps away from the SE Fuller Road MAX Station.
The developer will re-purpose part of TriMet's under-used Fuller Road Park & Ride site to create a six-story, 100-unit building that will be entirely dedicated to affordable housing. The new homes will be priced for residents and families earning between 30% and 60% of the Area Median Income, and will be accessed via a new street linking Fuller Road to the MAX station.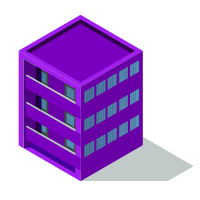 Hollywood Transit Center
In NE Portland, we're partnering with BRIDGE Housing to create a major mixed-use, mixed-income, transit-oriented development at the Hollywood Transit Center. BRIDGE Housing aims to deliver 100% permanent affordable housing on part of the site. The new community, called hollywoodHUB, will be dense, diverse and vibrant, and within walking distance of MAX trains and bus lines.
The housing part of the project, led by BRIDGE, is envisioned as a 13-story building with up to 200 permanently affordable homes, 40 parking spaces and community areas. These units will be reserved for residents who earn 60% or less of Area Median Income.
We'll also modernize the transit center and make improvements and make street and intersection improvements at NE Halsey and 42nd Avenue. Project construction is expected to begin in late 2022.
Community Engagement
Community engagement is an essential part of TOD. When we propose a project, we commit to:
1 Early neighborhood and community engagement to ensure diversity and inclusion is integrated from project inception through completion
2 Report on the impact of site improvements
3 A site-specific analysis to maximize housing options
4 Equitable contracting and procurement
5 Documenting and reporting our processes and outcomes transparently
Board of Directors Meetings
Public notices
Intent to negotiate for contract offered by unsolicited proposal for purchase and development of property for construction of library facility
TriMet has received an unsolicited proposal from Multnomah County Library to purchase part of TriMet's Gresham City Hall Park and Ride site, a 3.04-acre parcel located at 1297 NW Eastman Parkway, Gresham, OR 97030. The proposal provides for the construction of a new East County Library Building and open space to support programing and events.
If other parties desire to offer their own proposal, or comment on the proposal received, they must do so by contacting the Real Property Department at realproperty@trimet.org no later than August 8, 2022.
Notice Published 07/05/2022; Expired 08/08/2022
EXPIRED
Intent to negotiate for contract offered by unsolicited proposal for purchase and development of property for construction of affordable housing
TriMet has received an unsolicited proposal from Related Northwest to purchase TriMet's Mohawk Park and Ride site, a 3.03-acre parcel located at 7850 SW Mohawk Street in Tualatin, Oregon. The proposal provides for the construction of approximately 100 housing units that will be affordable to tenants earning 30–60% of the Area Median Income.
Notice Published 06/01/2022; Expired 07/01/2022