Board of Directors
TriMet is governed by the seven-member Board of Directors, appointed by the Governor of Oregon.
The Board of Directors sets agency policy, enacts legislation (taxing and policy ordinances), and reviews certain contracts.
Board members must live in the geographical districts they represent. The term of office is four years, but a Board member serves at the pleasure of the governor. Board members are volunteers and can serve up to two four-year terms.
Bruce Warner
Board President
Bruce Warner is the president of The Warner Group LLC, which is involved in transportation, land use and management consulting. He has more than 32 years of directorial experience in a broad range of public works, public administration, economic development, land use and transportation.
As the former executive director for the Portland Development Commission, Warner was responsible for the overall leadership and management of the City's redevelopment, housing, and economic development programs and projects.
He has also served as the director for the Oregon Department of Transportation, the director of Land Use and Transportation for Washington County, a city engineer/building official for the City of Hillsboro, and the chief operating officer and director of Regional Environmental Management at Metro.
Joe Esmonde
Joe Esmonde is the Business Representative for the International Brotherhood of Electrical Workers (IBEW) Local 48, a labor union that represents active members and retirees who work in a wide variety of fields, including utilities, construction, telecommunications, broadcasting, manufacturing, railroads and government. Esmonde has been a part of the organization for 25 years.
Originally from Philadelphia, PA, Esmonde received his Bachelors Degree from Wheeling Jesuit University in West Virginia. After moving to Portland, Esmonde completed a five-year apprenticeship with the IBEW training center and has been a distinguished member since. He has served on many boards including several health and pension trusts boards.
Esmonde rides bus lines 44 and 45, which serve his neighborhood, and is also a frequent rider of Portland Streetcar. Esmonde and his family have lived in Southwest Portland since 1980.
Dr. Linda Simmons
Dr. Linda Simmons is a recently retired community college educator with wide-ranging administrative and executive experience spanning almost four decades. She has received national recognition as a leader in shaping public policy to enhance student access to post-secondary education. Dr. Simmons is recognized by her peers as an innovative leader and coalition builder who is able to band together the diverse needs of civic, education, business and government groups.
A native Oregonian, Dr. Simmons earned her doctorate in educational administration from Oregon State University. Before retiring, Dr. Simmons served as President of Corporate College, a branch of Cuyahoga Community College in Cleveland, Ohio that helped fulfill that region's need for advanced business training. She currently resides in Tualatin.
Lori Irish Bauman
Lori Irish Bauman is senior counsel at Ater Wynne, LLP, a Portland-based law firm. Her years of practice focusing on business litigation have brought her to forums including the Oregon Supreme Court and the Ninth Circuit Court of Appeals, where she has briefed and argued appeals.
Bauman's experience as a member of the board of directors of Catholic Charities of Oregon has informed her interest in supporting and enhancing services to people with disabilities. Additionally, her service on the Multnomah County Library Advisory Board and with non-profits such as the City Club of Portland has familiarized her with a host of public policy and governance issues.
Bauman, a resident of Southeast Portland, looks to serve the region's diverse population while advancing economic development.
Dr. T. Allen Bethel
Board Vice President
Dr. T. Allen Bethel is the senior pastor of Maranatha Church of God, where he has served since July 1994. He is also involved in many civic activities, including serving on the boards of Warner Pacific College, North Portland Bible College and the Albina Ministerial Alliance.
Dr. Bethel has extensive experience with mass transit and public involvement with organizations and businesses in the Portland region and will work to ensure transit, project development and community involvement are all closely aligned. As part of the "Big Dig" project in Boston, MA, he served as chair of a task force charged with managing the relocation of a light rail line, the public meetings about the relocation, and the design and construction of the necessary new stations.
He earned a bachelor of theology degree from Kansas City College and Bible School, graduating cum laude with further study from the Nazarene Theological Seminary. Dr. Bethel also has a master's in religious education from Gordon Conwell Theological Seminary and an honorary doctorate from the Southern California School of Ministry.
Travis Stovall
Travis Stovall is president of The Stovall Group, a consulting firm he founded to assist start-up businesses and companies looking to grow and reorganize. As a healthcare administrator, he has directed multi-million dollar development projects.
Stovall is active in the community and has been recognized for his leadership of the Gresham Area Chamber of Commerce.
He holds a degree in Business Administration and Finance from Union College in Lincoln, Nebraska.
Craig Prosser
Craig Prosser is recently retired after six years as the City of Tigard's city manager. During that time, he made major improvements to two key intersections on Pacific Highway, funded in part by the City's first local gas tax. He also oversaw the City's recent bond rating upgrade from A1 to AA, a two-level increase during difficult economic times.
Prosser has been in public service for more than 35 years. Prior to his role as Tigard's city manager, he served for six years as their finance director, developing the city's annual operating budget and five year financial forecast. He was also instrumental in putting together a consortium of 24 Oregon cities to conduct the state's first joint audit of a utility franchise (Portland General Electric), recovering $3.2 million for the consortium cities. Prosser served over six years as Metro's Financial Planning Manager, supervising the Financial Planning Division, developing the annual operating budget, and instituting Metro's first five-year Capital Improvement Plan.
He served on the Lake Oswego City Council from 1995 to 2000 and on the board of directors at the Three Rivers Land Conservancy from 2000 to 2004 (including two years as the Three Rivers Land Conservancy's treasurer). He is currently a member of the Lake Oswego Budget Committee.
* TriMet Board members whose term has expired will continue to serve on the Board until they are reappointed or a replacement is announced.
Map of Board member districts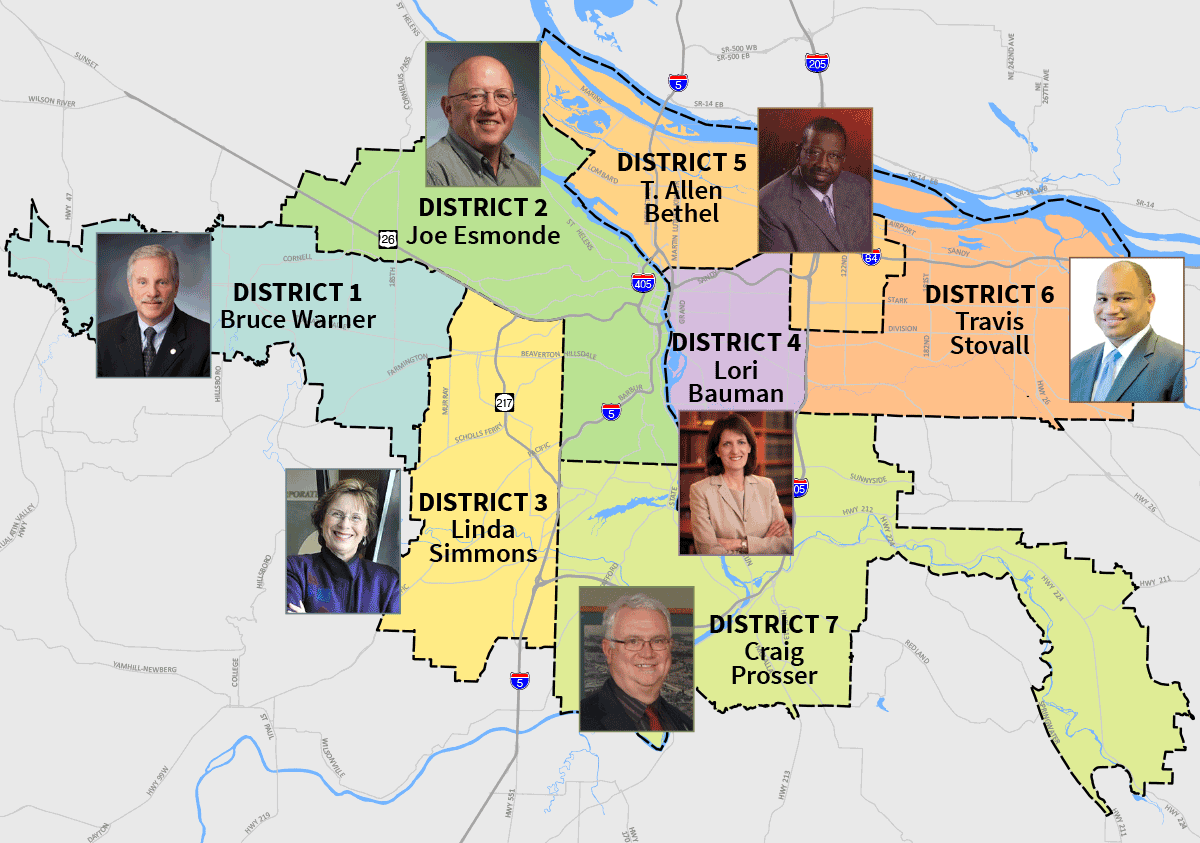 Contact
To reach a Board member, click on the email link in his or her profile above. You may also contact:
Learn more