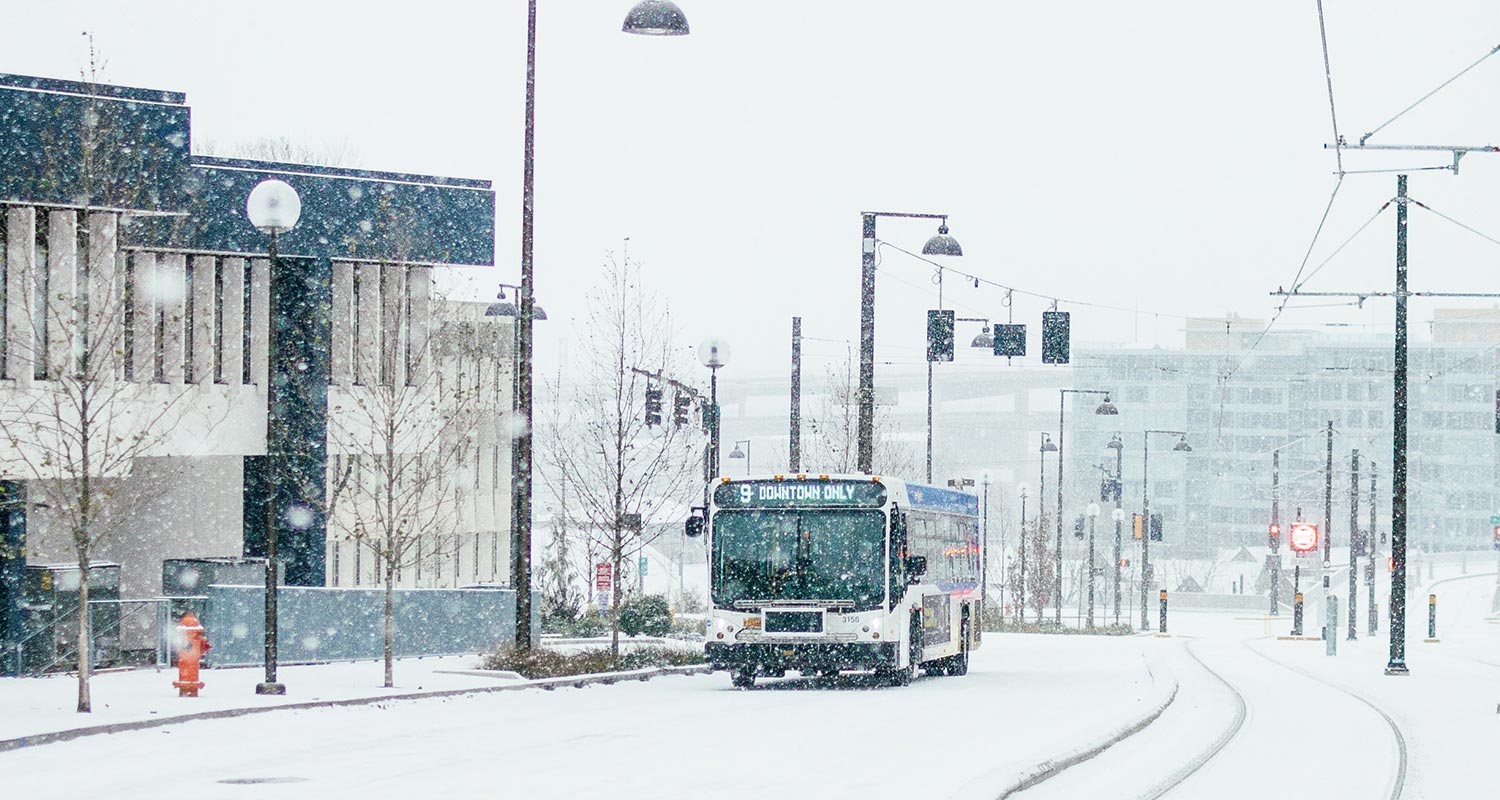 If you're riding during snowy or icy weather, here's what you need to know.
Brush up on where to get service information
Conditions can change quickly. Before you leave, get the latest updates on snow routes, delays and cancellations:
Bus riders: Learn your snow route
Check your bus line's snow route
When the snow starts falling
Buses will follow their normal routes as long as the streets are safe for travel. We work with city, county and state road crews to help make sure bus routes get plowed first. We'll chain buses as necessary, especially those that travel at higher elevations.
Significant snow/ice conditions
As snow or ice accumulates, some lines may be canceled due to road conditions. Others will go on snow routes or otherwise avoid parts of the route that are not safe to drive on.
Severe weather service plan
If the weather gets really bad, and stays bad, we'll limit service to a select group of bus lines operating on plowed streets, so that we can serve the most riders.
TransitTracker can't accurately predict arrival times
During snowy/icy weather, buses and trains get so far off their normal schedule or route that TransitTracker™ (our real-time arrival information system) can't predict arrivals accurately. Instead of an arrival countdown, we'll show how far away the next vehicle is, plus a Service Alert with details about what's happening on that line. Learn more about how TransitTracker works
Bundle up and expect delays
Road conditions affect all traffic, so buses may experience significant delays. Chained buses can't travel more than 25 mph. They won't be on schedule, but we aim to keep them moving and doing it safely.
MAX Light Rail, WES Commuter Rail and Portland Streetcar will operate normally unless there is a problem with the tracks, switches or the overhead wires. To be safe, always dress warmly, plan extra time and make sure you're visible when it's dark out.