Converting to a Greener Bus Fleet
Our goal is to have a 100% zero-emission bus fleet by 2040.
Public transit has always been good for our environment. It provides an alternative to driving, which reduces emissions. Even with standard diesel buses, transit in the U.S. saves more than six times as much carbon dioxide equivalent as it emits.
As part of our commitment to make our region a better place to live, we're ditching diesel, aiming for a zero-emissions bus fleet by 2040. Since 2022, we've been using renewable diesel for all our fixed-route buses and WES vehicles. These changes reduced our emissions by nearly 70% compared to the traditional diesel we were using.
We'll continue using renewable diesel while we retire older buses and purchase new zero-emissions buses. We're well on our way: We started with five battery electric buses in 2019 and added five more in 2021. Our first bulk purchase of 24 battery electric buses starts arriving in early 2024.

Battery electric and fuel cell electric buses
We're starting our transition with battery electric buses, which are currently in service on several routes. We'll continue buying battery electric buses while we explore the potential for fuel-cell electric buses, which use hydrogen to generate electricity on board instead of storing it in large banks of batteries. Both types of buses use electric motors, but fuel-cell electric buses have a much longer range because the batteries are continuously recharging. Which is good, because we need that longer range — about half of our buses drive more than 150 miles each day, which is more than a battery electric bus can provide on a single charge with today's technology.
Our fuel-cell electric buses would be fueled with "green" hydrogen, meaning it's produced with electricity from renewable sources like wind, solar or hydropower. Based on trends in the industry, we expect affordable, green hydrogen to be widely available locally within the next 5-10 years.

Bus facilities
Changing the way we fuel buses requires new infrastructure at our maintenance facilities. We currently operate buses from three facilities, and we're in the process of adding a fourth. We intend to operate battery electric buses from our three existing facilities, and fuel cell electric buses from our future new facility.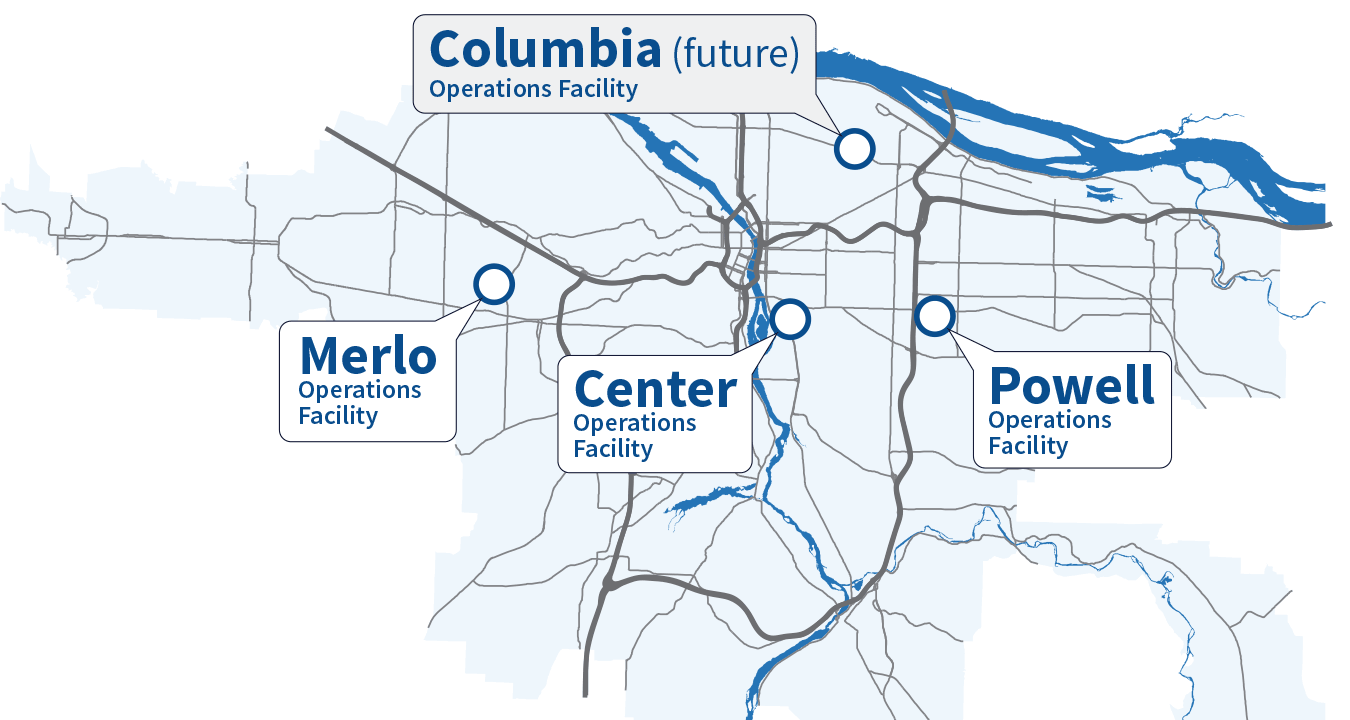 Center Operations Facility

• Aging facility built in 1978; needs renovation

• No battery electric bus infrastructure

Powell Operations Facility

• Renovations completed in 2023

• Some battery electric bus chargers in place; more to be added over time

Merlo Operations Facility

• Aging facility built in 1980; needs renovation

• Some battery electric bus chargers in place; more to be added over time

• Battery electric buses operating from here will also be charged at Beaverton Transit Center, where chargers will be added over time

Columbia Operations Facility

• Future facility to serve fuel cell electric buses

• Interim renewable diesel infrastructure (for buses displaced from other facilities during their renovations)

Bus lines
Our goal is for all bus lines to be served by zero-emissions buses by 2040. Route length and charging infrastructure will be key factors as we phase them in over time. Additionally, we've developed a Clean Corridors Plan that identifies areas where use of zero emissions buses could best improve local air quality, while also serving areas where vulnerable populations live, work and access key destinations.
In addition to greenhouse gasses, which are a global concern, the plan also analyzes local pollutants of diesel particulate matter, nitrogen oxide and carbon monoxide. The analysis discovered that with current diesel engines, particulate traps and renewable diesel, TriMet contributes very little to local pollution. But even small reductions could be helpful.
By combining data about pollutants and demographics, the plan found that zero-emissions buses on the following lines would provide the greatest benefit to improving air quality near vulnerable populations:
4-Fessenden
9-Powell
12-Barbur/Sandy
17-Holgate/Broadway
20-Burnside/Stark
35-Macadam/Greeley
52-Farmington/185th
57-TV Highway
71-60th Ave
72-Killingsworth/82nd Ave
73-122nd Ave
77-Broadway/Halsey
Getting to zero emissions
We're embarking on a long journey to reach zero emissions. The transition will require additional technological improvements and significant financial support from federal, state and local partners. We'll keep you posted as we work toward a cleaner, more climate friendly future.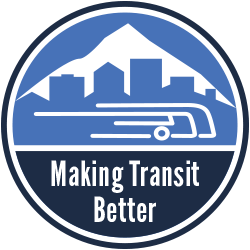 We're working to grow our network of buses and trains while making your ride smoother, safer and more reliable.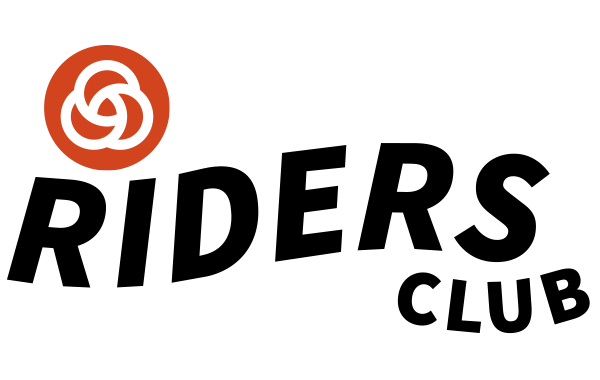 Join the club
Be sure to join Riders Club for the latest news, surveys, contests, giveaways and more. Learn more
You can opt out at any time here or by clicking the "Unsubscribe" link in any email you receive from us. Any personal info you provide will be used in accordance with our privacy policy.