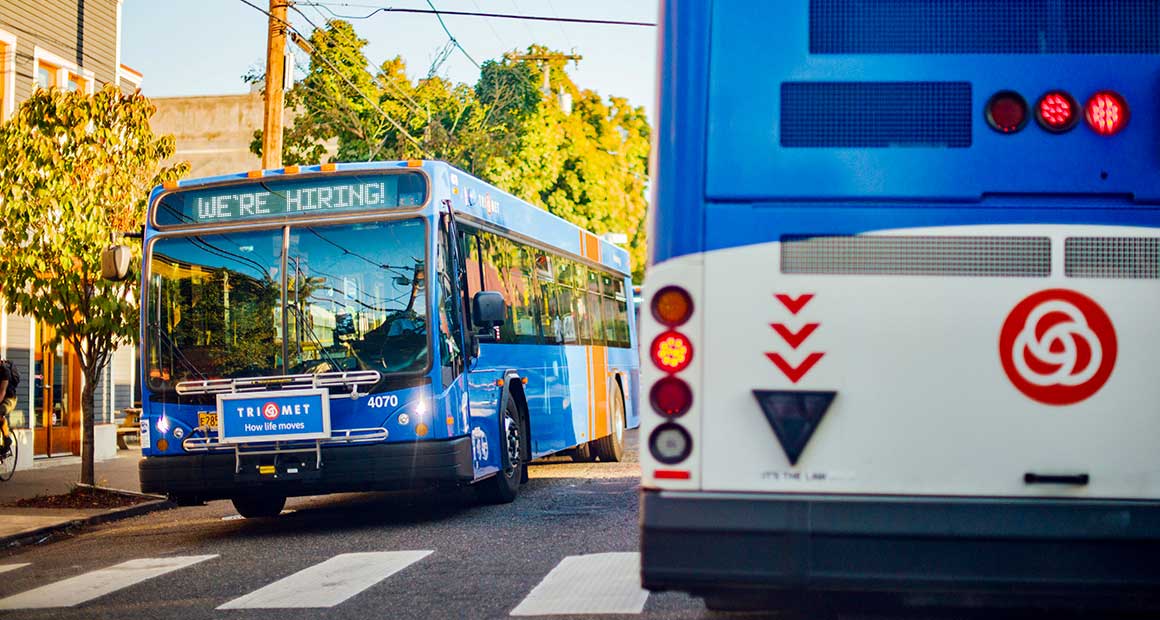 Join the team that provides nearly
100 million trips a year
Don't see your dream job? Leave your information and we'll call on you if we think you're a good fit for a future position.
November 14, 2018
Hiring Event: Honoring Veterans
Armed Forced Reserve Center
15005 NE 65th St, Vancouver, WA
9 a.m.–12 p.m.
November 14, 2018
Career Fair
Hosted by SE Works, Community Works, DHS and MHCC
Department of Human Services East Branch
11826 NE Glisan St., Portland
10 a.m.–1 p.m.
Working at TriMet means making connections. We believe that providing everyone with a safe and reliable ride can open doors to a stronger community and a better future.
Our team of more than 3,000 moves the Portland region. We're passionate about driving, fixing, planning, creating, communicating and serving — and making this the best place to live in the country.
Values like responsiveness, inclusivity and accountability drive us forward. We do our best work collaboratively, which means we appreciate the perspective every employee brings to the job.
We hire veterans
If you are a qualified veteran and would like to apply for veterans' preference points, you will need to reflect your status on the application and submit supporting documentation by the closing date of this recruitment. Documentation must be attached to your application.
ADA accommodation
Applicants needing an accommodation under the Americans with Disabilities Act for any part of the application process should contact TriMet Human Resources staff at 503-962-7505, or the TTY line at 7-1-1. A minimum of two workdays' notice prior to the need for accommodation is required. Learn more
Equal opportunity and affirmative action
TriMet is an equal opportunity employer, committed to developing an organization that is reflective of and sensitive to the needs of the diverse community we serve, including veterans, the elderly and people with disabilities. Learn more
TriMet Human Resources Office
1800 SW 1st Ave., Suite 300
Portland, OR 97201
Email: careers@trimet.org
Fax: 503-962-7440