"Honored Citizen" is how we identify seniors age 65 or older, Medicare beneficiaries and people with mental or physical disabilities. Honored Citizens receive reduced fares and priority seating on buses and trains.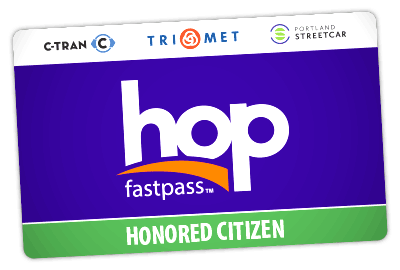 For ages 65+, people on Medicare and people with a disability. Proof of eligibility required.
$1.25
Ride for 2½ hours
Ride free after spending:
$28
in a calendar month
Month Pass
Your TriMet Honored Citizen fare also lets you ride C-TRAN Local/Regional and Portland Streetcar at no additional charge. If you transfer to C-TRAN Express/C-VAN or TriMet LIFT, you'll be charged the difference in price. See the full list of fares
Benefits
Reduced fares. As an Honored Citizen, you pay half the price of an Adult 2½-Hour Ticket and less than one-third the price of an Adult 1-Month Pass — just select "Honored Citizen" when purchasing your fare.
Priority seating. The seats nearest the door are reserved for you.
Personal attendant rides free. If you qualify, a personal attendant may accompany you at no charge.
Hop is the new way to pay
Hop Fastpass is the quick and convenient way to pay Honored Citizen fare. You'll pay for one ride at a time and automatically earn day and month passes as you go!
Learn more and find out where to get your card at myhopcard.com.
Eligibility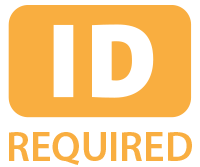 Seniors 65 and older
If you are age 65 or older, you are eligible to use Honored Citizen fares. Proof of age is required when boarding — be prepared to show either your government-issued photo ID (with proof of age) or your TriMet Honored Citizen ID Card.
Medicare beneficiaries
If you are a Medicare member, you are eligible to use Honored Citizen fares. You may show your Medicare card and your government-issued photo ID as proof of eligibility, but be sure to protect your card to avoid identity theft and Medicare fraud. Better yet, get an Honored Citizen ID Card to use instead.
People with disabilities
If you have a mental or physical disability, you'll need a TriMet Honored Citizen Card in order to use Honored Citizen fares. Be prepared to show this card when boarding.
Honored Citizen tickets and transfers are accepted on TriMet's LIFT Paratransit service with an additional cash payment. Honored Citizen Monthly Passes are not accepted on LIFT.
Downtown Portland Pass
Honored Citizens living in Downtown Portland may be eligible for the Downtown Portland Pass valid for travel on buses, MAX and Portland Streetcar in Downtown Portland. The pass is valid up to two years and costs just $10.
---
More information
If you have questions about your eligibility or if you need more information, please contact us at accessible@trimet.org or 503-962-2455.