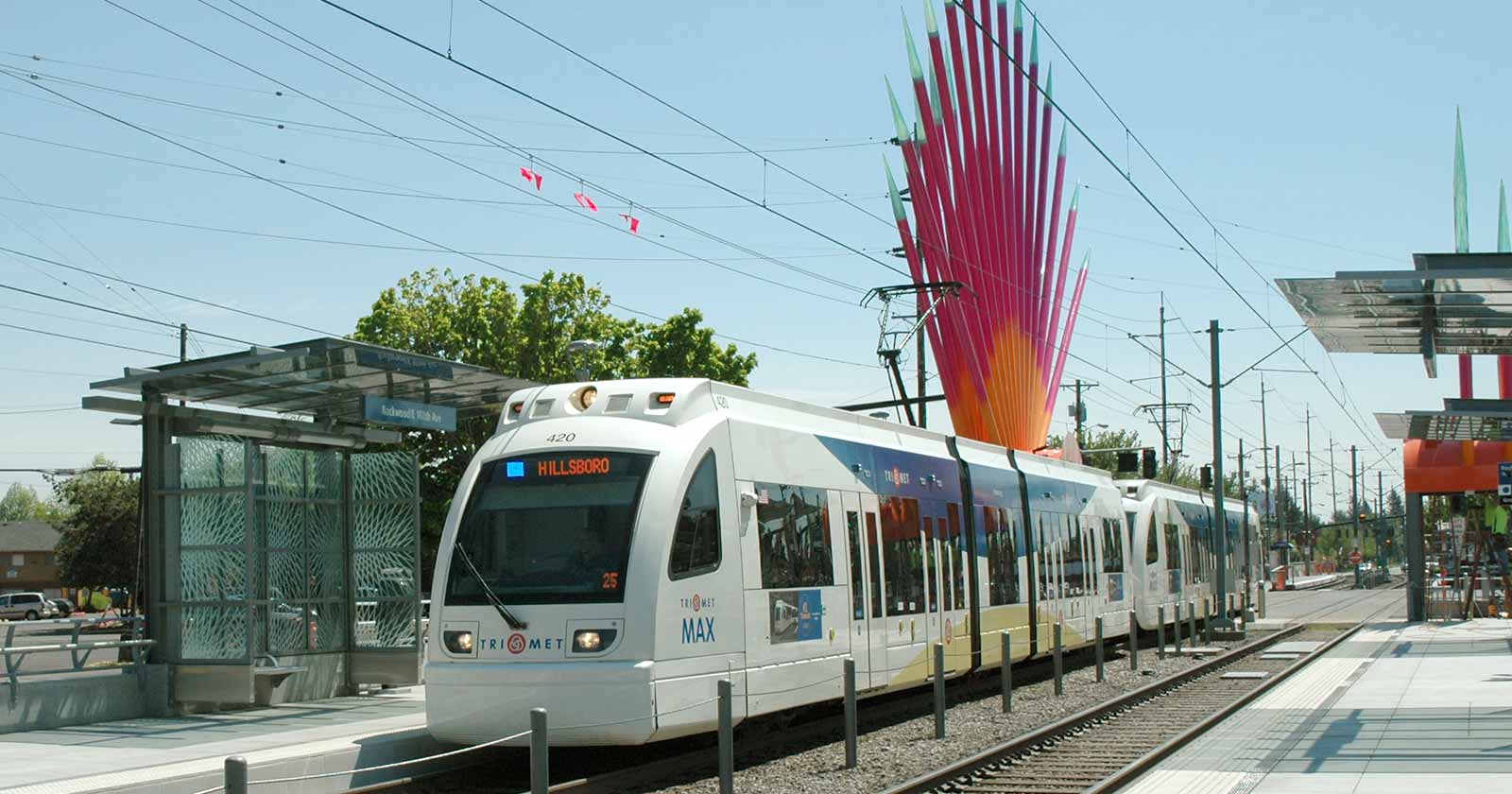 Public Art on MAX Blue Line — Eastside
Portland's first light rail project, the eastside Blue Line (also known as the Banfield Line), opened in 1986 without an art program. Following the establishment of TriMet's percent for art policy in 1997, every eligible new capital project on the line has had an allocation for art.
Rockwood/E 188th Ave Station
Dan Corson, 2011
Dan Corson designed Rockwood Sunrise, 2011, to be a vibrant gateway for the multi-cultural Rockwood neighborhood. Artwork was funded primarily by the Oregon Department of Transportation and the Gresham Redevelopment Commission.
Tall, brightly painted steel rays constitute a highly visible landmark for the station and a beacon of civic pride for the community
Imagery was inspired by the ferris wheel — once an annual feature in Rockwood, the bold colors of the Hispanic culture, and the universal symbolism of the sunrise
Translucent tips of the rays illuminate as the trains arrive and depart the station
Sunrise image also appears in the shelter glass pattern designed by Corson
Civic Drive Station
Pete Beeman, 2010
Civic Drive Iris, 2010, by Pete Beeman is a colorful, kinetic sculpture that functions as a landmark for the new Civic Drive Station. Artwork was funded primarily by the Portland Development Commission.
Tall, brightly colored sculpture evokes a blossoming flower or radiating sun
Hand crank invites pedestrians to interact with sculpture
Turned crank causes sculpture top to illuminate and simultaneously expand and contract like an iris valve
Windscreen Shelter Glass
Manda Beckett, 2003
In 2003, Manda Beckett designed four decorative glass patterns that relate physically and culturally to the neighborhoods of Eastside MAX.
Hollywood: Blackberry Deco
102nd to 162nd: Puddles
Rockwood: Calabazas
Gresham: Leafwhelmed