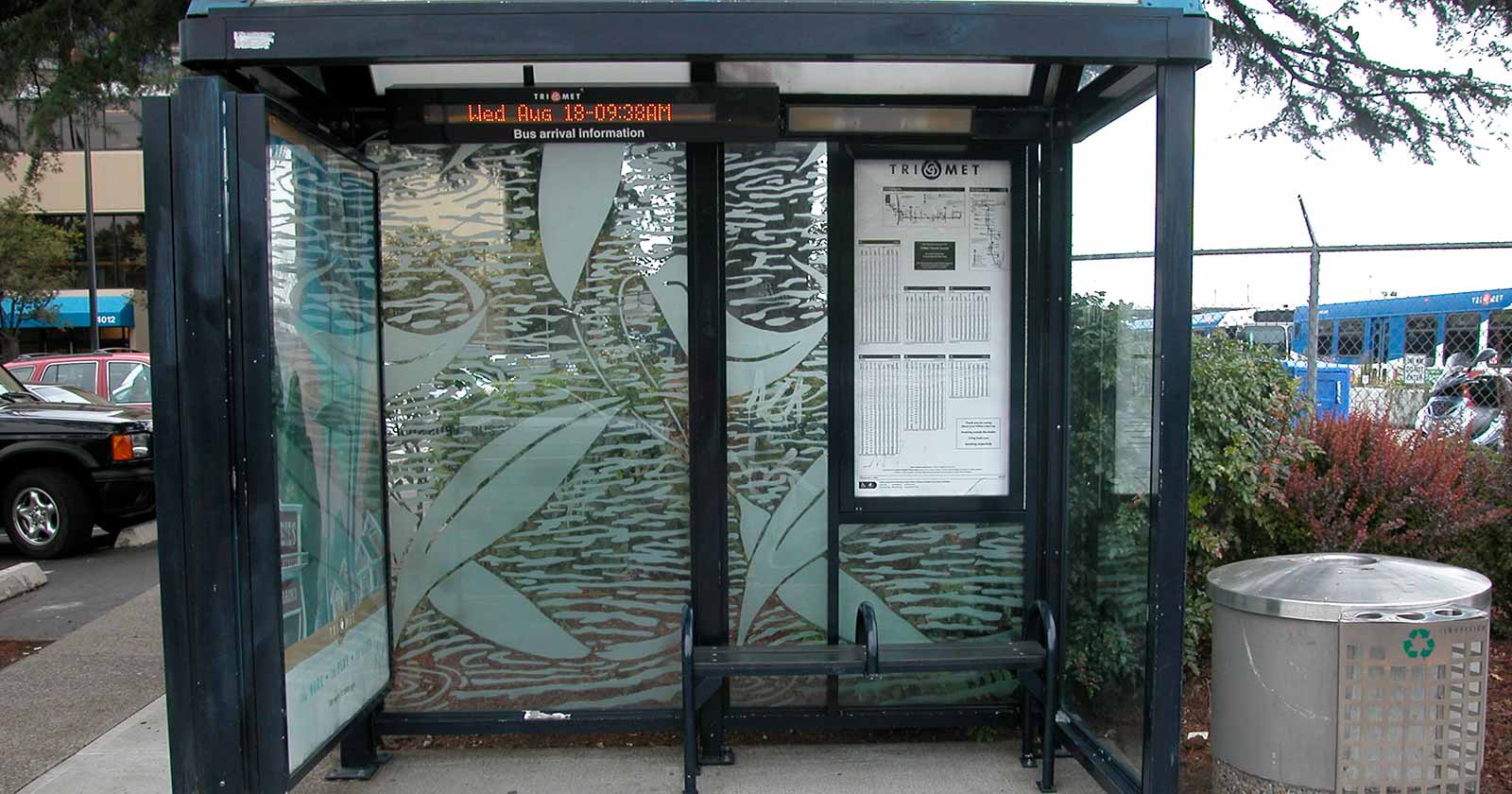 Public Art on Bus Shelters and Park & Rides
During construction of Airport MAX Red Line, design team artists Christine Bourdette and Vicki Scuri worked with project architects to design system-wide elements including a shelter canopy form inspired by airplane wings, signal buildings painted "banner blue" and windscreen glass patterns that provide color and design on the platforms.
Bus Shelter Glass
Since 2001, patterns have been sandblasted onto graffiti-damaged bus shelter glass panels and then reinstalled, saving on costs and reducing waste. New bus shelters are furnished with the art panels from the outset. The sandblasted panels minimize future vandalism, improve the appearance of the shelters, and enrich communities with artwork.
Four patterns by four northwest artists circulate among the region's bus shelters:
Carolyn Law, Falling Leaves
Michael Hensley, Cityscape with Birds
Karen Guzak, Drifting
Tom Cramer, Jazz
Two patterns are location specific:
Jerry Quenton, The Three Kings, 2003, an African-influenced pattern for Alberta Street
Christine Bourdette, untitled, 2002, dynamic fish pattern to complement the Fishbird pedestrian bridge at Parkrose Transit Center
Bus Stop Sign
Carolyn Law, 2003
Carolyn Law designed TriMet's distinctive bus stop sign in 2003 with assistance from the agency's creative services staff.
The colorful, circular signs on bright blue hexagonal poles provide a unique landmark for the region's bus stops.
Mohawk Park & Ride
Miles A. Pepper, 1997
Coho Commute,1997, by Miles A. Pepper consists of a series of nine, brushed-aluminum Coho salmon weather vanes.
Native to the Tualatin River, the Coho is a link to the local geography as well as a metaphor for the daily commuter who, like the salmon, participates in a regular cycle of travel.
E 122nd/ Park Park & Ride
Kurt Keifer, 2002
Kurt Keifer's Built Trees, 2002, three 20' tall sculptures of painted steel and aluminum, reflect the artist's interest in bridging the gap between the natural world of trees and the man-made world of power poles and light standards.
The tree "trunks" feature the names of invasive tree species spelled out in boldly colored reflective tape.
Barbur Blvd Transit Center
Laura Bender and John Early, 2005
Laura Bender and John Early stencil-painted a 1,600 sq ft mural depicting world folk art on a walkway retaining wall by the Barbur Blvd Transit Center.
Created in 2005 through a partnership between TriMet, the Oregon Department of Transportation, and the Regional Arts and Culture Council, the mural mitigates graffiti while providing pedestrians a cheerful welcome.