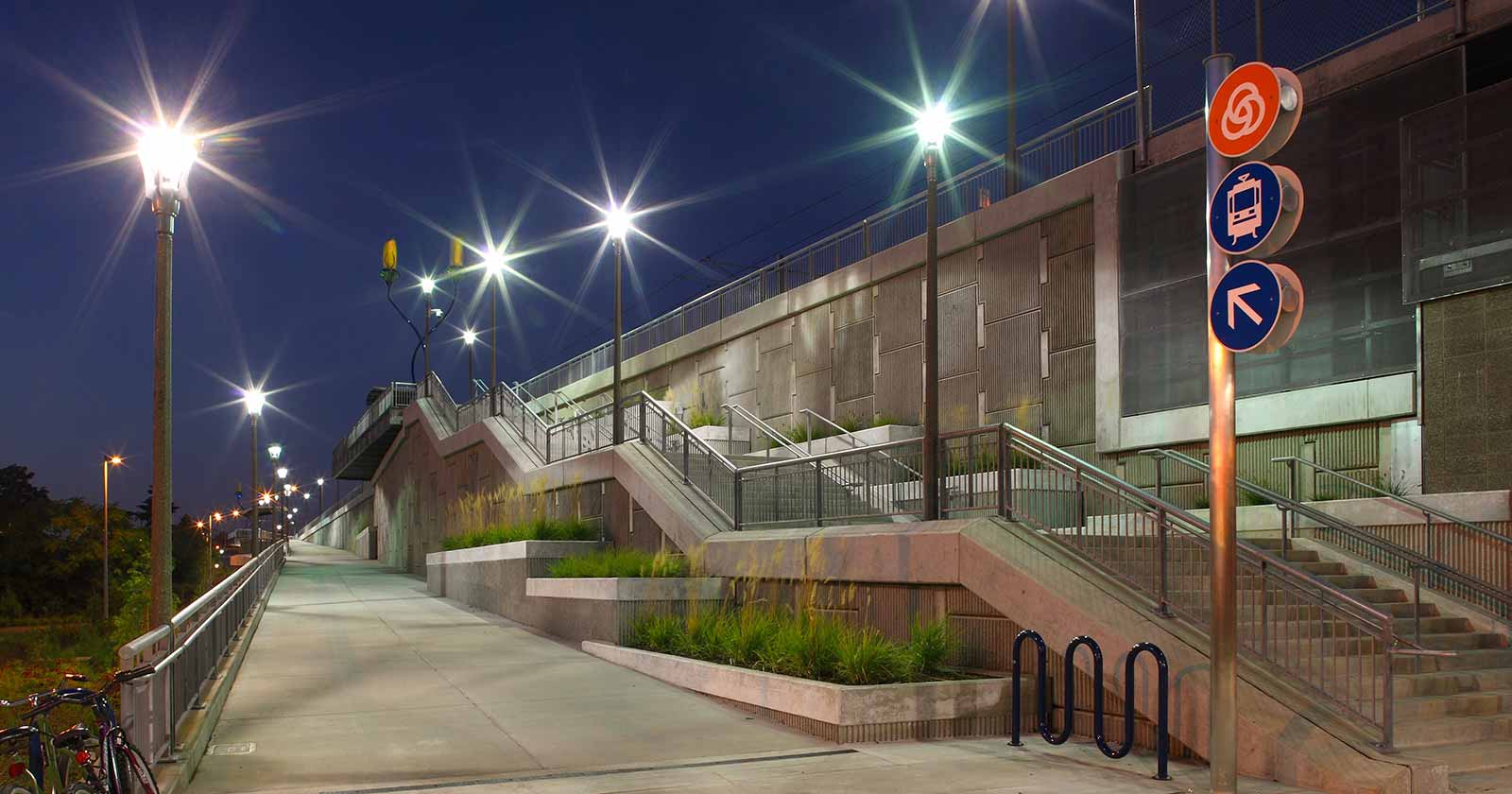 Public Art on MAX Green Line
Portland Mall
Public art was a key component in the revitalization of the downtown Portland Transit Mall. Most of the 12 sculptures created in 1977 for the original transit mall were refurbished and resited together with new sculptures by 14 significant Northwest contemporary sculptors.
The artwork follows a natural division of the downtown into three parts: North Mall — between NW Irving and Burnside, Central Mall — between Burnside and SW Jefferson, and South Mall — between SW Jefferson and College.
North Mall
Artists developed artwork with a sense of history for Old Town/Chinatown where a growing arts community has taken root.
Christine Bourdette, Cairns, 2008
Silver ledgestone
Five sculptures that mark the path to MAX stations near Glisan were inspired by the man-made stacks of stones that have traditionally served as landmarks for navigation.
Daniel Duford, The Legend of the Green Man of Portland, 2009
Bronze, cast concrete, porcelain enamel on steel
Two landmark sculptures and a series of eight "story markers" along NW 5th and NW 6th draw on the history of Portland to spin a local tale of the legendary Green Man.
Central Mall
Ten new works were added to the existing collection of sculptures along the transit mall to create a more comprehensive display of regional sculpture in the heart of downtown Portland.
Rick Bartow, The Responsibility of Raising a Child, 2004, cast 2009
Bronze
Traditional Native American symbols representing parenting and life cycles are woven throughout this complex piece.
Chris Bruch, Whistlestop for an Organ Teacher, 2009
Stainless steel
Inspired by the large pipe organs the artist's mother played, this work also refers to the "whistlestop" of an earlier era when politicians campaigned from trains.
John Buck, Lodge Grass, 2000
Bronze
A thistle and an abstract shape suggesting a teepee reflected in water are substituted for a figure's head and shoulders to symbolize change in the historic west.
Mark Calderon, Floribunda, 1998
Bronze
This is one of a series of abstract works by this artist inspired by the hairstyles found in Japanese Buddhist sculpture of the twelfth and thirteenth centuries.
Bruce Conkle, Burls will be Burls, 2009
Bronze and cast concrete
This three-part work is a tribute to snowmen, the proverbial "canary in the coal mine" for climate change, and to the forests of the Pacific Northwest.
Chris Gander, Puzzle Tower 1, 2007
Stainless steel
Five basic geometric forms are combined in an exploration of symmetry and visual balance.
Malia Jensen, Pile, 2009
Bronze
A stack of animals and objects is an homage to the tougher, grittier Portland the artist knew in her youth.
Mel Katz, Daddy Long Legs, 2006
Painted aluminum
Combining elements of sculpture and painting, this work was influenced by the pattern pieces the artist's father cut as a tailor.
Patti Warashina, City Reflections, 2009
Bronze and granite
Stylized versions of a strong female figure and her canine companion observe the life of a busy urban walkway.
Mark R. Smith, Reading the Street, 2008
Enameled and laminated glass, stainless steel
A series of eight, laminated-glass panels feature hundreds of silhouetted figures culled from newspapers and representing a wide variety of people, cultures and social behaviors.
South Mall
The artwork for the progressive university district expresses the theme of sustainability.
Fernanda D'Agostino, Urban Hydrology, 2009
Carved granite
Twelve oversized "diatoms," microscopic organisms studied to evaluate water quality, are located in the infiltration strips adjacent to the university.
Michihiro Kosuge, Continuation, 2009
Carved granite
Five abstract sculptures made with reused granite imply motion through their interrelationships along the streetscape.
I-205
Seven artists were selected to create wayfinding sculptures for each station along the 6.5-mile light rail extension between Gateway and Clackamas Town Center. Signposts, Symbols and Settlement Stories, a report on the cultural history of the neighborhoods along the alignment, was commissioned to assist the artists as they developed concepts for their work. (See download link.)
Station shelters feature windscreen glass etched with migratory birds designed by Kim Hamblin and colored-glass tiles on the columns.
Anne Storrs, Tall and Fallen, 2009
Pigmented concrete, stainless steel
Abstract, cast-stone ginkgo leaves are stacked and interlocked to form a columnar sculpture on the platform. Individual pieces scattered in landscaping near the station entrances suggest fallen leaves
Carolyn Law, Sky to Earth, 2009
Custom-colored, vinyl-clad fencing
Sky to Earth is a sky-blue sculptural fence that undulates along the west side of the station platform area. Its flowing sculptural line is a visual metaphor for the movement of the wind.
Valerie Otani, Money Tree, 2009
Stainless steel, Plexiglas
Referencing a Han Dynasty symbol of prosperity, this sculptural tree features branch designs based on the cut-paper traditions of several cultures. At the treetop, a phoenix represents the hope for community regeneration.
Suzanne Lee, Shared Vision, 2009
Stainless steel, paint, fiber optic lighting
Above the station platform, a sculpture with five ornate lanterns has designs referencing various world cultures. A celebration of community diversity, it also serves as a welcoming beacon at night.
Brian Borrello, Lents Hybrids, 2009
Powder-coated steel, vertical wind turbines, photovoltaic panels, light-emitting diodes
Art merges with sustainable technology in three spiraling plant-like sculptures topped with buds that are animated by the wind. The hybrid energy system alludes to the unfolding potential of the Lents neighborhood.
Brian Borrello, Johnson Creek Watershed, 2008
Pigmented concrete, stainless steel
The five tributaries of the Johnson Creek watershed are represented by five stainless steel medallions set into pigmented concrete paving in the plaza area.
Pete Beeman, Waving Post, 2009
Stainless steel, powder-coated steel and aluminum
This tall, kinetic sculpture invites interaction with a crank at its base that can be turned to wave its wing-like structures, and gesture across Interstate 205.
Richard C. Elliot, The Chain of Life, 2008
Twisted Ribbon
Acrylic reflectors, Plexiglas
A 27' high vertical band of brightly colored reflectors in the glass of the elevator at the Transit Center suggests woven beadwork or a ribbon-like strand of DNA.
Pioneer Quilts
Galvanized steel, platform pavers
Pioneer quilt patterns appear in 40 cut-metal panels in the guardrails at the Transit Center. Patterned brickwork on the station platform is based on traditional Clackamas basketry.