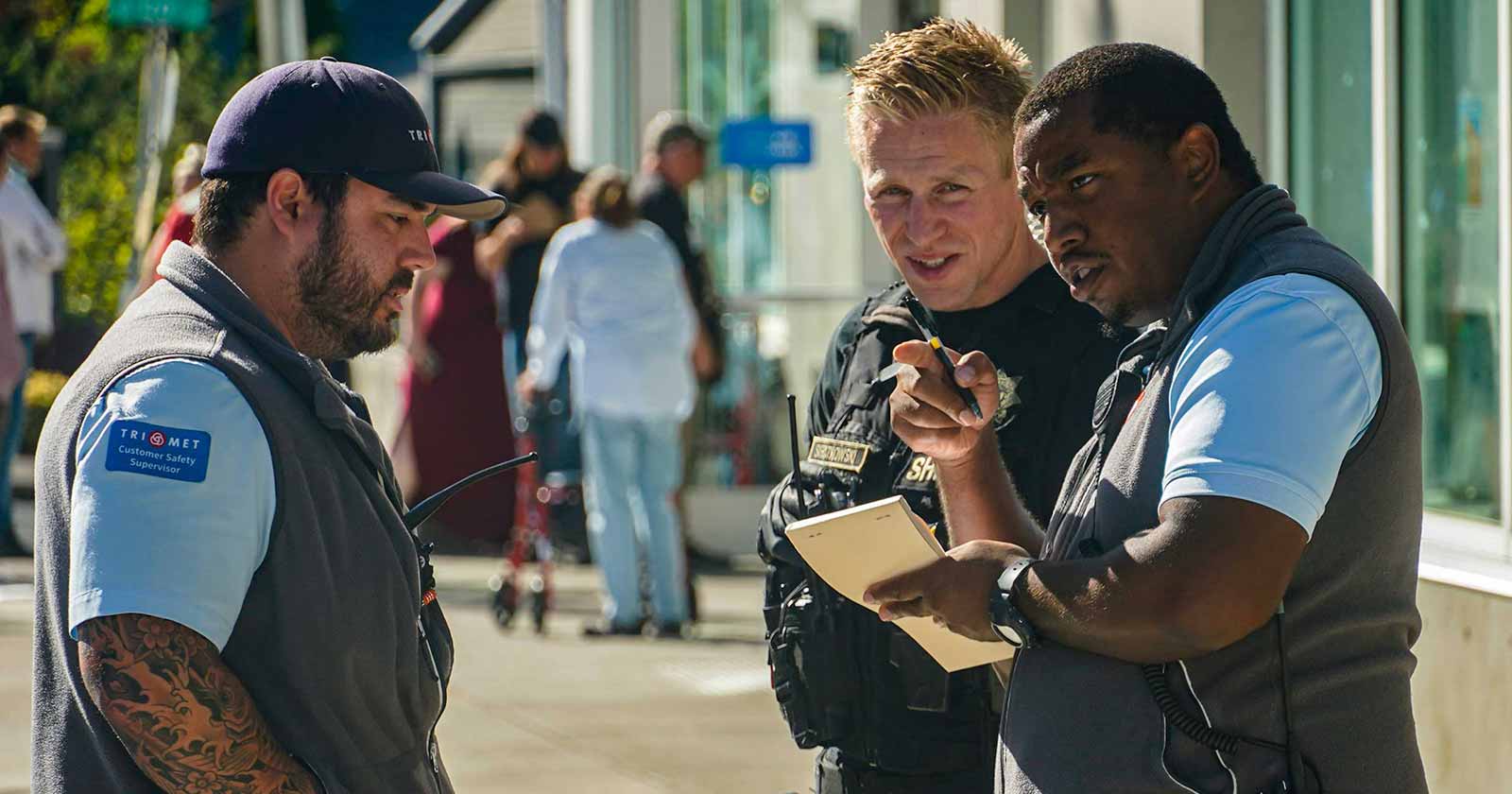 Security on TriMet
We continually work to improve security on our transit system for the safety of our riders and employees.

Have a security concern?
Text or call 503-238-7433 (RIDE), or submit a report online, to report a non-urgent concern directly to TriMet Security 24 hours a day. For an urgent concern, alert the operator or text or call 911 in an emergency.
The TriMet Code defines the rules for riding. Among them, no smoking, no excessive noise, no disruptive conduct, no lying down and not violating local laws or ordinances. Those caught breaking the rules face a citation or exclusion.
Since possessing a small amount of drugs and drug use are now categorized as a violation under Oregon law, TriMet Code allows our security teams to cite or exclude people for drug use on TriMet.
Dedicated to security
TriMet has dedicated funding to continuously improve safety and security on our transit system. (We doubled that budget between 2020 and 2023.)
More than 315 people across a number of teams provide a security presence on board and at rail platforms and transit centers. Those teams include our Customer Safety Supervisors who enforce TriMet Code and check fares 24 hours a day.
Transit Security Officers and Customer Safety Officers patrol our system, discouraging inappropriate and illegal behavior.
Our Safety Response Team, connects people in need with social services such as shelters, mental health resources and addiction services. We also team up with other community partners and groups to connect people with services. If you or someone you know needs help, contact 211.
Along with our Customer Service staff, our security teams are there to help, whether you have a security concern or need help navigating our transit system.
Transit Police Division
TriMet partners with the Multnomah County Sheriff's Office to lead the Transit Police Division. Operating out of four precincts, Transit Police officers patrol our transit system and respond to serious incidents and emergencies.
We work with local law enforcement agencies to assign officers to the Transit Police Division. We also coordinate with law enforcement for public safety missions around our transit centers and other places where community issues have extended onto our transit system.
All emergency incidents on the TriMet system are coordinated through the regional 911 system. This means the closest available police are able to respond.
Multnomah County DA's Office
TriMet contracts with the Multnomah County District Attorney's office for two Deputy District Attorneys and up to two investigators to hold people accountable for crimes against our riders, employees and our property.
Community Safety
TriMet supports state and local leaders as they work to increase safety and address challenges in the community that extend on to our transit system at times. Employees serve on state and local committees focused on improving safety and livability. And TriMet partners with community groups and government agencies on efforts to clean up neighborhoods and deter criminal activity.
Protecting riders and frontline employees
Safety panels
All TriMet buses have a safety panel next to the operator's seat. This helps protect the driver so they can safely transport riders.
Security cameras
More than 8,000 security cameras monitor MAX stations, transit centers, elevators and activity on board our buses and trains. Buses have monitors near the front that show a live camera feed from inside the vehicle.
Lighting and open sightlines
Bright LED lighting at rail stations, transit centers and Park & Rides provide a safe environment. Crews work to keep shrubs and plants low to reduce hiding spots and create open sightlines where riders wait for our buses and trains.
Restricted access
The elevator at the Hollywood/NE 42nd Ave MAX Station is limited to riders only. We plan to restrict use at other elevators in the future to help keep them clean and reliable for those who rely on them. Dedicated rail platforms are paid fare zones.
Rules and penalties
Our rules for riding are posted inside all buses and trains and at many stops and stations.
The TriMet Code and Administrative Rules include penalties for fare evasion and disruptive behavior on the system. Riders can face fines up to $175 and also be immediately excluded from the system for six hours. Other standard exclusions range from 30 to 90 days, with long-term exclusions ranging from a year to a lifetime ban for more chronic or serious offenses that break the rules or hurt others.
Help us help you
At TriMet, we are constantly working on improving our efforts to provide transit that is safe, equitable and welcoming for all. Submit a question, comment or suggestion at trimet.org/contact. If you have a non-urgent security concern, text or call 503-238-7433 (RIDE) to contact TriMet Security directly 24 hours a day. In an emergency, text or call 911 or tell the operator or a TriMet employee.