What to Expect on Your Trip
Tips for a successful ride.
What you can bring on your trip
The operator may help you load and unload your bags and packages if they can do so safely in one trip to your door.
What You Can Bring on the Vehicle
You can bring a limited number of packages — the equivalent of two paper grocery bags (13" wide x 7" deep x 17" tall) or four plastic grocery bags, with a total weight of no more than 25 pounds. You must be able to maintain control of your packages while riding. Packages that you can't carry-on your lap will be secured by the driver.
Carry-on packages are limited whether or not the operator assists you.
What You Cannot Bring on the Vehicle
Don't bring packages that you cannot keep control of during your ride. This includes packages that are larger than the equivalent of two paper grocery bags or four plastic grocery bags weighing more than 25 pounds in total. Examples of packages we do not transport: More than two pieces of luggage per rider, flammables, and uncovered glass or sharp objects.
If there is an item you would like to bring with you but are unsure if it's allowed, call LIFT customer service at 503-962-8000 option number two.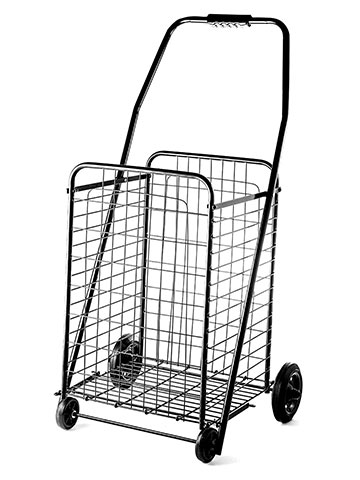 Collapsible Carts
Customers may bring a personal two- or four-wheeled collapsible cart. The contents must be contained within the cart and items are not to extend beyond the basket of the cart or items tied to the outside of the cart. Customers will be responsible for pushing/pulling their carts and are required to include the cart in their reservation information. Operators will only secure the cart.
Broadway Cab
LIFT also provides some trips through our partners at Broadway Cab. There are two types of Broadway Cab vehicles that a customer may encounter: a standard sedan for ambulatory customers and a ramp-equipped minivan for customers using mobility devices. All Broadway Cab vehicles have their name prominently displayed. Cab drivers are trained to announce their presence and provide the same assistance just as a LIFT operator would.
You are required to pay your LIFT fare ($2.50) even when your ride is delivered by a cab. However, taxi drivers cannot accept your fare payment. If you are paying your fare with a LIFT ticket, cash, check or money order, please mail your fare to:
LIFT
2800 NW Nela Street
Portland, OR 97210
If you are paying with your monthly pass, please send in your used, signed LIFT pass after the month ends.
If you indicate you will be paying with your Hop card it will be automatically charged within 24 hours after your trip was performed. If you would like to change your fare to Hop for a cab trip, call dispatch at 503-962-8000 option number three.
Inclement Weather
LIFT reserves the right to suspend, modify or cancel service during times of bad weather conditions that may jeopardize the safety of our customers, our employees, or our vehicles. On bad weather days, if LIFT service is canceled the Customer Notification System will call you and inform you of any changes to your rides. If you are planning to travel at times when bad weather is predicted, bring any medication you may need. If you use oxygen, bring an adequate (extra) supply. If you are affected by diabetes or hypoglycemia, you may wish to bring a small snack with you in case the ride is longer than expected due to the weather.
---