The Portland Transit Mall
The Portland Transit Mall is Downtown Portland's transit hub, spanning more than 57 blocks along 5th and 6th avenues.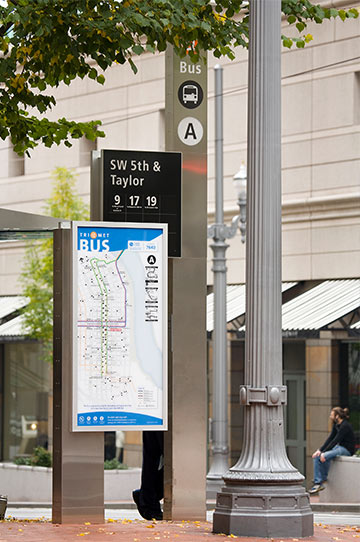 About the Mall
All bus stops and MAX stations on the Mall are located on the right-hand side of the street, so transfers are safe and convenient.
Large signs and convenient stop groupings make it easy to find your stop or station.
Bus and MAX shelters are designed for visibility and well-lit for safety. The shelters feature real-time arrival information displays, seats and windscreens.
Security cameras monitor shelters and station areas.
Cars and bikes can travel the entire length of the Mall, but only in the left-hand traffic lane. Cars and bikes are not allowed in the transit lanes, and right turns are not allowed from 5th or 6th avenues, except where indicated.
Along the Mall, you'll find a great collection of public art by local and regional artists.
Safety on the Mall
Pedestrians, buses, trains, cars and bikes all use the Portland Transit Mall. It's important for everyone to be aware and obey all signs and signals.