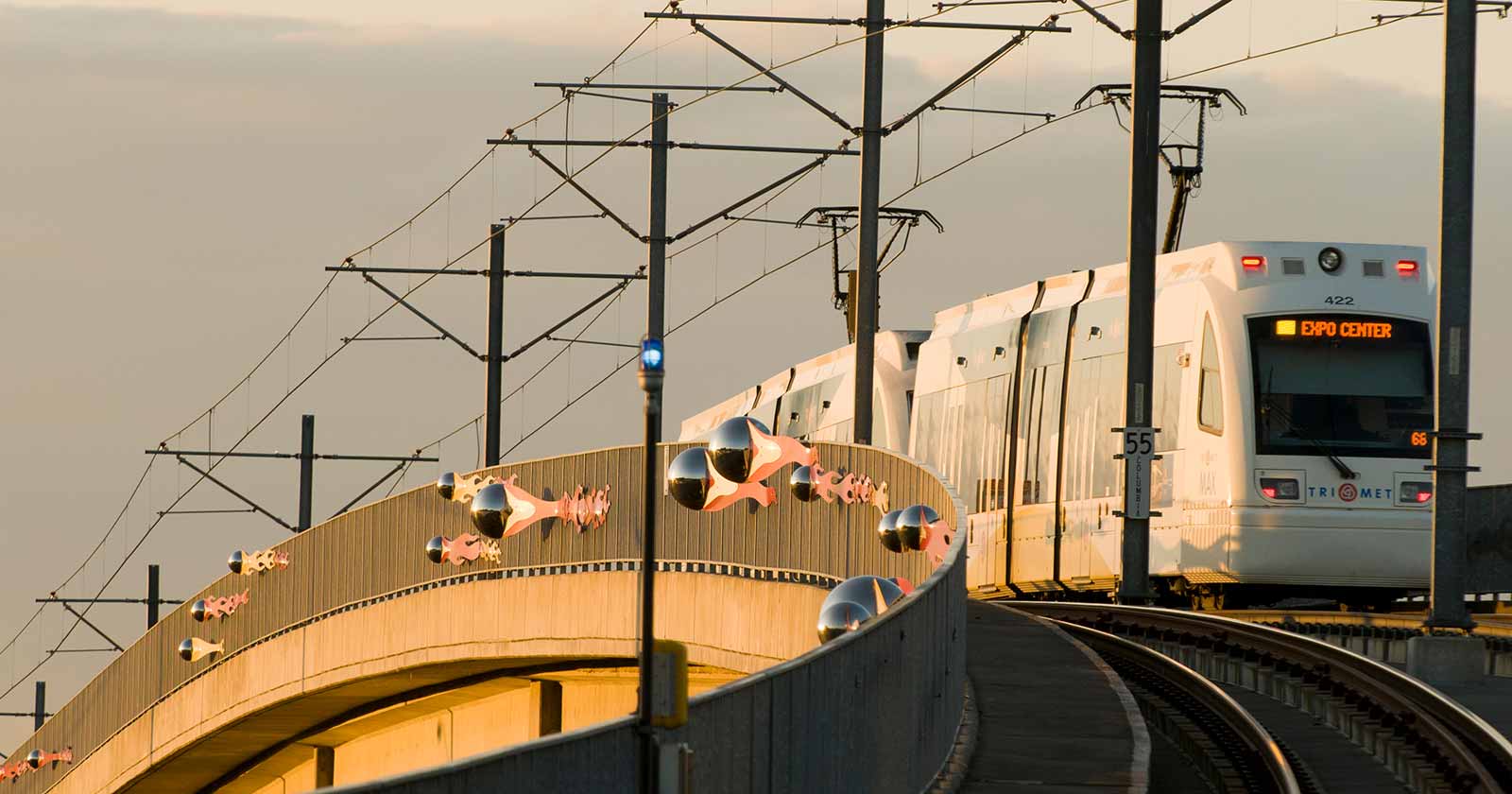 Public Art on MAX Yellow Line
Artwork at every stop along the MAX Yellow Line draws from the history and culture of the area to create a unique identity for each station.
With more than 40 local artists contributing artwork and 75 community members participating in forums and committees, the art along MAX Yellow Line is a proud reflection of an historically rich and vital part of Portland.
Interstate/Rose Quarter Station
Brian Borrello, Silicon Forest, 2004
Brian Borrello presents a three-part metaphor for displacement and change.
Illuminated metal trees generate their own electricity from solar panels.
A virtual campfire flickers with light at night, surrounded by stainless steel stump seats.
Light filtering through colored glass on shelter roofs simulates the dappled light of a forest.
Concrete tree rings in the platform symbolize the forest once abundant on the site.
Custom guardrails feature branching tree limbs and roots.
Albina/Mississippi Station
Wayne Chabre, Second Growth, 2004
Wayne Chabre created symbols of the indomitable spirit of the community.
A bronze, tree-like vine flowers with forms representing the arts of the area.
Bronze benches incorporate images from neighborhood industries.
The community map by Chabre and Jeanne McMenemy features lyrics of songs from cultures of historic importance to Albina.
Works by Jacob Pander and Bill Rutherford are reproduced in porcelain enamel on steel.
Overlook Park Station
Fernanda D'Agostino, Icons of Transformation, 2004
Fernanda D'Agostino was inspired by research on the healing power of light and nature.
Light towers modeled after roadside shrines in Poland feature portraits of community members overlaid with images of nature.
Art glass in the windscreen suggests the transforming power of nature.
Community map artist Margaret Eccles created a symbol for the relationship between good health and community.
N Prescott St Station
Brian Borrello and Valerie Otani, Prowform, 2004
Brian Borrello and Valerie Otani recognize the shipbuilding industry while providing an alternative approach to rainwater filtration.
A stainless steel "ship's prow" gathers rainwater and funnels it to a greenspace.
Blue glass bricks in the platform hint at imaginary waterways beneath the station.
An etched granite map features Portland's "disappearing streams."
Works by Wid Chambers and Heidi Kirkpatrick are reproduced in porcelain enamel on steel.
Prescott Biozone, Propform, 2004
A rusted steel propeller sculpture flowers amidst a swirling pattern of grasses.
Three basalt basins collect water for birds.
N Killingsworth St Station
Adriene Cruz, Cultural Polyrhythms, 2004
Adriene Cruz and Valerie Otani celebrate the vibrant multiculturalism of the Killingsworth community.
Glass mosaic on columns recalls the colorful patterns of African Kente cloth.
Metal flags hang from the station canopy like the torans of India.
Guardrail panels were inspired by South American textiles.
Cast-concrete benches evoke the carved wooden stools of Africa.
Works by Baba Wague Diakite, Nina Prince, Angelina Wooley and Isaka Shamsud-din are reproduced in porcelain enamel on steel.
Community maps feature Adinkra symbols and proverbs relating to education and community.
Rosa Parks Station (formerly N Portland Blvd)
Lillian Pitt, Ken MacKintosh, Rick Bartow, Gail Tremblay, 2004
Native American artists Lillian Pitt, Ken MacKintosh, Rick Bartow and Gail Tremblay use traditional motifs to symbolize the life-sustaining relationships of nature.
Steel column wraps were inspired by Columbia River Gorge petroglyphs.
Platform pavers outline a traditional Klikitat basketweave pattern.
Guardrail panels feature symbols of salmon and Thunderbird.
Bronze sculptures are mounted at the ends of shelter canopies.
The community map by Dawn Waldal visually interprets poetry by Elizabeth Woody.
Works by Joe Cantrell, Carol Yarrow, Michael Brophy and James Lavadour are reproduced in porcelain enamel on steel.
Ainsworth Greenspace, River Spirits, 2004
Three tree totems with bronze heads representing revered spirits surround a small plaza.
Poetry written by students at Ockley Green Middle School is engraved on the totems.
N Lombard Transit Center
Linda Haworth, 2004
Linda Haworth addresses the theme of labor in the community.
Mosaic guardrail panels feature tools in dynamic settings.
Glass mosaic on columns and trash containers bring color to the area.
Community map artist Victor Maldonado used symbols of farm labor as metaphors for social progress.
Works by Cynthia Lahti, Heather Whitlow, Lauren Mantecon and Hector Sanchez are reproduced in porcelain enamel on steel.
Lombard bus stops
Shelter columns and trash containers are wrapped in colorful glass tile.
Westbound stop features windscreen glass designed by Makelike and a seating wall with ceramic tiles by Maldonado.
Kenton/N Denver Ave Station
Tina Hoggatt, 2004
Tina Hoggatt recalls Kenton's rich history with an emphasis on the cattle industry.
Stainless steel cutouts feature cowboys and cattle.
Steel column bands are etched with a historic architectural motif.
Terrazzo seats on custom benches highlight scenes from Kenton's past.
Community map artist Mary Taponga set artifacts of daily life in Kenton in epoxy tiles.
Works by Cecilia Hallinan, Darren Orange, Cynthia Star and Henk Pander are reproduced.
Brian Borrello, 2004
Brian Borrello's seating sculpture was inspired by Babe the Blue Ox.
Fenwick Pocket Park
Terracotta fragments came from the Portland Union Stockyards building.
A mosaic medallion from the building's entryway was restored and embellished with a border.
Vanport Bridge
Spencer T. Houser and Chris Rizzo, 2004
Spencer T. Houser and Chris Rizzo present two approaches to the nearly 4,000-foot light rail bridge.
Ninety flaming comets inspired by the car culture of the '50s blaze northward from Kenton.
Blue metal panels on the north end of the bridge allude to the Columbia River.
Delta Park/Vanport
Linda Wysong, 2004
Linda Wysong addresses the area's layered history with an emphasis on the city of Vanport, a large wartime housing project swept away by the flood of 1948.
CorTen steel sculptures recall rooftops adrift in the 1948 floodwaters.
Remnants from a Vanport foundation are set into the sidewalk.
A bronze railing features cast artifacts from the Chinookan culture, Vanport and the Portland International Raceway.
A cast-bronze scupper channels stormwater into the bioswale below.
Community maps overlay the current Delta Park site onto the city grid of Vanport, and show the location of the station within the local river systems.
Works by Douglas Lynch and Timothy Scott Dalbow are reproduced in porcelain enamel on steel.
Water Quality Pond, Waterline, 2004
Massive steel arcs allude to the engineered landscape and Liberty ships made by Vanport residents.
A glowing monolith of stone, steel and acrylic symbolizes the unity of human and natural worlds.
Expo Center Station
Valerie Otani, Voices of Remembrance, 2004
Valerie Otani addresses the theme of Japanese relocation during World War II at the site of the 1942 Portland Assembly Center.
Traditional Japanese timber gates strung with metal "internee ID tags" mark station entrances. Vintage news articles are etched in steel and wrapped around the gate legs.
Bronze trunks provide seating on the platforms.
Community maps feature the floor plan of the converted livestock exhibition hall and a copy of the exclusion order.
Works by Paul Fujita and Erik Stotik are reproduced in porcelain enamel on steel.
Fused glass images of bamboo glow in the windows of the systems building.
Curated collection
Curator Eva Lake selected work by 24 artists to be reproduced in porcelain enamel on steel and mounted onto electrical cabinets at most Yellow Line stations.