35-Macadam/Greeley
35-Macadam/Greeley connects Oregon City, Lake Oswego, South Waterfront, Portland City Center, Old Town/Chinatown, Union Station, the Rose Quarter and North Portland (University of Portland), via Highway 43, Macadam, Riverside or Terwilliger, 5th/6th, Interstate, Greeley and Willis.
Effective August 27, 2023
We've improved Line 35 service, with buses arriving every 30 minutes for more hours of the day, every day. We also changed the route with buses between Johns Landing and Lake Oswego alternating between Highway 43/Riverside (35R Macadam/Riverside) and Taylors Ferry and Terwilliger Blvd (35T Macadam/Terwilliger) to serve Lewis & Clark College and South Burlingame.
Line 35 Route Map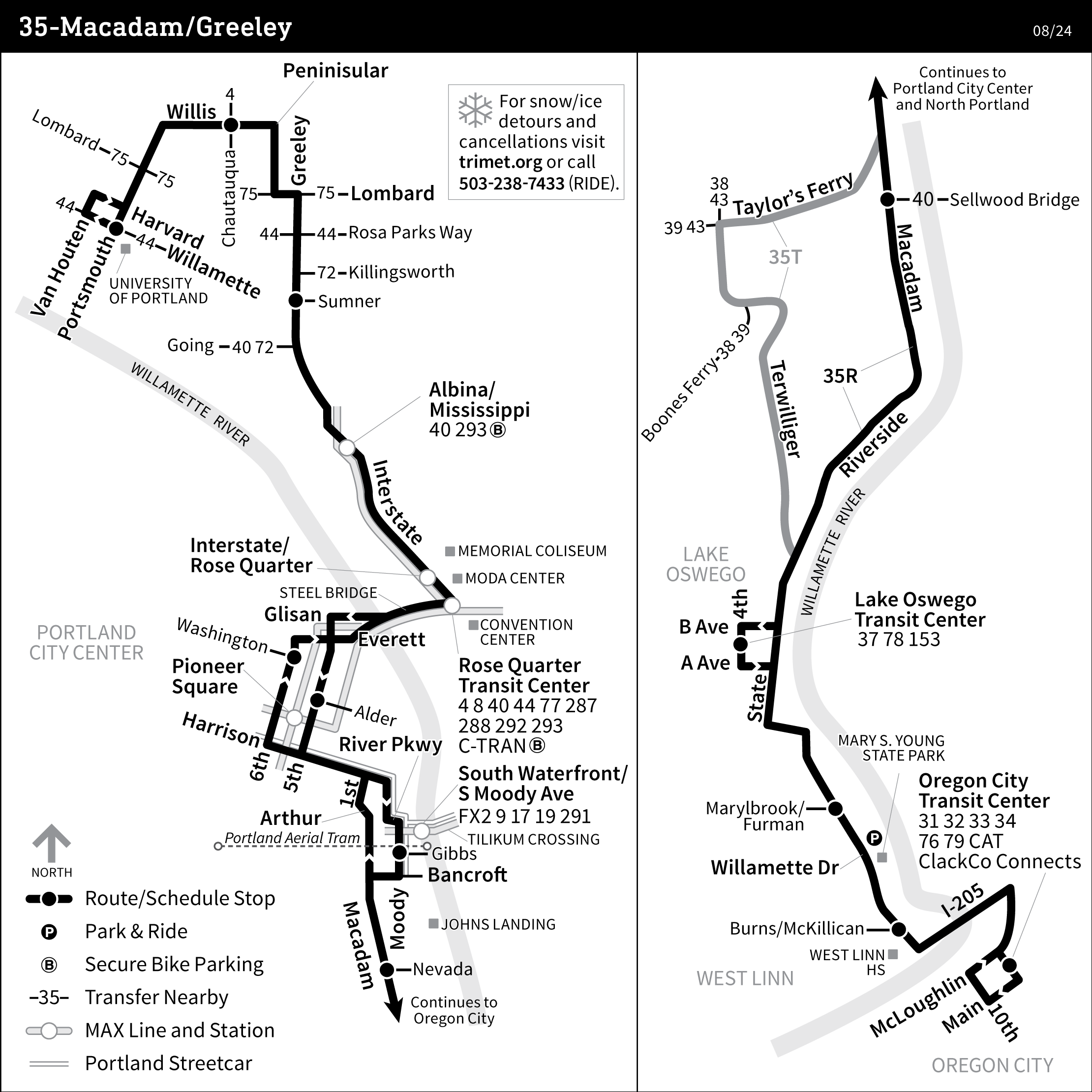 Line 35 Schedules
Service alerts in effect:
The eastbound stop N Portsmouth & Princeton (Stop ID 4497) is closed due to PBOT Safety Project. No temp stop. More
Beginning Monday, December 11 through Friday, December 15, from 9:00 p.m. to 5:00 a.m., no service at westbound stop N Lombard & Peninsular (Stop ID 3535) and southbound stop N Peninsular & Russet (Stop ID 4437) due to construction. No temp stops. More
On Monday, December 11 from 9:00 a.m. to 3:00 p.m., no service at eastbound stop N Willis & Newman (Stop ID 6381) and westbound stop N Willis & Newman (Stop ID 6382) due to utility work. No temp stops. More
Get Line 35 updates by email