1-Year Pass
Pay in advance and get a month free! If you ride frequently, a 1-Year Pass offers the best deal on fares.
Get 12 months for the price of 11*.
You get a Hop card loaded with a 1-Year Pass, good for unlimited rides on buses, MAX Light Rail, WES Commuter Rail and Portland Streetcar.
If you lose your card, we'll replace it for only $3.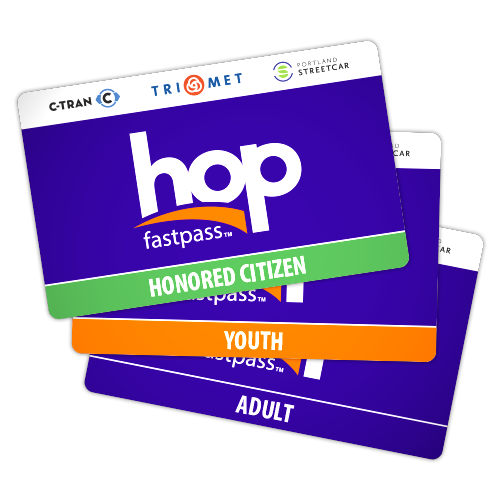 | | |
| --- | --- |
| Adult | $1,100 |
| Honored Citizen | $308 |
| Youth | $308 |
| LIFT | $888 |
* Note: 12 passes for the price of 11 deal applies to Adult, Honored Citizen and Youth passes only. LIFT 1-Year Passes are available, but at the regular price.
How to order your 1-Year Pass
Adult and Youth riders: Please mail or fax us the order form below.
Honored Citizen riders: If you have a valid Honored Citizen Photo ID card, we already have your photo on file, so you can simply mail or fax us the order form below. We'll send you your new Honored Citizen Photo ID Hop card in the mail. Otherwise, you'll need to have your picture taken at the TriMet Customer Support Center at Pioneer Courthouse Square (701 SW 6th Ave) before we can issue your pass. While you're there, submit the order form with your payment.
1-Year Pass Order Form
Mailing address
TriMet 1-Year Pass Program
701 SW 6th Ave
Portland, OR 97204
Fax
503-962-2482
Email
Phone