Apply for a Reduced-Fare Hop Card Based on Military Status
If you're a veteran, active-duty member of the military or reservist, you qualify to use TriMet's reduced Honored Citizen fare. With your Honored Citizen Hop card, you can ride as much as you want for $28/month — a 72% discount. To ride at this reduced fare, you must apply for and receive a personalized photo ID Hop card by following the steps below.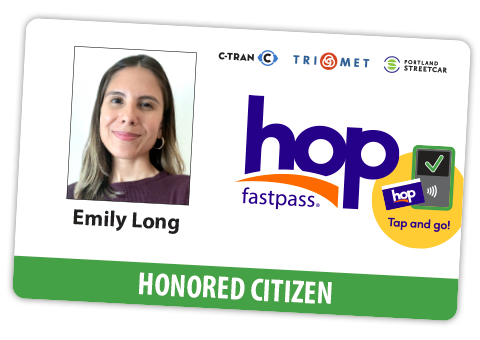 How to apply
Seniors: If you're 65 or older, you automatically qualify for TriMet's reduced Honored Citizen fare. You don't need to apply in advance or get a photo ID card to use the reduced fare. You can buy an Honored Citizen Hop card at the grocery store, load money on your card, then tap your card on the green Hop reader to pay for your trips on buses and trains.
Print and fill out the Honored Citizen Application Form (PDF). Or, call us at 503-962-2455 and we'll send you one in the mail.
To verify your military status, be prepared to show one of the following:

Common Access Card (CAC) for active-duty military
Uniformed Services ID card or driver's license with veteran classification
Copy of DD214 Certificate of Release/Discharge from Active Duty and photo ID

Bring the completed application and required verification, along with a government-issued photo ID, to the TriMet Customer Support Center at Pioneer Courthouse Square (701 SW 6th Ave.). We'll take your photo and give you your personalized Hop card.
Note: There is no fee for your first card, and replacement cards cost $3.
You're good to go: Simply load money on your card, then tap it on the green Hop reader each time you board a bus or train. How to use and reload your Hop card
If you have questions about your eligibility or need help with your application, contact us at accessible@trimet.org or call 503-962-2455.