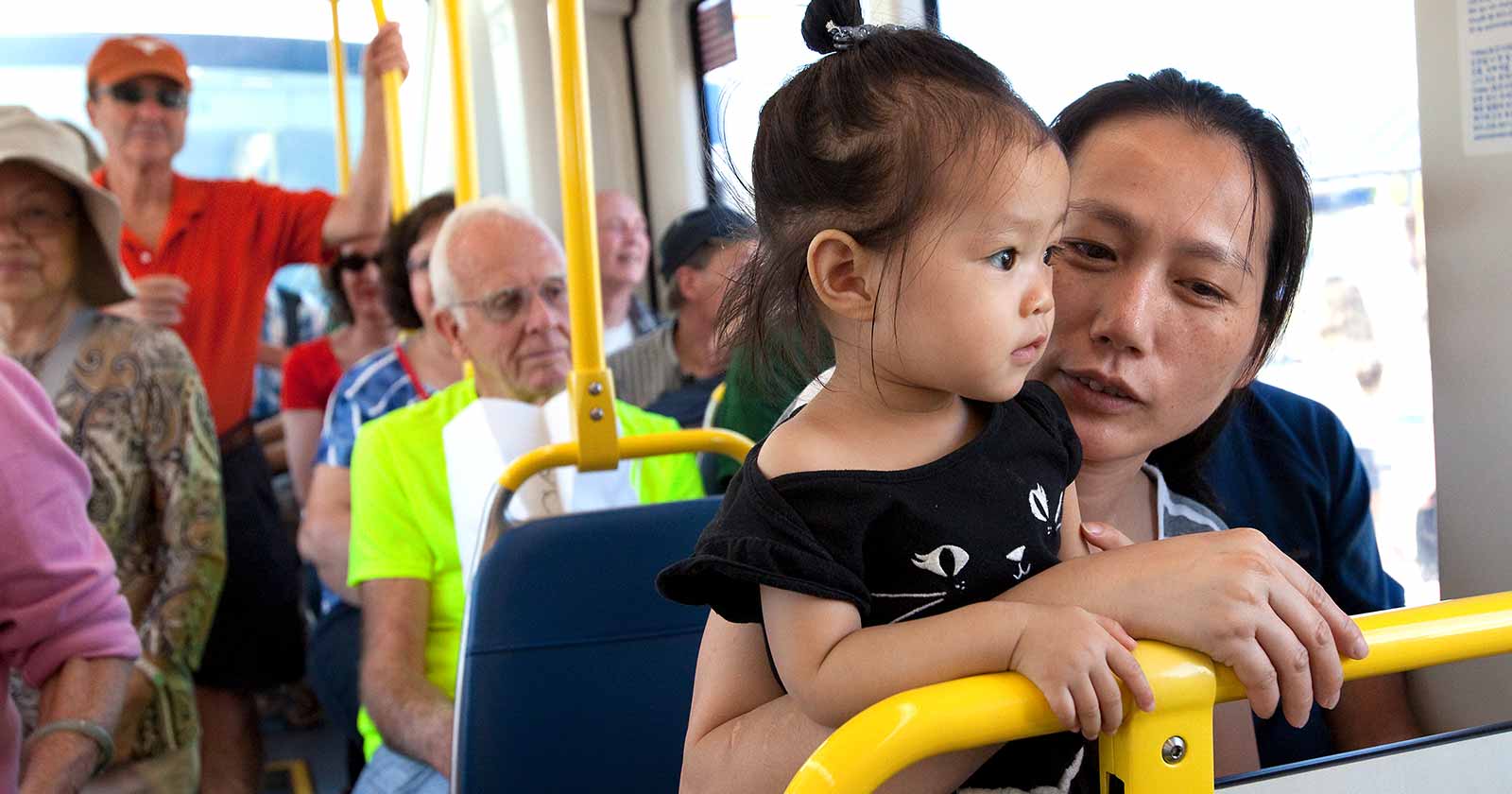 Transit Equity
Ensuring Equity — Fostering Diversity — Building Community
A system accessible for all
TriMet is committed to Diversity, Equity and Inclusion. This page highlights milestones and progress under the direction of our Board of Directors and General Manager, and with the help of countless community partners and staff.
Historic barriers have prevented some of our most vulnerable community members from participating in the public process, which is why we strive to create educational and engaging community dialogue that is inclusive of all races, cultures and identities—ensuring fair access for traditionally underserved communities.
Recently, with the help of our riders and system stakeholders, we have introduced a new low-income fare, decriminalized the system and announced new climate goals. For more than two decades, we have been industry leaders in minority contracting and workforce development. We have also established one of the most comprehensive Civil Rights Title VI programs in the nation.
Please take a moment and explore our initiatives, learn about our projects and connect to the latest system news.
Low Income/Reduced Fare
53,000
enrollees since 2018
More than 53,000 people have signed up for income-based fare reductions since the program began = $12.7 million in rider savings.
In July 2018, TriMet introduced reduced fares for riders with low-incomes. With it, we expanded our Honored Citizen reduced fare to allow qualification based on income. Residents of Oregon, between the ages of 18 and 64 years old, who make up to twice the federal poverty level, can apply for the reduced fare.
Those who qualify for our reduced fare get unlimited rides for $28 a month — a 72% discount. Learn more at trimet.org/income.
Fare relief and fare assistance programs
$15.3 million
in free and reduced fare
Since 2015, we have provided more than $13.9 million worth of free fare to 142 non-profits and community-based organizations. Additionally, we have provided more than $1.4 million in reduced fares to 60 non-profits and government entities during the same period.
We believe that access to transit is access to opportunity which is why we developed our Fare Relief and Fare Assistance Programs. These programs were designed to increase independence, provide access to employment and employment resources, and improve community connections for thousands of low-income members of our community.
High School Pass Program
$8.1 million
in free fare to qualifying students
Since the 2019 school year, TriMet has awarded more than $3.9 million in free fare to 13 school districts across Multnomah, Washington and Clackamas counties. We have also provided an estimated $4.2 million in free fares through the High School Summer Pass Program since 2022.
TriMet is partnering with local public school districts to provide qualifying high school students access to transit to get to and from school safely and reliably. They can also use their transit passes to get to extracurricular activities and other destinations.
Transit Equity Oversight
21
Region-wide partnerships
TriMet's 21-member Transit Equity Advisory Committee (TEAC) provides insight and guidance to the General Manager on issues of equity, access and inclusion.
Members represent a diverse cross-section of community leaders, advocates, and liaisons for disadvantaged and historically underrepresented communities.
TEAC has been instrumental in helping TriMet develop and implement our Low-Income Fare program, decriminalize the citation process, and connect hundreds of nonprofit and community-based organizations with TriMet's Access Transit program.
Additional equity advisory committees include TriMet's Language Access Committee, which provides ongoing feedback, reflective of the English as a Second Language (ESL) communities we serve; and TriMet's Small Business Equity Advisory Committee, which provides guidance on how to best increase small business participation in agency contracts.
Decriminalized System
90
days to resolve citations internally
90 days to resolve a citation directly with TriMet—keeping it out of the court system.
In July 2018, after we sought a change to Oregon Law, TriMet reduced the severity/consequences for fare evasion, bringing the penalties more in line with the violation.
Rather than entering the court system, adults who receive a fare evasion-only citation have the option to resolve it with TriMet directly within the first 90 days. Individuals can pay a reduced fine, perform community service or enroll in our reduced fare program.
Civil Rights
26
policies ensuring equity and fair access
Minority Contracting
$70+ million
historic DBE contract
In winter 2020, we awarded the $70+ million Division Transit Project to Raimore Construction, a certified Disadvantaged Business Enterprise (DBE) with a 20-year history of work for TriMet, making it the largest DBE contract in Oregon history.
TriMet has a strong commitment to engaging diverse community members in its workforce and business procurements. We adopted our first goals for engaging minority- and women-run contractors in 1982. Two decades later, we again demonstrated our commitment to fair practices by creating the Diversity and Transit Equity Department.
Learn more about DBE, Small Business and Workforce Training and Hiring Programs
Climate Justice
5
actions for a greener future
TriMet has committed to fully transition to a clean energy, zero-emissions bus fleet by 2040. As we make the transition, we are testing all-electric buses and exploring other technologies like hydrogen. In an effort to reduce our own carbon footprint, we have or will be implementing the following:
As of June 2021, all TriMet-owned facilities and our MAX light rail system are powered by 100% renewable electricity.
In December 2021, we began fueling all fixed-route buses with renewable diesel (R99).
We are in the process of converting to energy-efficient LED lighting in most TriMet-owned facilities and properties. Initial conversion has effectively reduced energy consumption by 60%.
We will annually update a carbon baseline analysis, initially conducted in 2020, to inform our net-zero carbon strategy.
After 2025, we will cease diesel bus purchases.
Equitable Development
477
affordable housing units developed
Since 2015, we have facilitated the development of 718 transit-adjacent housing units. Of those, 477—or 66%—are designated affordable housing.
TriMet's focus for supporting regional development is to maximize density, minimize gentrification and displacement and transform public spaces by creating mixed-use development near transit stations, with a diversity of uses and income levels.
We continue to advance best practices in facilitating affordable housing near transit. Historically, TriMet has worked with both public and private partners, defining affordable housing requirements through individual sale or lease of excess property that had been used for construction.
In planning new high capacity transit lines like the Division Transit Project and Southwest Corridor Light Rail Project, TriMet and partners create strategies and programs to encourage equitable development and affordable housing.
Building Consensus, Creating Connections
Our Community Affairs department creates connections between design teams, construction crews and the communities where new transit infrastructure is being built. The team is responsible for raising awareness of these projects and gathering input from the communities they will serve.
We build personal relationships with people and organizations during the design phase of a projects, integrating community input and perspective into the designs. During construction, we draw on these established relationships to minimize construction impacts, support small businesses and keep project stakeholders informed.
Get Involved
Questions or comments? Email us or call 503-962-2244.
TriMet News
Meetings
TEAC Meeting
Tuesday, August 8, 4:30-6:30 p.m.
Learn more
VIDEO: Our low-income fare program enrolls 25,000 in less than 18 months.
VIDEO: We partner with nearly 50 organizations to expand access to low-income fare.