Apply for a Reduced-Fare Hop Card Based on Disability
If you have a verifiable mental or physical disability, you qualify to use TriMet's reduced Honored Citizen fare. However, you must apply for and receive a personalized photo ID Hop card before using the reduced fare.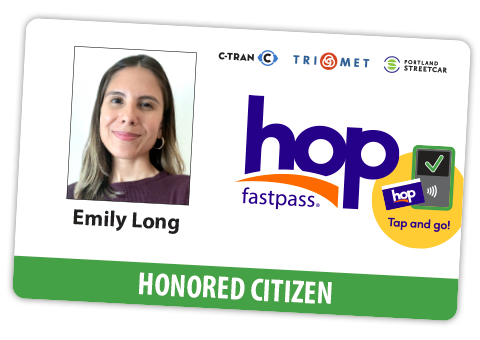 How to apply
Seniors: If you're 65 or older, you automatically qualify for TriMet's reduced Honored Citizen fare. You don't need to apply in advance or get a photo ID card to use the reduced fare. You can buy an Honored Citizen Hop card at the grocery store, then tap your card on the green Hop reader to pay for your trips on buses and trains.
Print and fill out the Honored Citizen Application Form (PDF). Or, call us at 503-962-2455 and we'll send you one in the mail.
In addition to the application form, we require verification of your disability by one of the following:

A certified/licensed health care provider: Have your provider fill out Page 2 of the application form.
The Social Security Administration: Please get a Benefit Information Report or Benefit Verification Letter from your Social Security Administration office dated within the last three months, and include it with your completed application form.
A certified agency: Certified agencies include the Senior and Disabled Services Division, Commission for the Blind, Vocational Rehabilitation Division, a mental health agency, or The Arc of Multnomah or Washington County. The application form requires a verification stamp from the agency, so please contact your agency representative for assistance.
The US Department of Veterans Affairs: Please get a Certification Letter from the Department of Veterans Affairs dated within the last three months verifying a disability, and include it with your completed application form.
Other transit agency: Include the name, city and state of the transit agency on your application form.

Bring the completed application and required verification, along with a government-issued photo ID, to the TriMet Customer Support Center at Pioneer Courthouse Square (701 SW 6th Ave). We'll take your photo and give you your personalized Hop card.
You're good to go: Simply load money on your card, then tap it on the green Hop reader each time you board. How to use and reload your Hop card

If you have questions about your eligibility or need help with your application, please contact us at accessible@trimet.org or call 503-962-2455.