Proposed 2024–25 Transit Service Changes
We're excited to continue implementing the Forward Together Service Concept focused on growing ridership and improving connections for people with low and limited incomes.
While the full implementation of Forward Together will take 3–6 years (dependent on our recovery from the ongoing operator shortage), we are proposing these changes in 2024–25:
Add 2 new Frequent Service lines with buses arriving every 15 minutes for most of the day, every day.
Improve service on 9 lines with buses coming more often, for more of the day, every day.
And more! See below for maps and more details.
Riders will see the first bus service changes from these proposals as early as August 2024.
The comment period has now ended. Thank you for your feedback!
More
Fare Increase
Effective January 1, 2024, we're increasing the price of our 2½-Hour Ticket and Day Pass by 12%, to help cover the growing costs of operating our transit system. Month Pass and Annual Pass prices will not change, so most frequent riders will not be affected.
Honoring those who serve our country
TriMet's Board of Directors is considering expanding our Honored Citizen reduced fare to veterans and active duty military. The Board will vote on the proposal October 25, 2023.
A Better Red
The Better Red project extends MAX Red Line west to serve 10 more stations and improves schedule reliability for the entire MAX system.
In early 2024, a new Gateway North MAX Station opens for Red Line trains heading toward Beaverton. The Red Line extension to Hillsboro opens in fall 2024.
Clean Corridors Plan
As part of our commitment to make our region a better place to live, we're ditching diesel, aiming for a zero-emissions bus fleet by 2040. In the meantime, our diesel buses run on renewable diesel, which reduced our emissions by nearly 70%.
We have 10 battery electric buses in service now, with more on the way. Which routes should they serve? We've developed a Clean Corridors Plan that identifies areas where zero-emissions buses could best improve local air quality, while also serving more vulnerable populations.
HollywoodHUB
As part of our goal for making our region one of the world's most inclusive, sustainable and livable places, we're partnering with BRIDGE Housing to create a community-centered transit-oriented development at the Hollywood Transit Center. BRIDGE Housing aims to deliver a 100% permanently affordable housing building on a portion of the site, with 200 affordable homes.
Construction begins in fall 2024. Riders will have access to MAX and bus service with minor exceptions.
Park Avenue Garage Expansion Project
In Spring 2024, we'll begin adding floors to the SE Park Avenue Park & Ride, making it easier and more convenient for riders to access transit. It's work that had been deferred during the MAX Orange Line project. Construction is expected to be completed in Spring 2025.
82nd Avenue
We're working with regional partners to conduct a transit alternatives analysis for potential bus rapid transit service along 82nd Avenue from Clackamas Town Center to Portland's Roseway and Sumner neighborhoods.
Bus rapid transit service would significantly improve travel time, reliability and comfort by allowing the bus to separate from or bypass other vehicle traffic in key areas along the route and improving stations.
TV Highway Safety and Transit Project
Metro, TriMet, the Oregon Department of Transportation, corridor cities and Washington County are studying how to bring safety and transit investments to TV Highway. The goal is to improve pedestrian safety accessing transit and to enhance the transit rider experience through improved bus speed and amenities like bus shelters and lighting. Planning and design will continue for several years.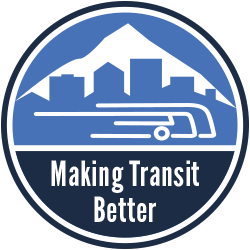 We're working to grow our network of buses and trains while making your ride smoother, safer and more reliable.