Security on TriMet
In addition to our team of transit police officers and contracted patrols, we're continuously working to improve security through partnerships, technology and station design.
Transit police and security personnel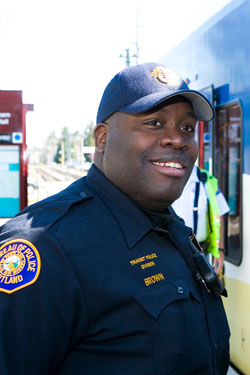 Transit police and contracted security staff patrol the TriMet system every day.
Operating out of four precincts, 62 transit police officers spend at least 70 percent of their time:
patrolling
conducting missions
arresting and processing suspects
conducting follow up investigations
conducting surveillance
responding to calls for service related to TriMet
They also coordinate security efforts with local and regional law enforcement agencies.
In addition, contracted security personnel, TriMet operators, supervisors, customer service staff and maintenance workers also provide a presence throughout the system. They serve as visible deterrents to crime and are trained to identify and respond to security concerns.
All incidents on the TriMet system are coordinated through the regional 9-1-1 system, allowing the closest available unit to serve as the first responders.
Fare inspection
We have dedicated staff to check fares and issue warnings, citations and exclusions for riders without a valid fare. Transit police officers, as well as officers from other jurisdictions, check fares on MAX trains. Riders caught without a valid fare may be fined, excluded or arrested.
Security cameras
We use security cameras to monitor vehicles and facilities. All our transit centers, platforms, elevators, trains and buses are equipped with cameras. The cameras help deter criminal activity and the video can be used as evidence for prosecuting crimes.
Station design
Benches, shelters, signs and landscaping are positioned to enhance visibility and avoid potential hiding places. Shelters, walkways and parking lots are well-lit.
When possible, we physically separate public spaces from areas where valid fare is required. Ticket machines are located away from the boarding platforms, which are restricted to fare-paying riders only.
Rules and penalties
Our rules for riding are posted inside all buses and trains and at many stops and stations.
The TriMet Code and Administrative Rules include penalties for fare evasion and disruptive behavior on the system, with a base fine of $175. Riders can also be immediately excluded from the system for up to six hours and excluded for up to 90 days.
How you can help
We also rely on riders' eyes and ears to help keep the transit system safe. This is where you come in:
Report suspicious activity
If you see suspicious behavior or a suspicious package, or if there's an emergency or unsafe situation on board, tell a TriMet employee or call 9-1-1.
MAX and WES trains have up to four emergency intercoms to reach the operator.
Free 9−1−1 calls can be made at pay phones located at all MAX/WES stations and transit centers.
Don't leave personal items unattended
Please keep personal items, such as purses, bags, backpacks and packages, with you at all times. This helps us avoid unnecessary security alerts and delays.
Listen for instructions in an emergency
Please follow the instructions of the operator or other TriMet staff in the event of an emergency. They are trained to ensure your safety.
$1,000 reward for crime information
It is a felony under Oregon law to assault a TriMet operator or vandalize TriMet property. We offer a reward of up to $1,000 for information leading to the arrest and prosecution of any person who assaults a TriMet employee or vandalizes TriMet property. To report a crime, call 9−1−1.
Download
TriMet Security Fact Sheet
PDF · July 2016
Related