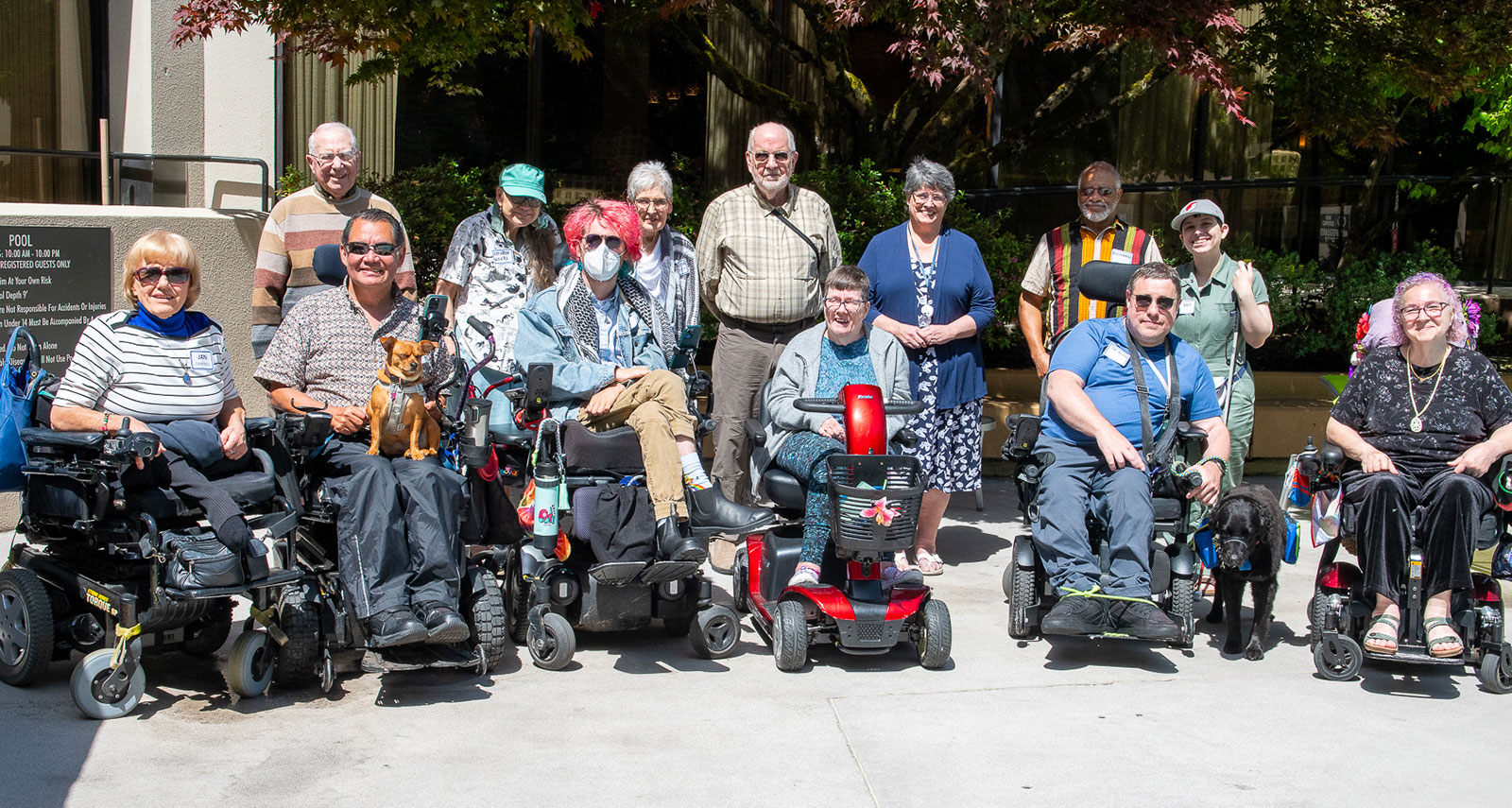 Jan Campbell
Chair
I am a person with a disability and when I was denied a teaching job because of my disability, and before the ADA was passed, I focused my career in civil and human rights. I am employed with Multnomah County Aging, Disability and Veterans Services, and currently Interim Director of Disability Awareness Resource Team (DART). DART supports and advocates for persons with disabilities who are survivors of domestic violence and sexual assault. I have been a member and chaired numerous State and local Councils, Boards and Committees.
People with disabilities often are not included on committees, boards and commissions that discuss, and make decisions and policies that affect persons with disabilities. The ways I serve my community is to be actively involved with groups that can make positive change, and to get disability on their agenda. Others, mainly CAT members, and I bring the attention of the barriers to TriMet and work together to eliminate them so that our public transit can truly be accessible to everyone. I and two other individuals with disabilities, along with TriMet staff, started the CAT Committee. I love working with the Committee because we are passionate in what we do. Many of the committee members are peers, meaning people with disabilities and older adults who ride the system. We try to work as a team, meaning Committee members and TriMet, to come up with solutions so that we can eliminate barriers that exist.
My favorite place to go is on trails with my friends, and favorite place to eat is anywhere that has good Italian food.
---
Claudia Robertson
Vice-Chair
My name is Claudia Robertson, and I have been a member of CAT since 2001, except for a short mandatory hiatus after the first six years. I grew up in Southeast Portland and Parkrose. For ten years, my family lived outside D.C. in Vienna, Virginia, returning to Portland in 1981.
I served on the Portland/Multnomah Commission on Aging, my first term from about 1994-2000. I was asked to interview for CAT, and I did, knowing very little at the time about transit or transportation. I later went on to serve another six year term on what was then called the Elders in Action Commission.
Since then it has become all transportation, all the time. I serve on the Special Transportation Fund Advisory Committee in addition to CAT, volunteer at Ride Connection, and serve on the Ride Connection Board of Directors.
Over the years I have had the privilege to serve with some wonderful, dedicated people, volunteers and TriMet employees alike. I have been able to advocate for seniors and people with disabilities through CAT activities, and the Citizen Advisory for the Division Transit Project.
---
Annadiana Johnson
Member at Large
I live in Forest Grove and have been a member of CAT since 2018. In 2020, I was voted in as a Member At Large for the CAT. I also serve as a member of the Special Transportation Fund Advisory Committee (STFAC) and the Transportation Equity Advisory Committee (TEAC at TriMet).
I have been disabled since 2004 and use a mobility scooter when I have to travel any distances. Fixed route bus and MAX has been my primary mode of transportation since 2003 to get where I need to be.
I have a background as a Computer System Engineer and have always enjoyed volunteering to help make others' lives better. I feel that my involvement on committees can bring valuable insight of process analysis and improvement. I've been a volunteer with Elders in Action in the past and believe that sharing information with Elders in Action, CAT or any other committee is the key to better understand how things are now and how they might change to make them better for all. Working with the CAT has been great as it creates a space to get to know people and work together to make life better for everyone who uses the transit system.
My favorite place to go is Farmers' Markets in Forest Grove, Beaverton and Portland. My favorite places to eat are Buffet Dynasty, Oregon Culinary Institute and Gandhi's Indian restaurant.
---
Leon Aguilar-Chavarria
Transportation is important to me because I do not drive. I have been riding TriMet since I moved to Portland in 1986. I currently live downtown and volunteer at the Epilepsy Center only four blocks from my apartment. I have Epilepsy and have moved several times in Portland, so I know the city well.
I enjoy working with CAT because it is a social connection with people that understand what living with a disability is like and how it affects a person, but I believe it is important to express empathy towards all people.
I used to eat at a Thai restaurant because the noodles are rice/gluten free. Annadiana on CAT showed me a restaurant called Gandhi, so I eat the chicken with turmeric.
---
David Daley
I retired in 2018 after many years in public transportation. Initially I served as a volunteer at Elders in Action, later (and currently) as a member of the Aging Services Advisory Council for Multnomah County Human Services. I applied for membership with the CAT because my work at Multnomah County oriented me to the fact that transportation is a huge issue in providing effective services to seniors and persons with disabilities. I served on the Ad-Hoc committee that Multnomah County organized to address major service quality issues with the non-emergency medical transportation system. I also serve as the County representative to the Rules Advisory Committee for non-emergency medical transportation in the State of Oregon.
The community I am most concerned about is the large number of seniors who should no longer drive but do not qualify for LIFT paratransit. In dealing with barriers related to accessibility, I believe we need to do more outreach with this community and more training with TriMet operators about how to provide effective services to them when they use the fixed route system.
My favorite place to eat is Nuestra Cocina on SE Division in Portland.
---
Diana Keever
I have CP. I'm on the CAT Board working to ensure transportation is friendly to all.
Before COVID-19 I did volunteer work at independent living resources. I am outgoing, independent and an animal lover.
I deal with barriers as it relates to accessibility when using transportation by communicating with the appropriate people when needed.
I heard about CAT from Jan Campbell 6 years ago. And also the newspaper. I enjoy working on and resolving the issues that may arise.
I enjoy attending church and visiting parks and I like Mexican and Chinese food restaurants.
---
Patricia Kepler
Patricia works as an Accessibility Specialist for Portland Community College and has served as a Governor appointed commissioner of the Oregon Disabilities Commission and the Oregon Commission for the Blind. In addition to serving on CAT, Patricia currently serves on the Metro Committee on Racial Equity and serves as a consultant in the development of Metro departmental ADA transition plans. Patricia uses She/Her pronouns.
I travel with the assistance of a guide dog. My dog can help me navigate around most barriers I encounter. When I need to travel into areas where pedestrian access has not been a priority of the city planners, I rely upon Lift for travel to and from appointments.
I was introduced to Jan Campbell, CAT President, and many years ago at an advocacy event. Jan's passion for safe, accessible transportation is infectious, motivating me to apply to be a member of CAT. I love working with the team of advocates. Each member of CAT brings great knowledge and experience to the table and are dedicated to improving transportation access for everyone that visits the Portland metro area.
I love spending time at Waterfront Park. Traditionally there is always something interesting to be found there. I love all of the festivals! My favorite place to eat however, is in Beaverton at the La Hacienda Real.
---
Adam Kriss
My name is Adam Kriss and I have served on the Committee on Accessibility since 2014; in addition I was a Commissioner with the City of Portland's Commission on Disability from 2009-2015. I assisted in the accessibility design of the Tilikum Crossing along with reviewing the design plains for the Orange Line where I had input into the accessibility design of the new Type 5 cars on the MAX. Currently as an employee at the Portand'5, I am constantly looking at how to make the Keller Auditorium and Arlene Schnitzer Concert Hall more accessible for patrons with disabilities.
One of the main reasons that I moved to Portland in 2006 was due to the already accessible public transportation system that included ramps to board all buses, trains and streetcars. However, as with everything, things can be improved, so as a committee member I continue to share my insights on current and new TriMet projects to ensure people with disabilities are represented in all aspects of projects to ensure accessibility.
I started going to CAT meetings as a member of the public. Through attending and learning about the various issues the CAT deals with, and being a person with a disability myself who relies solely on public transportation to get around, I decided to apply. For the most part, I feel that TriMet has really valued the opinions of the CAT. As a member of CAT it is fascinating to listen to the public that come to our meetings to bring up their personal barriers that might go otherwise unnoticed. This way I become more educated on issues that I do not experience.\ I enjoy this aspect because it allows CAT and then TriMet the opportunity to address these concerns.
One of the best things about moving has been the food paradise here in Portland so I have been to so many different restaurants. It is hard to pick a favorite, but I have a few go-to restaurants downtown, which are Shigezo and Piazza Italia. When not going to eat, I enjoy walking around the city but really enjoy walking along the waterfront that now leads to the Tilikum Crossing, which I enjoy walking over.
---
Kristin Meagher
As a retired medical receptionist I was diagnosed with Retinitis Pigmentosa and started riding TriMet MAX and bus with the help of TriMet staff. I learned of a CAT meeting to attend and was very interested in all the committee stood for on disability and transportation.
The best tool to deal with barriers as it relates to accessibility when using public transportation is staff and other riders that are at most times eager to help when needed. A simple call to customer service is so easy and they always help!
I attended my first CAT meeting after a friend asked if I wanted to go to a meeting being held at the World Trade Center. I have loved working with CAT from day one because all the topics and/or issues are things I can understand and identify with.
My favorite place to go in Portland is Forrest Park and my favorite place to eat is on my patio having burgers with friends!
---
Barry Lundberg
My wife and I moved from Evanston, Illinois to Portland 5 ½ years ago to enjoy our family including our three grandsons, who live here. We live at Holladay Park Plaza, a retirement community, near the Lloyd Center. My lifelong career involved transportation engineering and urban planning, with much of it focused on transit system operations. Since moving to Portland, we have become involved in a number of projects at Holladay Park Plaza involving health and wellness, finance, adult education, and pedestrian safety.
I am fortunate that at my age of 83 I do not have any physical limitations that create transit accessibility problems. I have friends at Holladay Park Plaza who do need walkers and electric scooters. I travel with them from time to time on various busses, so I am familiar with some of the issues they face.
Being interested in transit I searched the TriMet web site and found I could apply for membership on CAT. I submitted a letter of interest and an application and was fortunate to be selected. I joined the committee in July 2020. Am looking forward to supporting the goals and objectives of the committee.
Too many "favorite places to eat" in Oregon to list, but most are located in the center city area.
---
Michael Sandell
---
Dr. Ryan Skelton
I work for Independent Living Resources. We are a social work agency, which focuses on helping people with disabilities access resources within the community. I have been disabled all my life and a public transit user since the passage of the Americans with Disabilities Act allowed me to get on the bus.
As a psychologist who also practices social work, I know firsthand that the inability to utilize transit can cause isolation and limit access to publicly available resources for people that cannot drive because of the nature of their disability. I believe in the right of everyone to access the cities where they live. Being able to move around is a big part of that. Where we can go affects how we use our leisure time and what jobs are possible for us to perform. It also affects how easy it is for us to spend time with our family. As an independent living specialist, I work to remove barriers and challenges of consumers so they can lead more independent, healthier, and happier lives as defined by them. I look forward to the day when the Portland metro area again becomes open to us all and we can pursue our life goals fully. Until then it is my intention to serve the disabled community by doing all that I can to promote safe, effective and accessible transportation to vital appointments and food resources. That is part what I do with my position for the committee and as an independent living specialist.
What I appreciate most about serving on CAT is that I have the ability and responsibility to be a voice in TriMet's future plans as they relate to transportation with people for disabilities. I have participated in feedback regarding budgets and future plans for station designs etc. It is gratifying how much the voice of people with disabilities is needed and sought out in these types of future plans.
I love to go to Blazers games… even the nosebleed seats as long as I can see and cheer. In addition, I've been known to catch a play at a local community theater with some friends more than once a year.
---
Cassie Wilson
---
Keith Edwards
TriMet Board Rep
During a 44-year career as a union electrician, Keith Edwards broke many barriers and achieved leadership positions in the International Brotherhood of Electrical Workers (IBEW). He became the first African-American business manager of a construction local in IBEW history, was the first African-American to serve as a member of the National Joint Apprenticeship and Training Committee and co-founded the Electrical Workers Minority Caucus in 1974. He was the first African-American appointed to IBEW Local 48's Executive Board and he served an international representative for IBEW's Ninth District.
Edwards is a community activist and has been involved with the Coalition of Black Men, the Portland Workforce Alliance and the NAACP, where he has served as president of the Portland chapter. He also served eight years on the Oregon Electrical Board under Gov. Barbara Roberts.
---
AJ Earl