Everyday transportation options are changing, and the transit industry is developing better tools to integrate all those options. TriMet will always operate buses and MAX and provide transportation for seniors and persons with disabilities, but we also must offer our customers convenient connections to and from transit, and help as many people in our region as possible to navigate to their best options. TriMet's Vision, Mission, and Values reflect the future challenges and opportunities.
Vision
TriMet will be the leader in delivering safe, convenient, sustainable, and integrated mobility options necessary for the region to be recognized as one of the world's most livable cities.
Mission
Connect people with valued mobility options that are safe, convenient, reliable, accessible, and welcoming for all.
Values
Safety; Inclusivity; Equity; Community; Teamwork
TriMet is our community's life connector
TriMet spans the growing Portland region with bus, MAX light rail, WES commuter rail, and LIFT paratransit. We connect to other services, including Portland Streetcar, bus systems like C-TRAN, and local shuttles, as well as newer mobility options such as Uber, Lyft, e-scooters, bikeshare, and more.
Our vision calls for us to be the leader in providing transit and connecting people to their many mobility options. By doing so, we will play our part in helping make this region one of the world's most livable places. Our mission recognizes the wide variety of options people now have available to travel; Our core services will continue to be bus, rail, and paratransit, but there are many options that our customers can connect to now. Our mission is to provide great transit service, improve access to transit, and help connect people to mobility options that are safe, convenient, sustainable, integrated with each other, and welcoming to everyone who travels within our region.
What does this mean?
Our Vision, Mission, and Values guide our future efforts to serve our customers better. We want to be the leader in delivering safe, convenient, sustainable, and integrated mobility options that help people get where they need to go. We'll keep working hard to make our services more convenient for current and future customers, more sustainable, and to help people navigate all the mobility options out there to best fit their needs. The transit industry is improving integration with mobility options, and TriMet needs to do the same to serve our region and push toward our Vision.
Mobility as a Service at TriMet
Mobility on Demand (MOD) and Mobility as a Service (MaaS) are two improvements that are frictionless, seamless travel for everyone and everything. These concepts seek to give people customized, reliable, and flexible transportation options by allowing them to plan, book, and pay for public and private multimodal transportation services using real-time information about travel options, time, and cost.
MOD and MaaS will enable our riders to address congestion and environmental issues by increasing public transit adoption and car sharing. At its core, MOD is a solution that puts the customer first, allowing them to craft their journey to their unique needs, priorities, and preferences.
Funded by the Federal Transit Administration (FTA) 2017–2019 MOD Sandbox Grant, TriMet has made significant improvements and created a replicable tool like none other that lets people plan multimodal with other providers. That means a single trip where a bus or train may get you part of the way, with Uber, SHARE NOW or BIKETOWN filling in the rest of the trip — automatically!
As a result, TriMet is the first US transit agency to release a multimodal trip planner and plans trips, books and links to easy payment options for complete trips that incorporates shared-use mobility service providers, including BIKETOWN, car2go, Lyft (pilot only participation), Uber and Zipcar. This is a fundamental step towards providing our customers with convenient, personalized door-to-door travel options.
Integrating new mobility options with fixed route transit can have a tremendously positive impact on the environment, sustainability, fluid seamless mobility, safety, and security, and offer freedom from disabilities. Chaining a transit trip with other mobility providers can be faster than transit alone, and cheaper than Uber alone.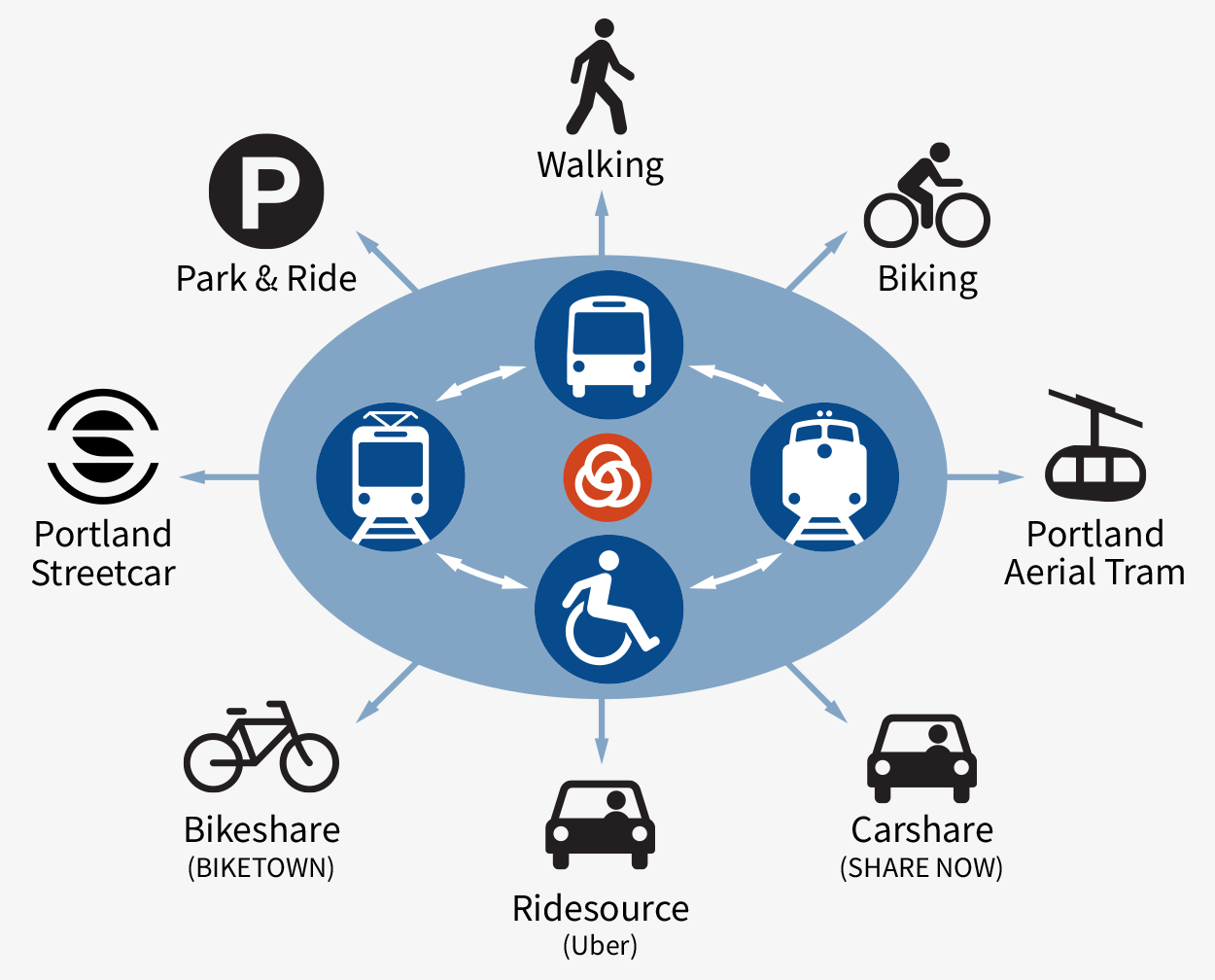 This graphic illustrates TriMet's transit options in the center, and how transit connects to other transportation options in our region. TriMet's new multimodal trip planner (preview here) easily connects customers to all integrated. Over time, we expect to add more modes and make it easier for our customers to make all of the connections they need.