MAX Red Line
MAX Red Line light rail service connects Portland International Airport, E/NE Portland, Portland City Center and Beaverton.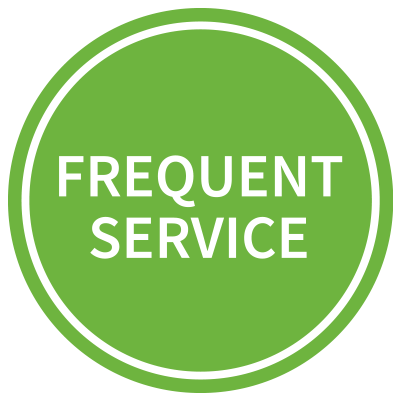 MAX Light Rail runs every 15 minutes or better most of the day, every day. More
MAX Red Line Schedules
Service alert in effect:
MAX Red Line is disrupted due to ice and tree limbs on the overhead wires on the east side. Shuttle buses are serving stations between Rose Quarter TC and Portland International Airport, but expect major delays. Red Line service on the west side also experiencing major delays.
The trip to/from downtown Portland takes about 38 minutes and costs $2.50 for Adults 18–64, $1.25 for Honored Citizens and $1.25 for Youth.
You can easily roll your luggage on board.
The first train of the day arrives at PDX at 4:57 a.m. on weekdays and weekends. The last train departs PDX at 11:49 p.m., daily.
The MAX station and ticket machines are located near baggage claim on the lower level. View airport map (flypdx.com)
Parking at TriMet Park & Ride lots is limited to 24 hours. For longer trips, have someone drop you off at a MAX station. Park & Ride locations
Get MAX Red Line updates by email