We're making improvements to our light rail system for a smoother, more reliable ride.

A Better Red
The Better Red project extends MAX Red Line service west to serve ten more stations in Beaverton and Hillsboro and improves schedule reliability for the entire MAX system.

Lloyd MAX Improvements
In October 2021, MAX Blue, Green and Red lines in the Lloyd District underwent track improvements to increase reliability and make your ride smoother. The work rebuilt a section of track just east of the Lloyd Center/NE 11th Ave MAX Station.

Steel Bridge Improvements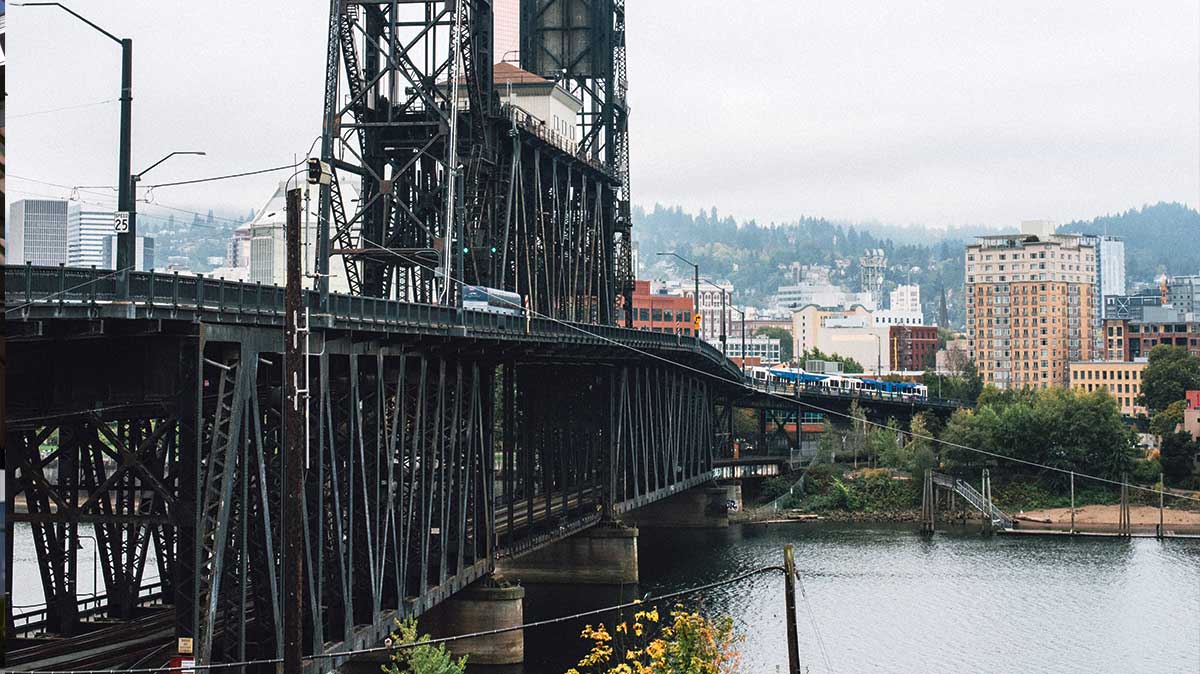 In August 2020, we replaced and upgraded track, switches and the signal system across the 108-year-old Steel Bridge, which help improve reliability and keep trains running on time while reducing disruptions and delays.
We replaced 8,680 feet of rail, lift joints, expansion rails and two switch sections (where trains move between two sets of track), including the most used switches on the light rail system.
We also improved the signal system across the bridge with modern technology and safety features.

Washington Park MAX Station Improvements
In early 2018, we completed a $2.1 million renovation of the Washington Park MAX Station. The project transformed the nearly 20-year old station for a new generation of riders.
We gave the station a fresh look, which includes:
Washington Park-themed murals along the Robertson Tunnel walls
Energy efficient LED lighting
Elevator lobby upgrades
Graffiti-resistant wall coatings

Hillsboro Station Improvements
We made improvements to the MAX tracks and switches near Hatfield Government Center.

Providence Park Track Improvements
In May, 2018, we replaced rails and outdated switch machines near Providence Park. We also redesigned the stormwater collectors and improved the drainage around the switches.

Morrison–Yamhill Track Improvements
In Spring 2017, we improved sections of the MAX tracks on Morrison and Yamhill streets at SW 11th Avenue and at 1st Avenue. At SW 11th Avenue, which was originally the end of the first-ever MAX line, we upgraded switch machines, replaced special trackway, removed wooden ties and improved the track bed. We also repaired and replaced the bricks and pavement next to the rails, and replaced the curved rail that connects Morrison and Yamhill streets with SW 1st Avenue.

Rose Quarter Track Improvements
In Fall 2016, we redesigned the trackway just east of the Rose Quarter Transit Center to improve MAX reliability and make for a smoother ride. We also replaced the track bed, reconfigured the overhead wire system and upgraded the original signal system that serves the transit center.

1st Ave Track Improvements
In Spring 2016, we made improvements on 1st Avenue between SW Morrison and NW Davis in Downtown Portland. Four new switches were installed, tracks were replaced, and drainages and overhead wire were improved.

Gresham Station Improvements
E 162nd Ave MAX Station and E 122nd Ave MAX Station
We installed larger windscreens, shelter roofs, new digital arrival displays and updated lighting and security cameras.
Gresham City Hall MAX Station
We renovated the shelters, installed new TransitTracker monitors, improved the lighting, replaced the tactile warning strips and made safety and security upgrades. See the photos
Additional crossing improvements
We also made safety improvements at several Blue Line pedestrian crossings in Gresham and Hillsboro. The sidewalks were realigned to be perpendicular to the MAX tracks, and new pedestrian tactile warning systems and signage, lighting and channeling were installed.
SW 158th Avenue & Merlo Road (Beaverton)
SW 175th Avenue & W Baseline Road (Beaverton)
SE 10th Avenue & SE Washington St (Hillsboro)
SW 170th Avenue (Beaverton)
NW Division & NW Mignonette (Gresham)
NE Roberts Ave & 10th Avenue (Gresham)
Other ways we're improving
Track improvements
Some segments of the MAX system have been in use for 30 years. In some areas, rail needs to be replaced or the material under the tracks needs to be upgraded. In the coming years, we will replace problematic switches and make other track adjustments to reduce the number of disruptions, delays and precautionary slow zones.
More support for frontline employees
Our ever-growing transit system means we have a lot of new operators, and it can take time to get comfortable with the rhythm and intricacies of operating a train on a complex system. We're expanding our coaching and training of operators, including having dedicated trainers work one-on-one with operators to focus on on-time performance while safely providing service.
We're also adding staff in our Operations Command Center to give added support and direction to operators, helping them keep trains moving at an optimal level.
Reducing mechanical issues
We're reviewing and improving processes to better identify and predict mechanical issues before MAX trains go out in service. As a part of the normal vehicle break-in process, our maintenance team is working with Siemens, the manufacturer of our new MAX vehicles, to develop and install modifications to improve overall dependability.
As MAX trains run as many as 22 hours a day, issues will arise, but we want to lessen the time it takes to get vehicles rolling or out of the way after an incident. To improve on that, we're making adjustments like routing major mechanical-related calls to technical standby staff and looking at ways to improve our response time when signals or other trackway systems malfunction.
Better coordination with partners and emergency responders
We're working with partners, like the City of Portland, to find ways to shorten disruptions that block MAX, such as when trees fall in the right-of-way. We're also reaching out to emergency responders to get trains moving quicker after an incident, and to clear emergency vehicles from the tracks in a timely manner.
We're also analyzing where cars frequently trespass into the right-of-way and become stuck, to determine if additional signs or barriers might lessen these disruptive incidents.