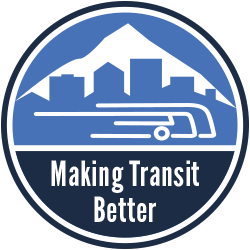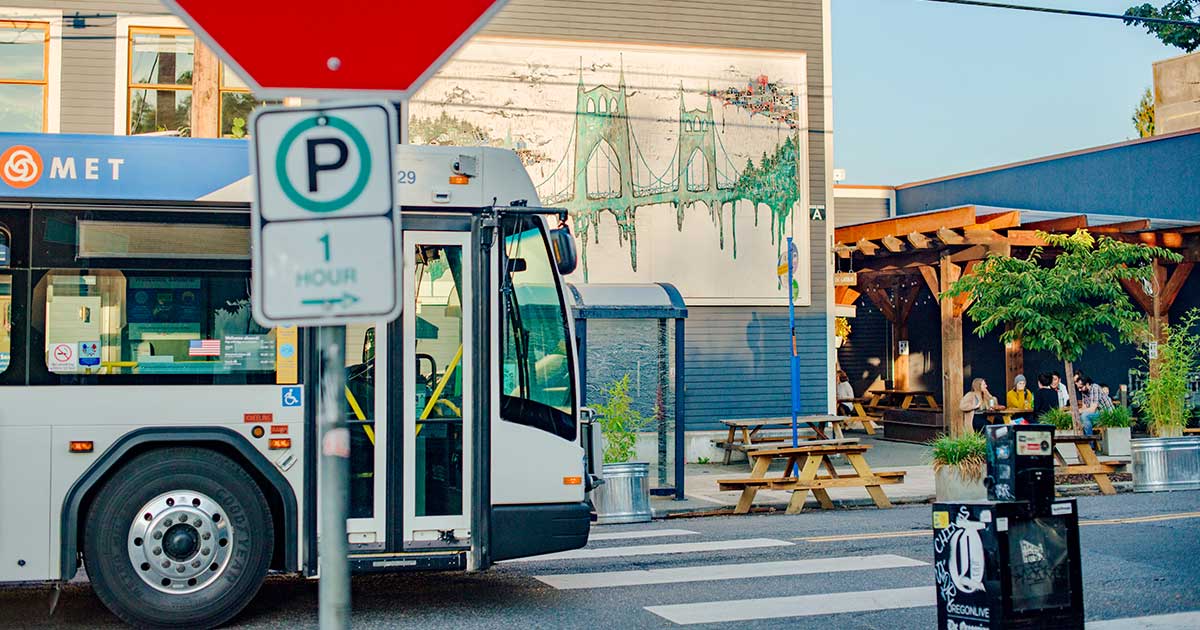 2021-22 Transit Service Improvements
The COVID-19 pandemic has presented many challenges that didn't exist a year ago. As an essential service, we're still hard at work keeping our community moving and looking for ways we can continue to improve our bus service.
Despite current and projected reduction in fare revenue and payroll tax revenue, we are taking a measured approach to service improvements. We have identified opportunities to make bus lines faster and more reliable with little to no added cost. These improvements start taking effect in September 2021 and March 2022.
Open House
Wednesday, February 10, 5–6 p.m.
English with ASL translation
Question and answer live streaming event.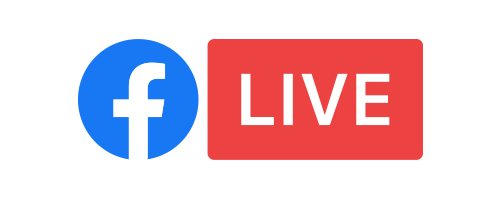 RSVP to the live event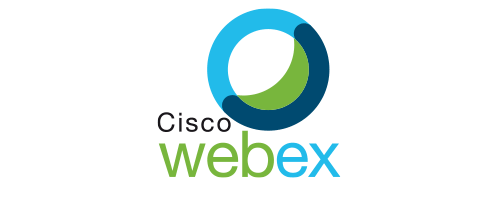 Join live
Password: trimet
Phone: 1-415-655-0001
Meeting number: 145 510 4014
Coming Soon

Fiscal Year 2022 (July 1, 2021–June 30, 2022)
Proposed route changes
Rivergate/Marine Dr
We received some great feedback on our recent proposal to change the Line 11 route to make it easier to transfer between MAX and the bus and to reduce delays during peak travel times.
In our revised proposal, Line 11 would end at the Expo Center MAX Station. Line 11 would no longer serve stops on N Marine Drive east of I-5, on NE 6th Drive, NE Walker Street or Middlefield Road.
We're proposing to remove the low ridership portion of the line along N Rivergate Blvd. and N Ramsey Boulevard. in order to bring faster and more efficient service to N Lombard and N Marine Drive.
We're also partnering with the City of Portland to add safe and accessible stops for Line 6 on N Vancouver Way at N Marine Way to improve connections to the Bridgeton neighborhood.
Proposed route changes/New bus route
Belmont/NW 23rd New Route
We're proposing to move Line 15 off SW Salmon Street to SW Alder Street to reduce travel time and make the route easier to understand for riders.
Based on public feedback, Line 51 will remain on SW Salmon and 2nd.
To better match bus service with demand and provide easier turns at NW Thurman and Gordon, we'll separate the Thurman section from the rest of Line 15. A new line with shorter buses will serve existing stops on Thurman, 19th, 18th and Providence Park. Line 15 will continue to serve 23rd with regular buses. Based on public feedback, we'll serve Thurman with two morning rides and two afternoon rides on weekdays for students and commuters.
Proposed Service Changes
Woodstock/Glisan
To reduce travel time for riders and better match service with demand, we'll reduce the number of trips serving SE 23rd Avenue to Union Manor and the SE 28th/Rex/32nd loop.
Based on public feedback, we'll serve SE 23rd to Union Manor with hourly trips seven days a week between 9 a.m. and 3 p.m. and serve the SE 28th/Rex/32nd loop with two morning trips to Downtown Portland and two afternoon trips from Downtown Portland for students and commuters on weekdays.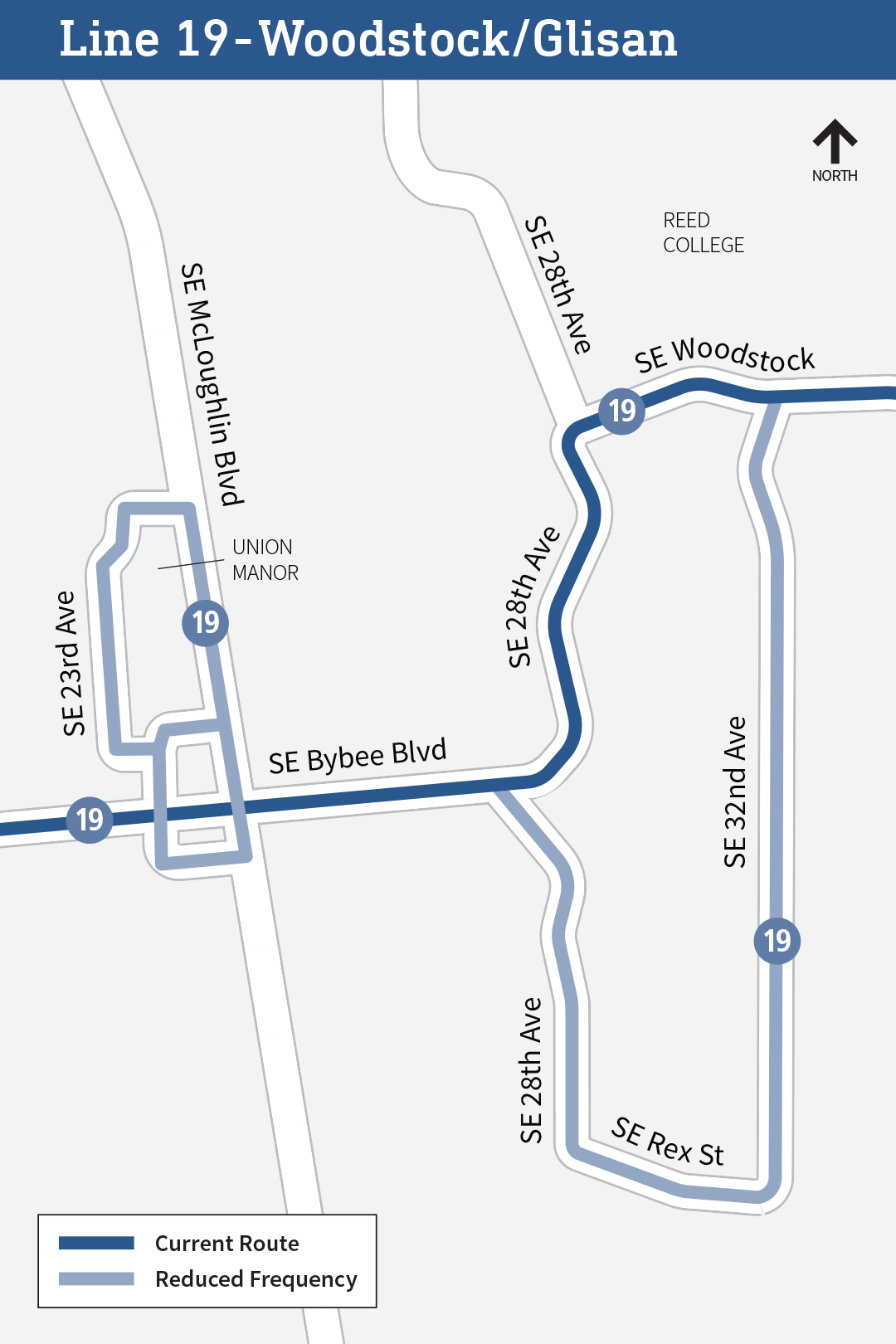 Proposed route changes
Oatfield
The southern portion of Line 32 will change its route in order to serve Oregon City High School. When heading southbound, instead of turning on Trails End Highway (OR-213), Line 32 will now continue along Beavercreek Road. It will then turn onto Meyers Rd to the high school and continue to Clackamas Community College via the Meyers Road extension (currently under construction).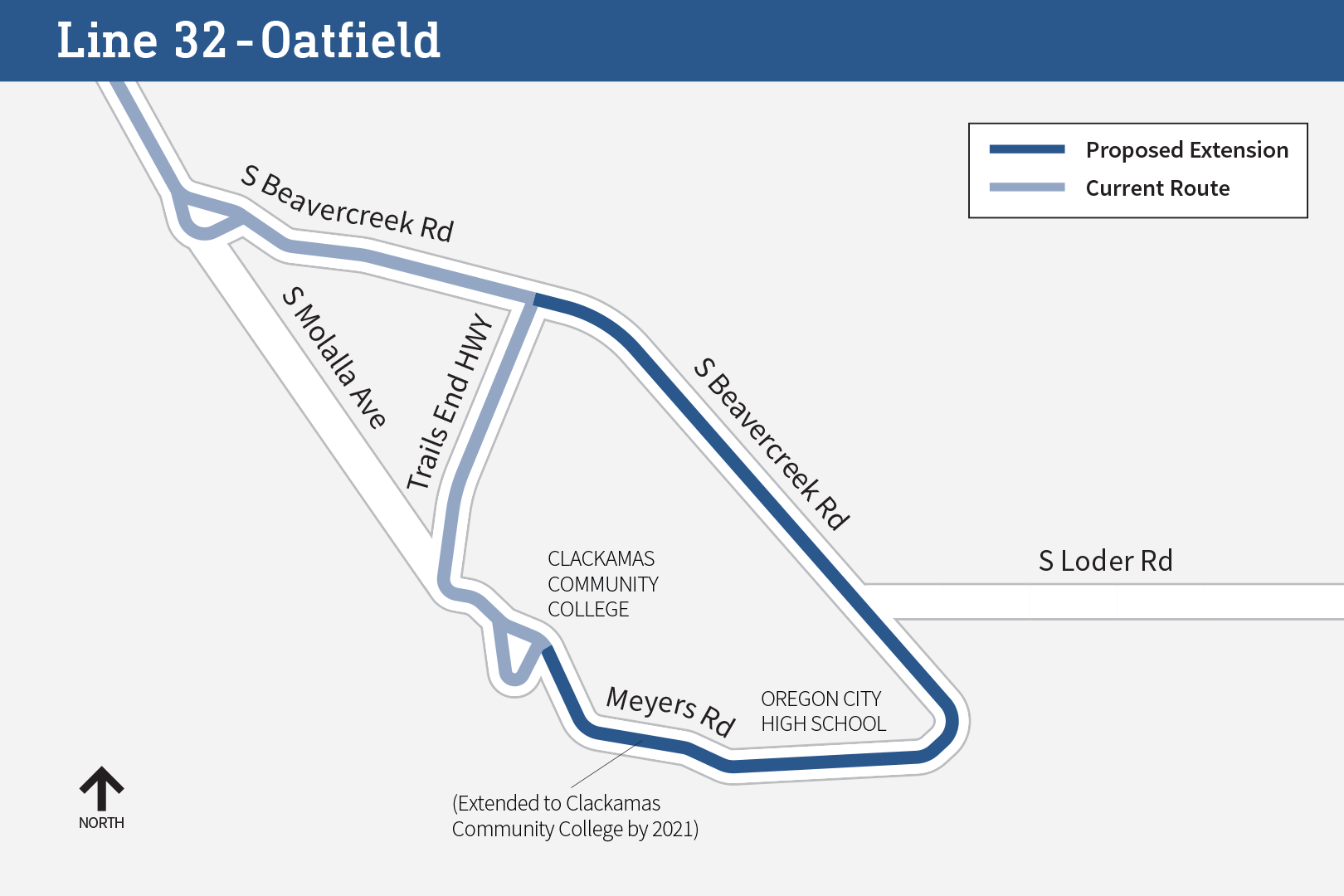 Proposed route changes
Lewis & Clark
To avoid difficult turns and save time, we'll discontinue serving the low ridership outbound loop to the Graduate School of Education at Lewis and Clark College.
With this change, stop ID 11312 on S Palatine Hill Road near South Campus Drive will close. Riders can use stop ID 12731 at the Lewis & Clark College Gate 5, about 1,000 feet north.
Proposed route changes
Washington Park/Arlington Hts
We're proposing to discontinue Line 63 service to the Oregon Zoo on SW Fairview Boulevard and to extend service into Downtown Portland via SW Salmon Street, 6th Avenue, Washington Street, and Morrison Street.
Service to the zoo will  be provided by the Washington Park Free Shuttle seven days a week year round. Riders will be able to flag down the Washington Park Free Shuttle at designated stops on SW Fairview. MAX Blue and Red lines also serve the zoo seven days a week.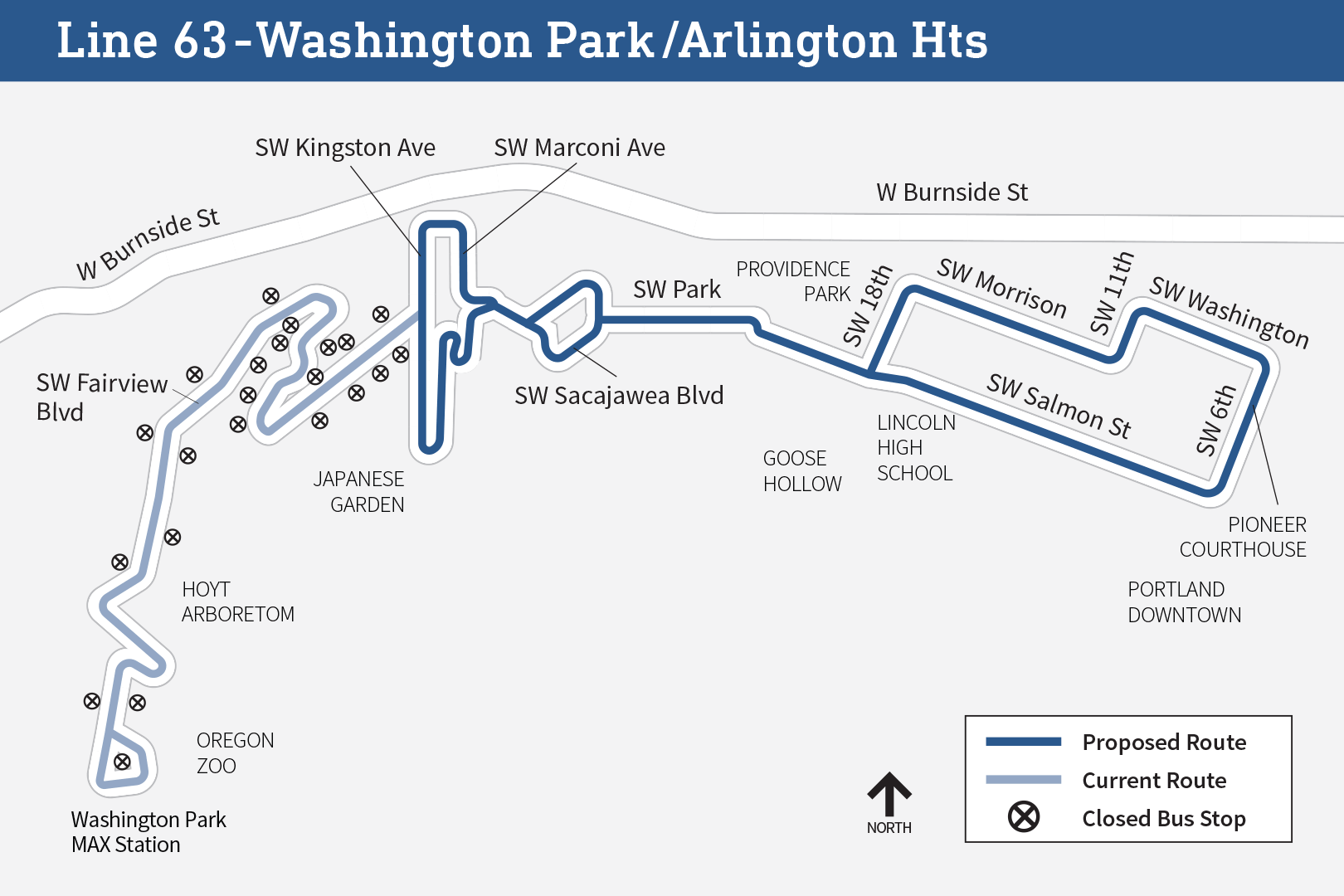 Proposed route combination
Tigard/Sherwood Pacific Hwy/Sherwood
We're proposing to combine Lines 93 and 94 into one line serving the City of Sherwood to Downtown Portland, traveling near the Tigard Transit Center on SW Main Street. Weekend service would be every 30-minutes from Sherwood to Tigard, like today.
The Line 93 name and number would be retired and the new, combined route would be known as Line 94.
Proposed route changes
Marquam Hill/Hollywood Cesar Chavez/Lombard Broadway/Halsey
To accommodate the redevelopment of the Hollywood Transit Center and simplify connections, we're proposing to keep buses on NE Halsey Street. We would create new stops to maintain access to the Hollywood/NE 42nd Ave TC MAX Station and local destinations.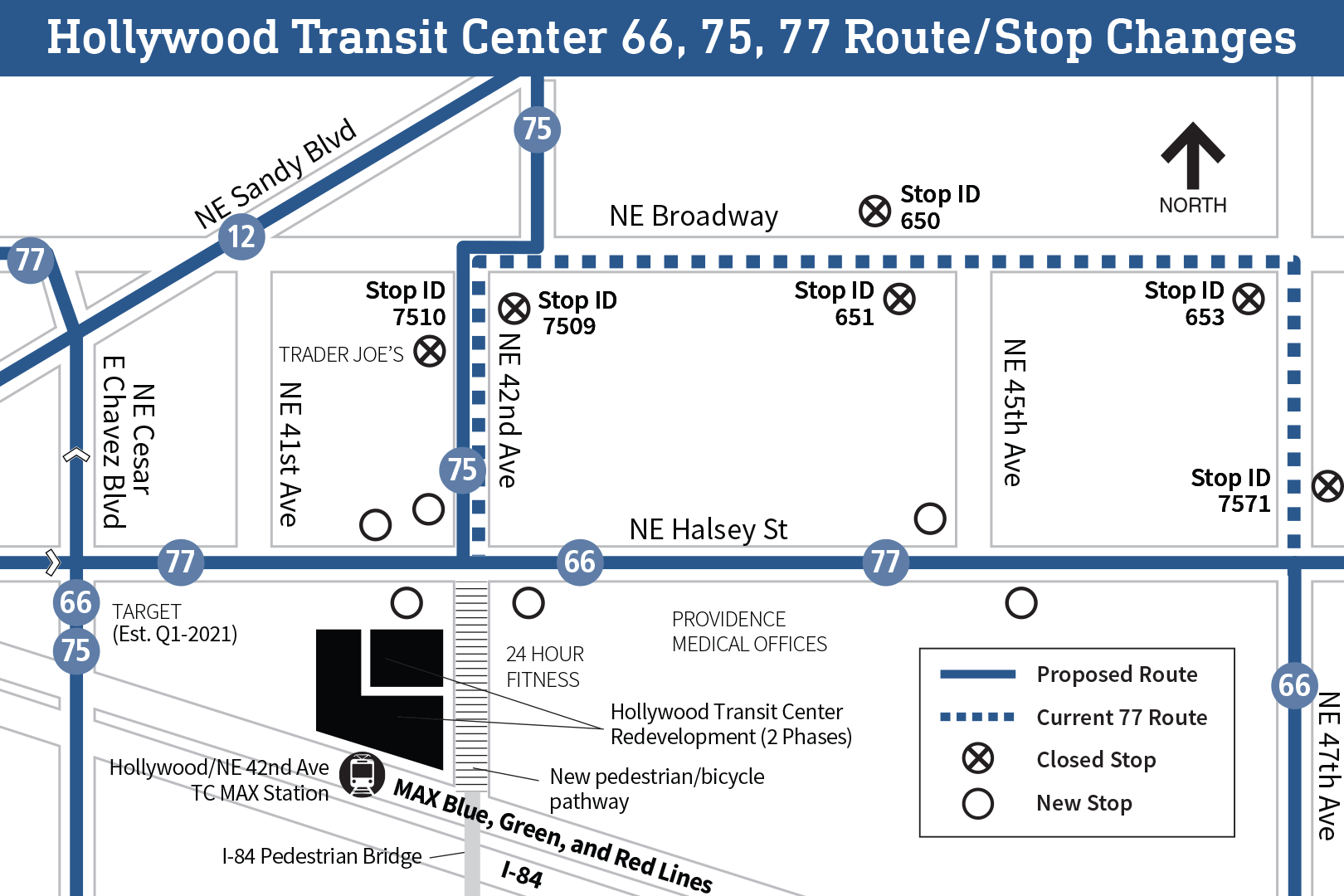 What else is in the works?

A Better Red
The MAX Red Line provides vital connections within our region, including service to Portland International Airport. As we continue looking at ways to improve our system, we're planning to make the Red Line more reliable and extend service to the Fair Complex Center in Hillsboro. A Better Red project is expected to bring nearly $100 million in federal funds to the region and create jobs. The project is currently in the engineering phase, with work to be completed over multiple years.
Design and Environmental Review: 2017–21
Construction: 2021–23
Opening: 2024

Division Transit Project
The Division Transit Project will improve travel between Downtown Portland, Southeast and East Portland and Gresham with easier, faster and more reliable bus service. The high-capacity bus service will reduce travel times up to 20% with buses running every 12 minutes, and even more often during peak ridership times.
The 15-mile project will increase safety for people walking, biking and accessing transit. It is adding:
4.5 miles of protected bike lanes
New marked crosswalks with stop lights median islands or flashing lights
Nearly 81,000 square feet of new sidewalks along the corridor
The project is expected to create more than 1,400 jobs and more than $137.7 million in added economic value is estimated to be created in the corridor. The new service is expected to begin in fall 2022.
Design and Environmental Review: 2017–19
Construction: 2019–22
Opening: 2022
Equitable service
TriMet studies any fare change or major service change for potential impacts on minority and low-income populations. To do this, TriMet conducts an equity analysis whenever such changes are proposed, including service improvements for fall 2021 and spring 2022. Share your thoughts on the draft equity analysis or take a moment to review previous analyses.
Feedback
Comment deadline is February 17.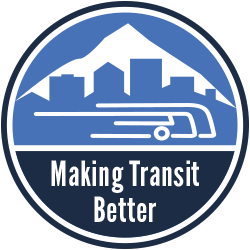 We're working to grow our network of buses and trains while making your ride smoother, safer and more reliable.