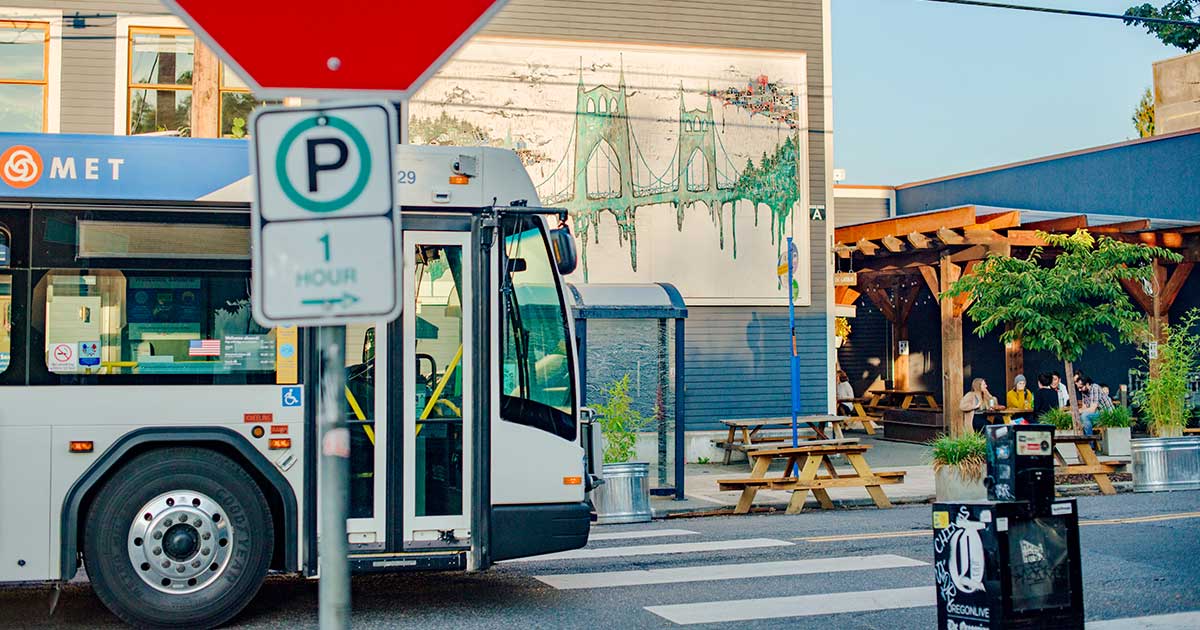 Vision 2021 — Transit Service Improvements
The COVID-19 pandemic has presented many challenges that didn't exist just a few months ago. As an essential service, we're still hard at work keeping our community moving and looking for ways we can continue to improve our bus service.
Despite current and projected reduction in fare revenue and payroll tax revenue, we are taking a measured approach to service improvements. We have identified opportunities to make bus lines faster and more reliable with little to no added cost. These short-term improvements will take effect in September 2021 and March 2022, while any long-term improvements would take place in the next several years.
Vision 2021 Town Halls
Wednesday, October 28, 5–6 p.m. (English)
Thursday, October 29, 5–6 p.m. (En Español)
Question and answer live streaming event.
Short-term Improvements

Fiscal Year 2022 (July 1, 2021–June 30, 2022)
Proposed route changes
Rivergate/Marine Dr
We'll change the line's route to serve the Delta Park MAX station instead of Marine Dr east of I-5 to improve MAX and C-TRAN connections.
We'll also remove the low ridership portion of the line along N Rivergate Blvd and N Ramsey Blvd in order to bring faster and more efficient service to N Lombard and N Marine Dr.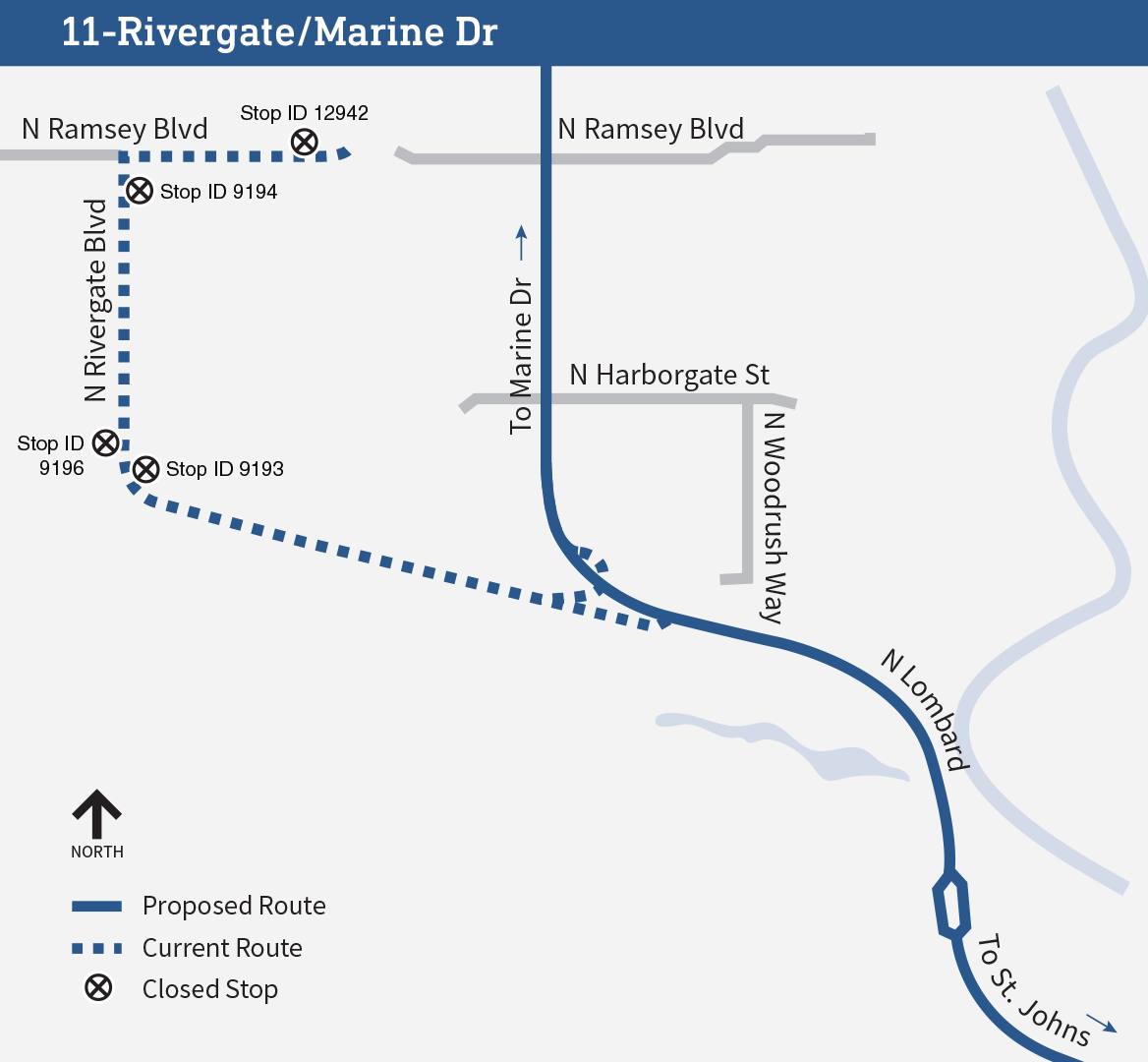 Proposed route changes/New bus route
Belmont/NW 23rd New Route
For faster service in downtown Portland and to reduce customer confusion, we're making a route change to serve SW Alder St between W Burnside/NW 19th Ave and the Morrison Bridge. We'll also discontinue service on SW 18th Ave, SW Salmon St, and SW 2nd Ave.
Finally, we'll separate the NW Thurman St section of the route from the rest of Line 15, creating a new bus line to serve NW Thurman St. The new route will end at Providence Park and will use shorter buses for easier turns at NW Thurman and Gordon.
Proposed route changes
Woodstock/Glisan
Proposed route changes
Oatfield
The southern portion of Line 32 will change its route in order to serve Oregon City High School. When heading southbound, instead of turning on Trails End Highway (OR-213), Line 32 will now continue along Beavercreek Rd. It will then turn onto Meyers Rd to the high school and continue to Clackamas Community College via the Meyers Rd extension (currently under construction).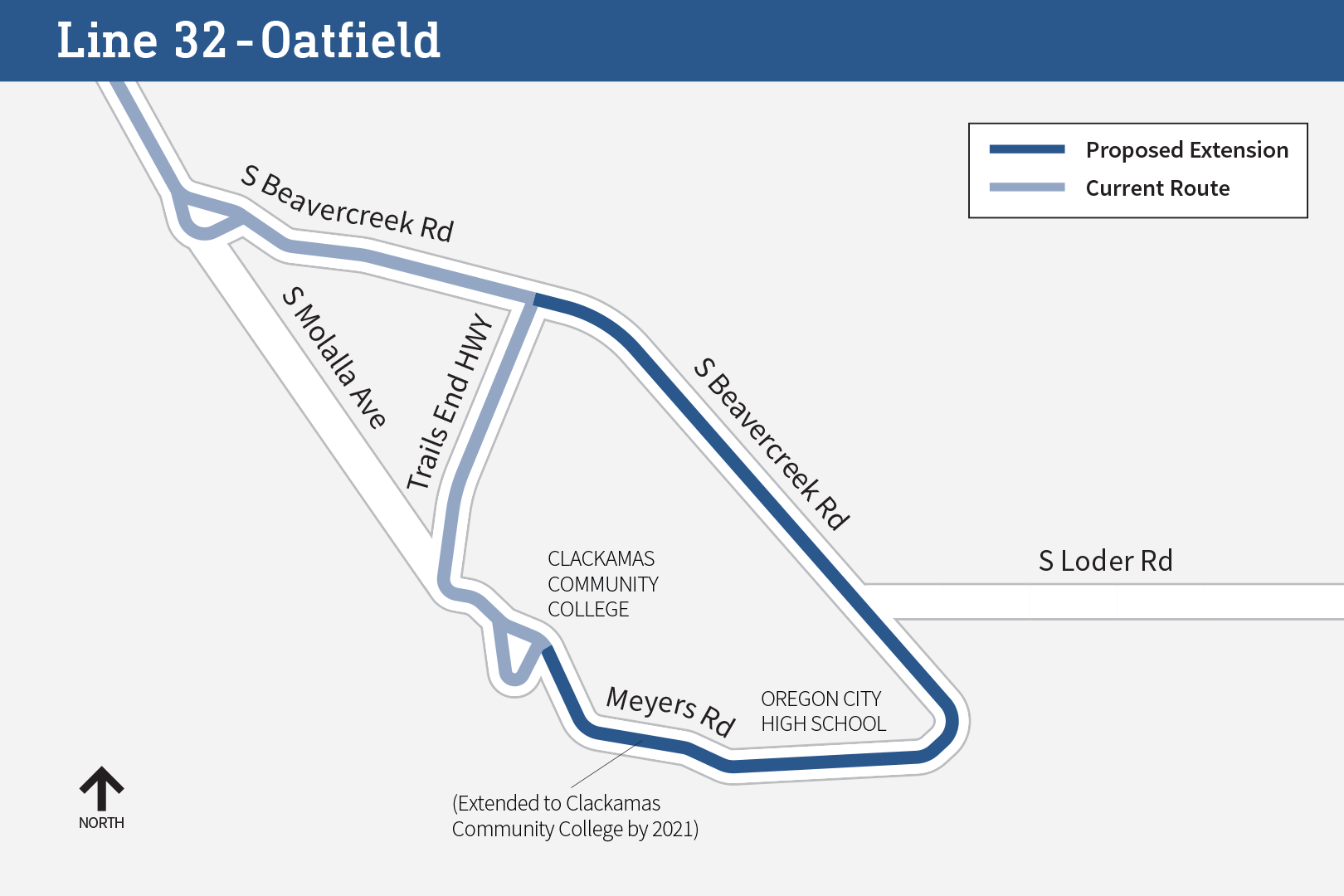 Proposed route changes
Lewis & Clark
To avoid difficult turns and save time, we'll discontinue serving the low ridership outbound loop to the Graduate School of Education at Lewis and Clark College.
Proposed route changes
Vista
To reduce customer confusion, we'll change Line 51's route to serve SW Alder St. between NW 18th Ave and the Morrison Bridge. We'll discontinue service on SW Salmon St and SW 2nd Ave.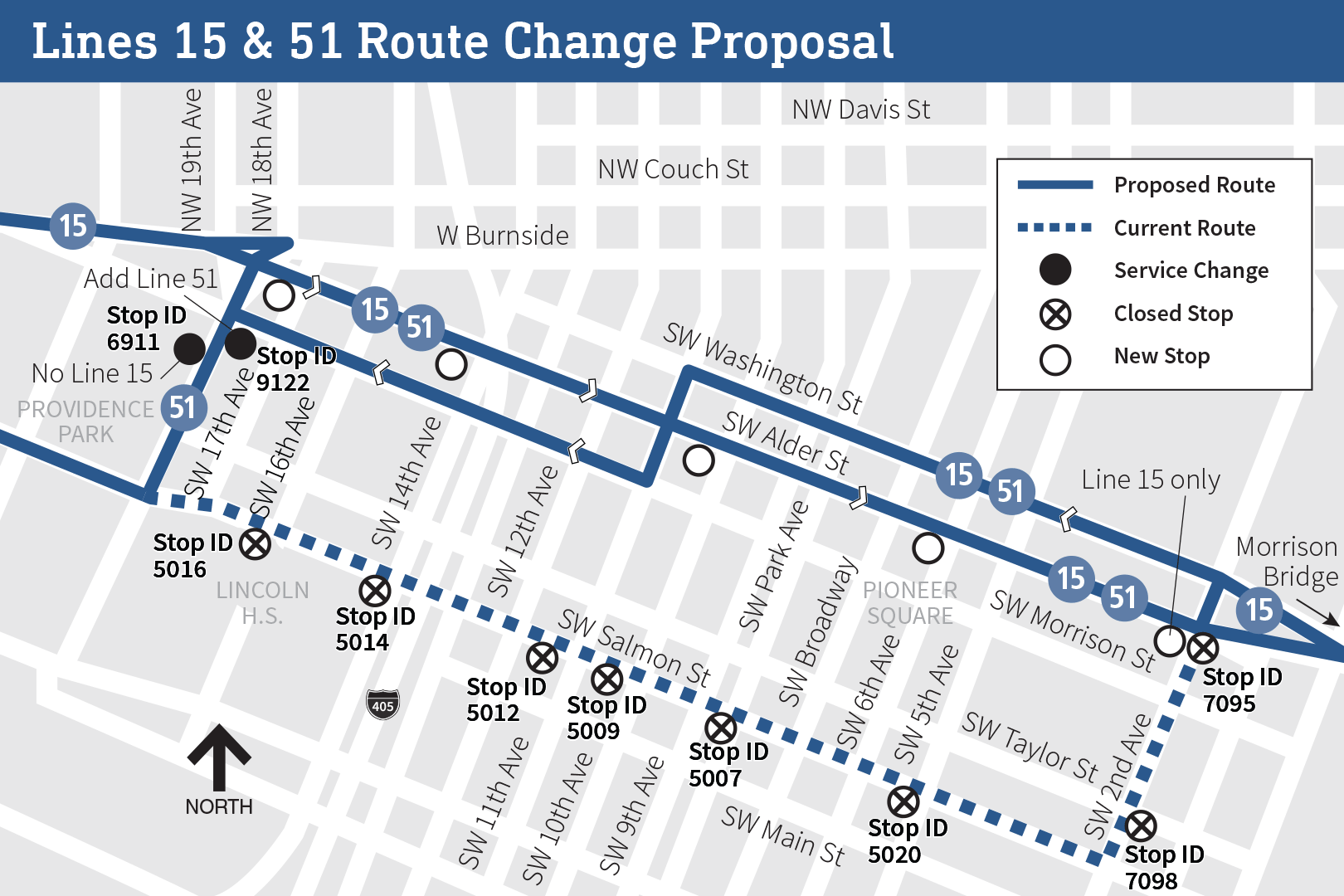 Proposed route changes
Washington Park/Arlington Hts
We'll change the route to travel from the Transit Mall to the Portland International Rose Garden, providing a better connection from downtown to the east entrance of Washington Park.
We'll also discontinue service from SW Fairview Blvd/SW Knights Blvd to the Oregon Zoo. Trips to the Oregon Zoo will be provided by the Explore Washington Park shuttle.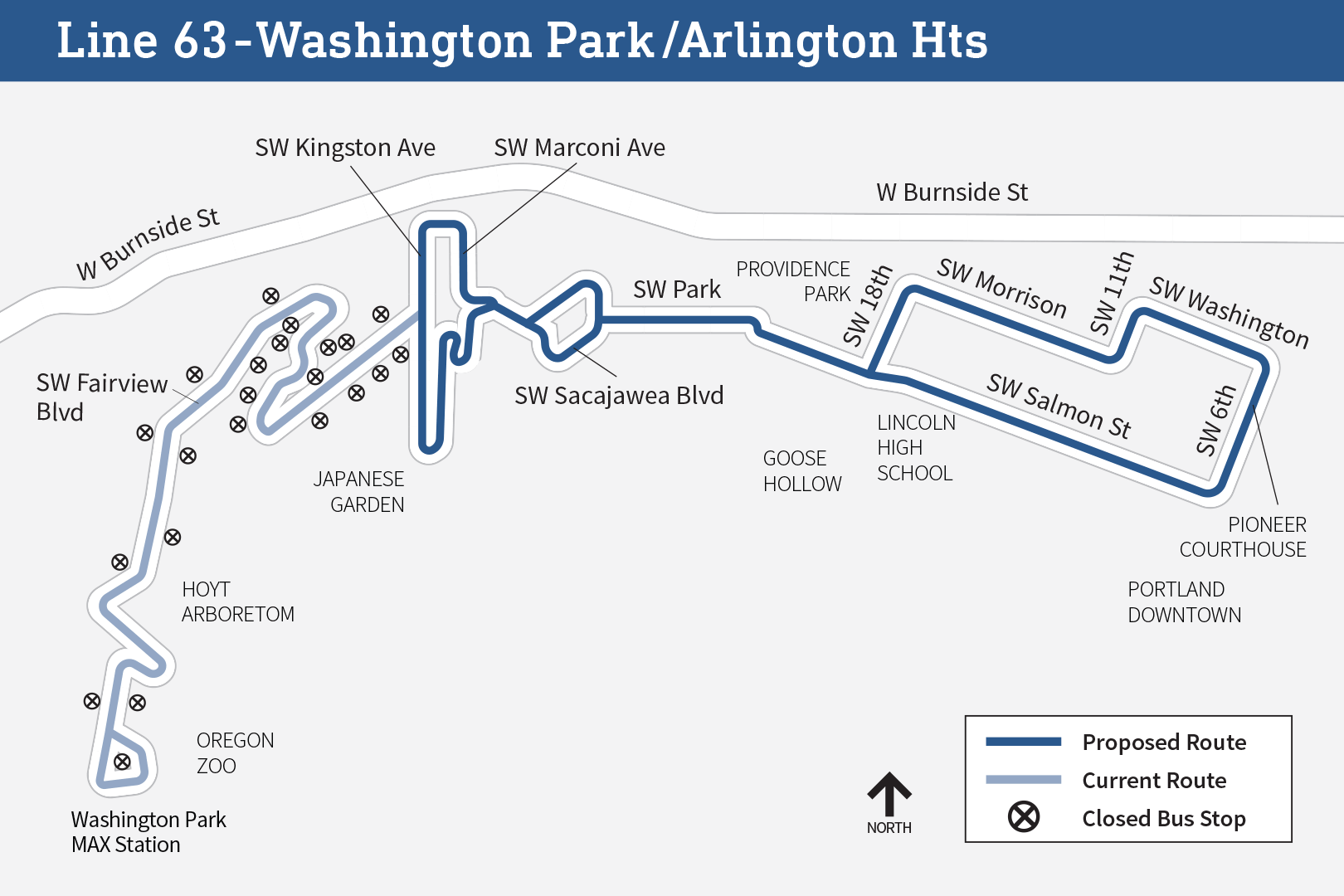 Proposed route combination
Tigard/Sherwood Pacific Hwy/Sherwood
We'll combine lines 93 and 94 — creating one Line 94. All trips would go to downtown Portland. Line 93 would be retired.
We seek your input about weekend service: Bus frequency could be once an hour between Sherwood to Portland or every 30-minute between Sherwood to Tigard.
Proposed route changes
Marquam Hill/Hollywood Cesar Chavez/Lombard Broadway/Halsey
To accommodate the redevelopment of the Hollywood Transit Center and simplify connections, we're proposing to keep buses on NE Halsey. We would create new stops to maintain access to the Hollywood/NE 42nd Ave TC MAX Station and local destinations.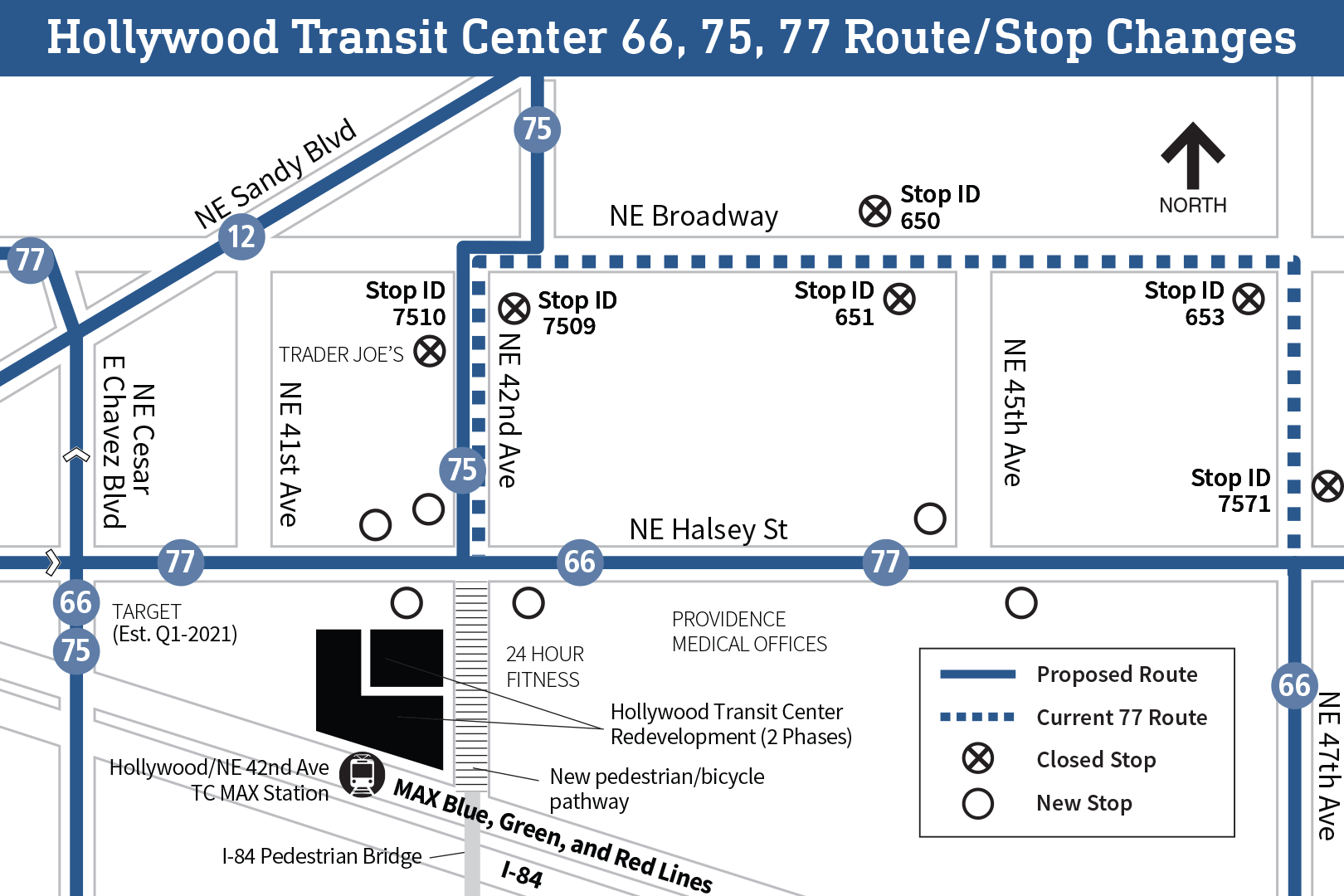 What else is in the works?
A Better Red
The MAX Red Line provides vital connections within our region, including service to Portland International Airport. As we continue looking at ways to improve our system, we're planning to make the Red Line more reliable and extend service to the Fair Complex Center in Hillsboro. A Better Red project is expected to bring nearly $100 million in federal funds to the region and create jobs. The project is currently in the engineering phase, with work to be completed over multiple years.
Design and Environmental Review: 2017–21
Construction: 2021–23
Opening: 2024
Gideon Overcrossing
Work is complete on a new bridge for pedestrians and cyclists near the MAX Orange Line's Clinton St/SE 12th Ave MAX Station. The Gideon Overcrossing allows people biking, walking and rolling to cross safely above the MAX and Union Pacific Railroad tracks.
The project used some remaining federal funds from the Portland-Milwaukie Light Rail Transit Project, which opened in 2015 as the MAX Orange Line. The new crossing provides safe and easy access to transit and better connections between SE Portland's Brooklyn and Hosford-Abernethy neighborhoods, as well as a safe crossing if heavy rail trains are blocking the crosswalks. The bridge features an elevator and bicyclist-friendly stairways, and opened in November.
Equitable service
TriMet studies any fare change or major service change for potential impacts on minority and low-income populations. To do this, TriMet conducts an equity analysis whenever such changes are proposed, including service improvements for fall 2021 and spring 2022. Share your thoughts on the draft equity analysis or take a moment to review previous analyses.
Long-term Improvements

Coming in the next several years
In 2017, the Oregon Legislature passed the Keep Oregon Moving Act (HB 2017), which included a new statewide funding program for transit. The legislation requires TriMet to publish a plan explaining how it will spend the new funds generated from the program to expand transit throughout the region, especially in low income communities. In 2019, we released the Tri-County Public Transportation Improvement Plan (PTIP), a 5-year plan for expanding transit across our service district.
Since the release of the plan, we have completed or launched many of the improvements listed in the plan. However, the COVID-19 pandemic has negatively impacted expected revenues, slowing our ability to make improvements this fiscal year. The state requires all transit agencies to update their PTIP every two years and we are asking for your input on the update now.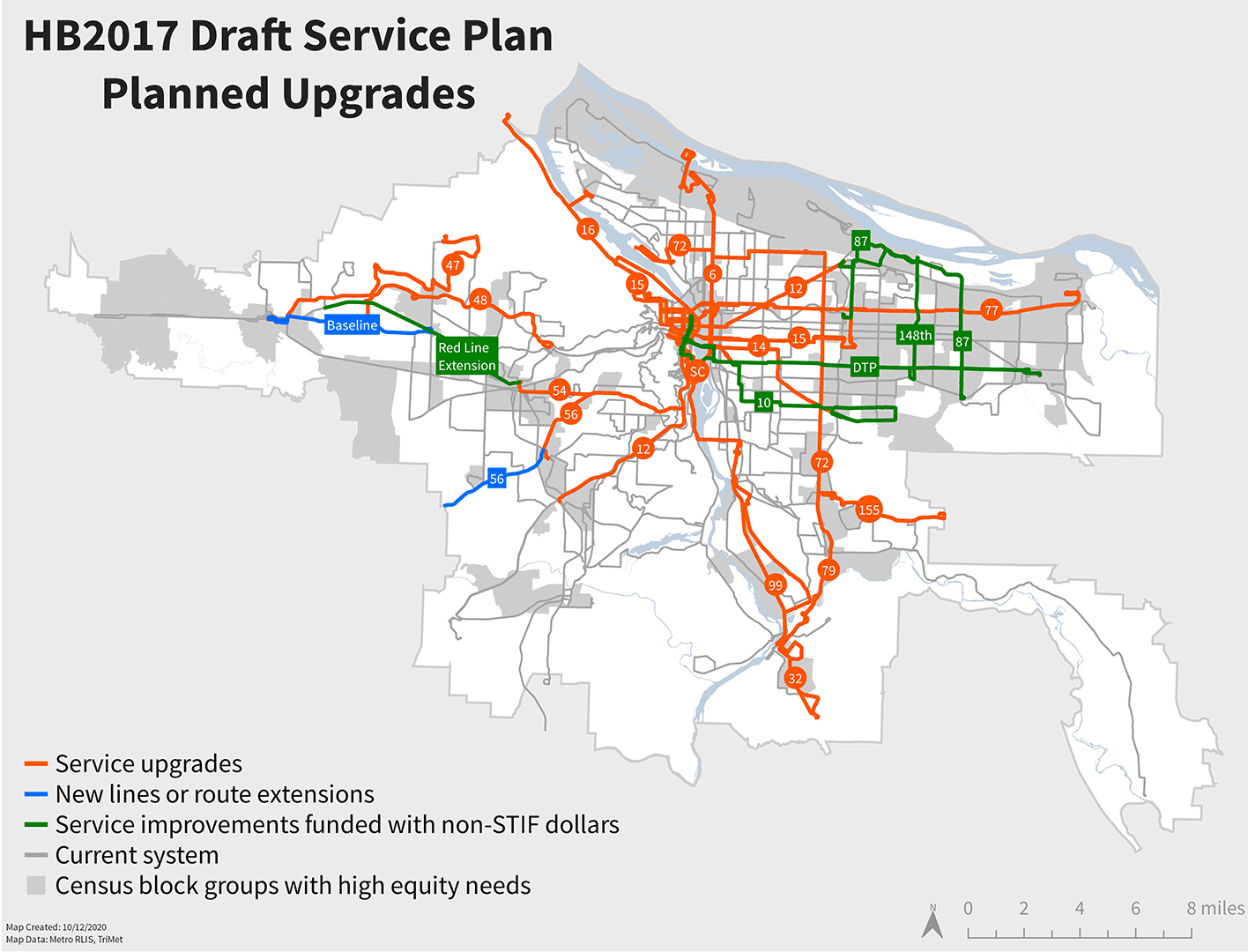 Low Income Fare
TriMet provides a reduced fare for people who earn low incomes. The fare is half off the regular fare on individual trips ($1.25) and day passes ($2.50) and 72% off of monthly passes ($28.00). Nearly 30,000 customers have registered for this program as of March 2020 (pre-pandemic). The updated PTIP anticipates continued growth in the program with capacity for up to 45,000 customers.
Transit Service Expansion
Since the release of the PTIP, TriMet has significantly increased bus service, including new bus lines, three new Frequent Service bus lines, route changes, greater frequency, earlier/later trips, and weekend service. While the COVID-19 pandemic has delayed expansion of service in Fiscal Year 2021, we hope to resume service expansions in Fiscal Years 2022 and 2023, though at a slower pace due to revenue reductions. The plan also sets aside funding for TriMet to purchase new buses and expand transit center and layover facilities to accommodate new service.
Battery-Electric Buses
The PTIP is funding the purchase of battery-electric buses (BEBs), as well as the design, engineering, and construction of charging infrastructure and bus garage modifications. TriMet began piloting BEBs in 2019, starting with five buses operating on Line 62-Murray Rd. TriMet will soon receive five former diesel buses that have been converted to BEBs — one of which will be an articulated bus. We have also been installing charging equipment and upgrading facilities at our Powell Operating Facility in East Portland, where future BEBs will be deployed. The updated plan for Fiscal Year 2022–23 calls for a continuation of the Battery-Electric Bus program at the same level as the previous plan.
School Transportation
During the school year, TriMet offers free transit passes to public high school students whose families earn low incomes. This program was providing thousands of free rides to students prior to the COVID-19 pandemic when schools moved to online classes. The plan for Fiscal Years 2022–23 will continue to provide passes to high school students from families that earn low incomes within our district.
Regional Coordination Program
The Keep Oregon Moving legislation emphasizes the need for seamless transportation between regions as well as hard to reach areas. In response to this, Clackamas, Multnomah, and Washington counties each receive funding to develop transit services that extend to hard-to-reach residential and employment areas (i.e., the last mile). South Metro Area Regional Transit (SMART) in Wilsonville and Columbia County also receive funding to extend service into the TriMet district. Services in Forest Grove, Hillsboro, Tualatin, Swan Island, Troutdale, Columbia County, and Wilsonville are in operation, while services in Oregon City and the Clackamas Industrial Area will launch in 2021. Service on the Clackamas Community College shuttle (CCC XPRESS) has been suspended due to the COVID-19 pandemic. The updated PTIP for Fiscal Years 2022–23 continues these services at the existing level.
Transit Services for Seniors and People with Disabilities
The PTIP ensured that funding is allocated to transit services for seniors and people with disabilities. TriMet and Ride Connection, a not for profit provider of senior and disabled transportation services, received funding for new vehicles. Ride Connection also received funding for new transportation services for their customers and technology upgrades. The updated PTIP for Fiscal Years 2022–23 will continue this funding at the same level. The distribution of funds will be decided by a regional committee that disburses transit funding for seniors and people with disabilities.
Transit Infrastructure Investments
The PTIP sets aside funding to make transit infrastructure investments throughout the district. These include investments to help buses move around traffic congestion, bus stop amenities, and safety investments.
Transit Priority
TriMet and the City of Portland have installed business access and transit (BAT) lanes on key streets in Downtown to help buses bypass traffic congestion and move customers faster. Bus-only lanes are now located on SW Main St, SW Madison St, NW Everett St, and the Burnside Bridge — some of which have been painted red. TriMet has also worked with Washington County to add a bus-only lane on NW 185th Ave and NW Cornell Road. Future bus lanes are planned for Grand Ave and Martin Luther King Jr Blvd, Hawthorne Blvd, SW 4th Ave, NE Sandy Blvd, and SE Belmont. The updated PTIP will continue this program in Fiscal Years 2022–23.
Bus Stop Amenities
The PTIP calls for new bus stop amenities including more bus shelters, digital displays, and upgrading bus stops to comply with the Americans with Disabilities Act. TriMet has been targeting many of these improvements to occur in low income neighborhoods throughout the region. The updated PTIP will continue this program in Fiscal Years 2022–23.
Safety Improvements
It is important that all TriMet customers feel safe both on the system and while waiting to use the system. The PTIP set aside funds for additional cameras, lighting, and sightline improvements. The updated PTIP for Fiscal Years 2022–23 will continue to fund safety improvements on the system.
Service Preservation
The COVID-19 pandemic has had a severely negative effect on TriMet's revenues — both fare revenue and payroll tax revenue. Initially, Keep Oregon Moving funds were required to be used only to expand service and capital programs. However, in June 2020, the Oregon Legislature amended the Keep Oregon Moving legislation to allow transit providers to direct funds to preserve existing operations and capital programs that would be discontinued due to lower revenue resulting from COVID-19. The updated PTIP for Fiscal Years 2022–23 will direct some funding to preserve existing service and capital programs until revenues recover from the pandemic.
Feedback
The comment period is now closed.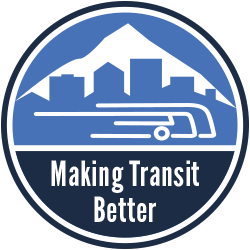 We're working to grow our network of buses and trains while making your ride smoother, safer and more reliable.