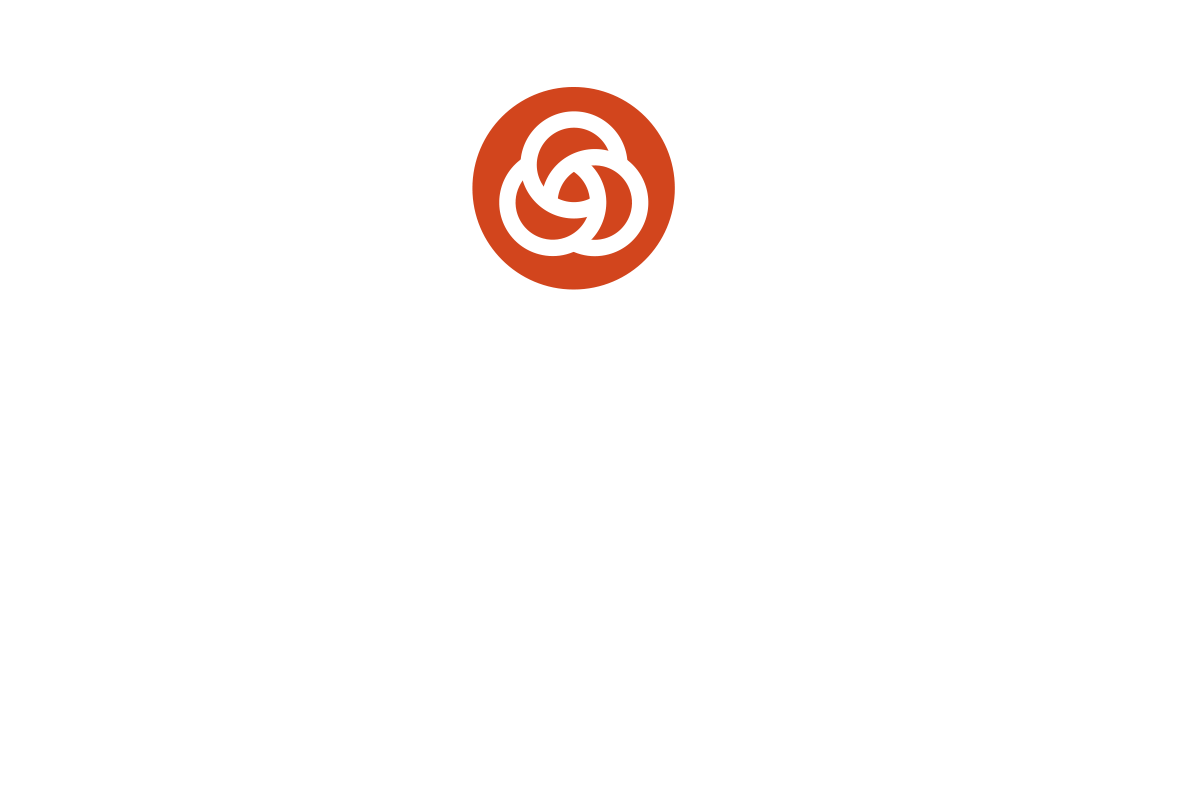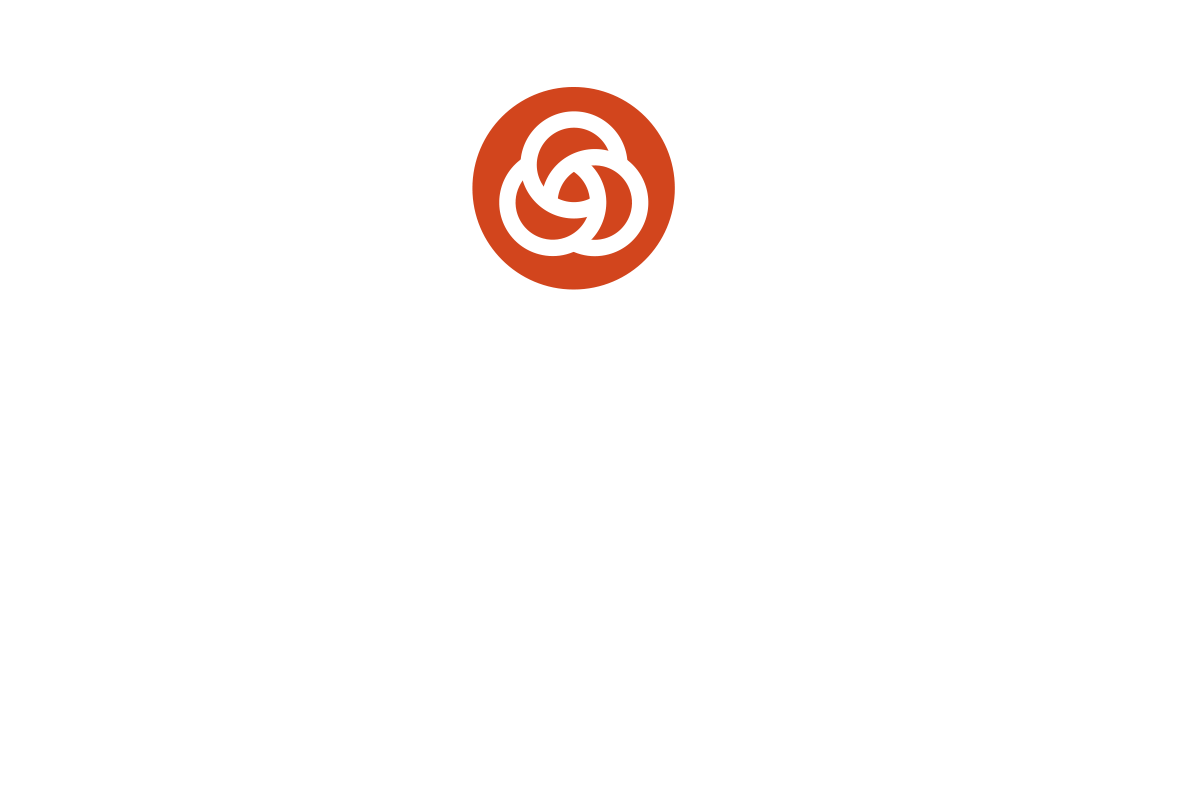 Introducing Frequent Express
FX2-Division is our new high-capacity bus service along Division Street in Southeast Portland. It's fast, efficient and convenient, and will reduce travel times between Downtown Portland and Gresham by 20%.
FX2-Division opens September 18, 2022!
Celebrate Saturday, September 17, Noon–5 p.m.
Join us in celebrating the Division Transit Project with three festivals along the FX2-Division route near OMSI, featuring My People's Market, at PCC Festival Marketplace (PCC Southeast) and at the Gresham Farmers' Market. Each event will feature local cuisine, live entertainment and a giant paint-by-numbers mural.
Free rides on FX2-Division will be provided between noon and 6 p.m.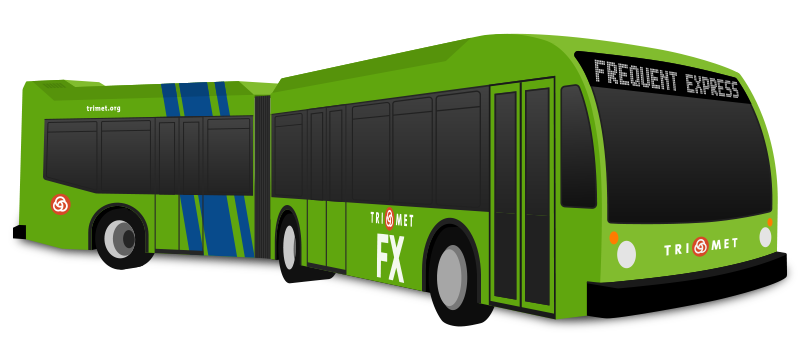 Buses run every 12 minutes all day

Longer buses with room for 60% more people

Transit signal priority prioritizes buses for faster trips

All-door boarding for faster stops

Bus lanes at key locations will keep buses moving around congestion
The bus and station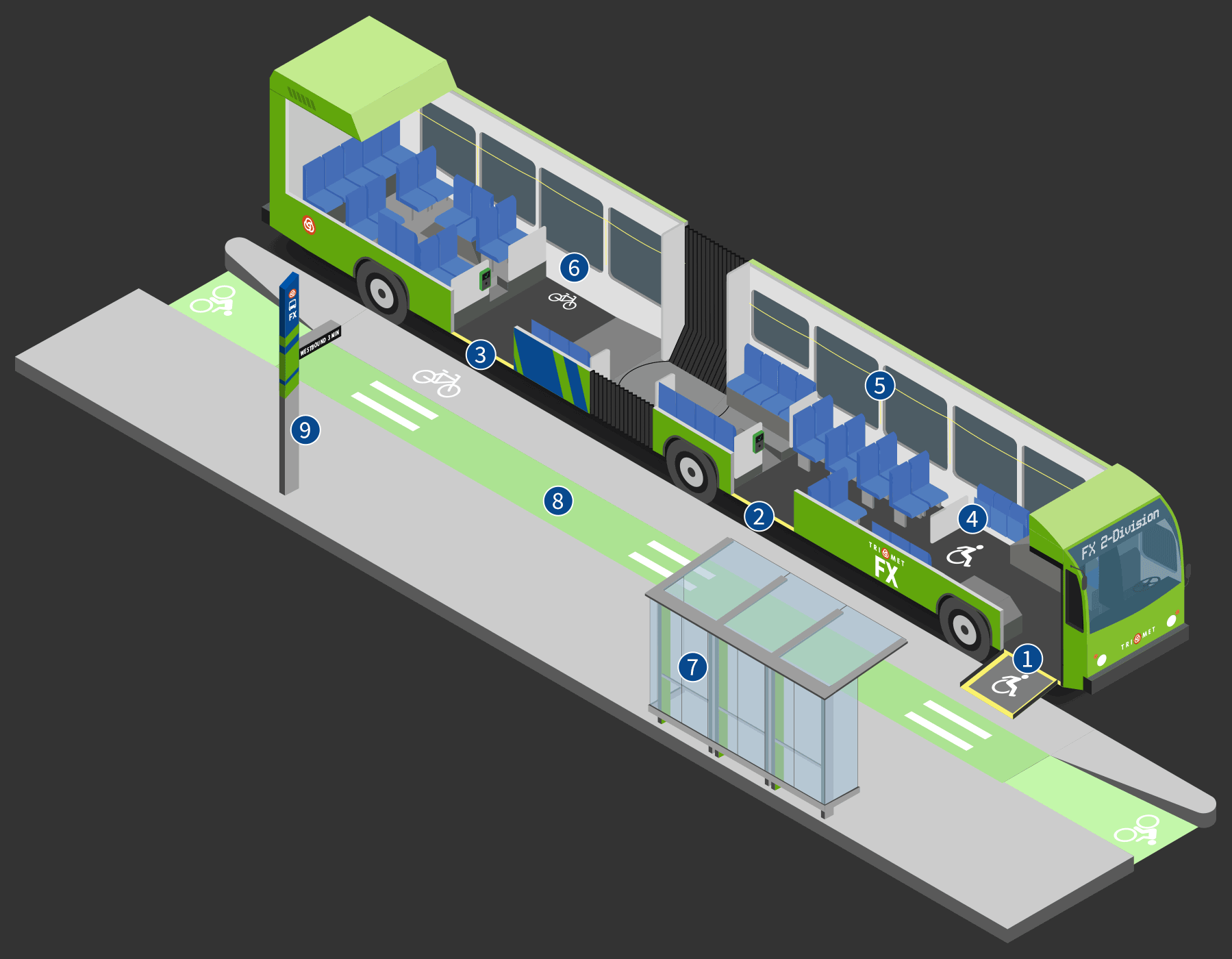 1

Front door

Cash fare box and Hop reader;

Board and exit with mobility devices;

Ramp for mobility devices

2

Middle door

Pay with Hop

3

Rear door

Pay with Hop;

Board and exit with a bike

4

Priority seating

For seniors and people with disabilities

5

Getting off the bus

Touch strip/pull cord to tell operator to stop at the next station;

Overhead sign and speaker announce the next station

6

Bike racks

Board at the rear door to use either of the two bike racks

7

Shelter

Featuring weather protection, a bench and nighttime lighting (most stations)

8

Bike lane

Bicyclists must yield to pedestrians

9

TransitTracker sign

Shows next bus arrivals in real-time
Boarding and paying your fare

Reducing our carbon emissions
Like all of our regular bus service, the new FX buses will run on renewable diesel, a cleaner-burning fuel we're using to reduce our greenhouse gas emissions.
The move to renewable diesel is an important one while we transition to a zero-emissions bus fleet by 2040.

Looking to the future
We're studying other possible FX routes along other major regional roads and highways — stay tuned for updates.
Stay in touch
Sign up to be the first to hear about the launch of FX service and opening-day activities