Introducing Frequent Express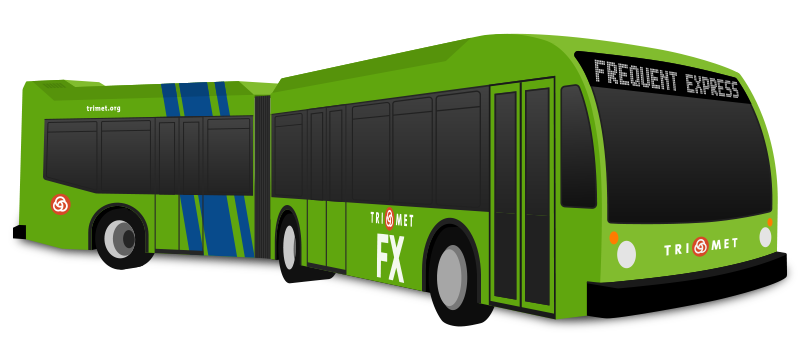 Frequent Express

FX stands for Frequent Express. It's our new high-capacity bus service for faster and more reliable trips on our busiest routes.

Every 12 minutes

FX buses run every 12 minutes or better during peak commuting hours, which means more frequent buses and less waiting around.

Articulated buses

Instead of our standard 40-foot buses, we're using larger, 60-foot buses with room for more people and multiple-door boarding for quicker stops.

Transit priority

We'll also use "transit signal priority" to prioritize bus traffic, reducing delays at traffic signals to get you to where you need to go quickly.

Travel times

Finally, we're placing FX stations where demand is greatest to minimize travel times.
Division Transit Project
Our first FX line is the 15-mile Division Transit Project, which opens in fall 2022. The new line will run between Downtown Portland and Gresham, and will reduce travel times by 20%.

This improved bus service will replace the current Line 2-Division with 42 enhanced bus stations. The project also features related safety improvements for people walking, biking and rolling on Division Street, including protected bike lanes, new lighting, sidewalks and marked crossings.

As we finish Division Transit Project construction, we're studying other possible FX routes along other major regional corridors — stay tuned for updates.

Learn more about the Division Transit Project
Higher-capacity buses, convenient boarding
Our FX service uses a fleet of 60-foot articulated buses. These extra-long vehicles carry about 60% more people than our 40-foot buses.

They have a distinct "accordion" look because of their flexible joints, and they bend in the middle, allowing them to make tight turns.

These buses are designed to make boarding easy and convenient. Riders can board using any of the bus's three doors — front, middle or back — cutting down on the time buses stop at stations. Bikes can be conveniently stored on board the bus.